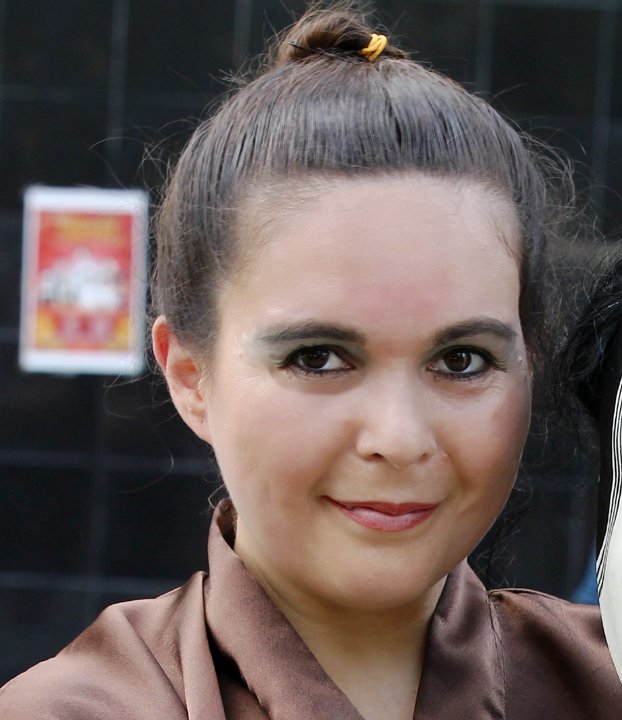 Except for a brief introduction to East Coast Swing a few years ago, I'm pretty much in the "two left feet" category as far as dancing goes.
What I've noticed, though, is if people congregate in a place that has music, especially live music, the one thing you can count on is folks will dance.
What I'm saying here is if there is space, and you add just about any kind of live music, dancing will happen. It's like one of Newton's laws, you know, the physical theorem you sort of remember from that science class you took?
~~~~~~~~~~~~~~~~~~~~~~~~~~~~~~~~~~~~~~~~~~~
When I received the press release about the upcoming "Art of Movement" dance event coming up in Hood River on April 20, it was serendipitous that I was already one step ahead of the game, or dance, so to speak.
It turns out that one of the dancers in the show, Ms. Nefertiti Freytes, contacted me and she is traveling all the way across the country to perform. You might think that's a long way to go, just to dance in front of an audience for a few minutes, but I get the feeling that dancing, for Ms. Freytes, is part of who she is.
And the fact that she'll be spending a few weeks in the local schools as a guest of the Artist in Residence program, should be an inspiration to us all to get over any fears and learn a new dance step.
Interview with dancer Nefertiti Freytes
Your website promotes a dance company called Etnia Fusion, based in Florida. How did you get to be in the Artist in Residence Program at Hood River's Columbia Center for the Arts?
I am the founder and artistic director of Etnia Fusion, the company was established in south Florida in the fall of 2007 and we relocated to Boston in the winter of 2011.
Last December, a long time friend of my family, who has been a resident of your county for a few years, has been following my artistic endeavors since I was part of the performing group at the Morikami Museum in Delray, FL. My friend suggested that I look into participating at some of the seasonal festivals and cultural activities hosted in Hood River.
I connected with Miss Carolyn Smith at the Visitor Center/Chamber of Commerce, who kindly directed me to different event organizers and this is how I connected with the wonderful ladies at the Columbia Center for the Arts.
Miss Catherine Butler made the arrangements for my upcoming participation at the annual Art of Movement and Miss Emily Vawter made the arrangements with the school district for two weeks of educational programs. So this project has involved a lot of networking and public relations among different organizations.
What specific dances or cultural ideals will you be bringing for the school kids to enjoy and learn about?
For my debut in Hood River as Resident Artist, I will be highlighting the beauty of the Far East culture (Japanese, Chinese and Filipino) through dance, martial arts and performing arts so all my activities will be an eclectic Asian fusion honoring cultural diversity. My mission is to foster diplomacy and tolerance among ethnic groups present in the community.
There are going to be about 16 different dance acts for the "Art of Movement" event. What will your part of the program be about?
For my debut in Hood River County as a dance performer, I have created a new choreography choosing a Nipponese theme, presenting an eclectic fusion of Japanese Odori dance, Gojo Ryu / Modern Arnis martial arts, weaponry, folk dances from the Far East and theatrical mask work in collaboration with Behind the Mask Studio in Boston.
The performance will highlight the versatility of traditional implements such as the colorful parasol and the graceful fighting fan.
Why do you think dance is an important part of society/culture?
Dance, like any other art form, is an endless source of self esteem, self improvement and creativity. Key to a healthy and happy life is collecting success and personal satisfaction to become an active and productive member of the community.
For anybody who would like to see how dance can change society and culture for the better, I highly recommend watching the movie "Take the Lead" starring Mr. Antonio Banderas, because the film is based on a true life story.
There are so many different kinds of dance, and most are probably physically demanding - how should someone go about deciding what to learn first, if they are interested in getting started in dance?
Yes, there are many different kinds of dances, some are more demanding than other ones but if someone would like to adventure into this art form I would suggest the following:
First, evaluate in a very honest way and sincere manner the personality. What is the personal goal and what is the motivation?
Second, attend dance festivals to find the styles of most interest to the individual.
Third, try out a class to make sure at the end of it you still like it and want to proceed with formal training.
Fourth, make sure there is a connection and good communication with the instructor.
Fifth, be realistic in how much are you willing to invest in that endeavor and take in consideration age, shape, schedule availability and life style.
Your name, Nefertiti Freytes, is very interesting. What is your heritage and does your name have a special meaning?
My name, most definitively reflects that cultural diversity that runs in the family. From my biological father side the heritage is European, the last name Freytes is Portuguese. On my mother's side the heritage is very mixed: Middle Eastern, Scandinavian, Japanese, Gypsies from Mainland Spain (Andalucia) and the Canary Islands. I was named after famous Egyptian Queen Nefertiti.
Yes, the name does have meaning and it has few different translations: "The most beautiful has arrived" "Welcome Queen of the Beauty" and "The beautiful one has arrived."