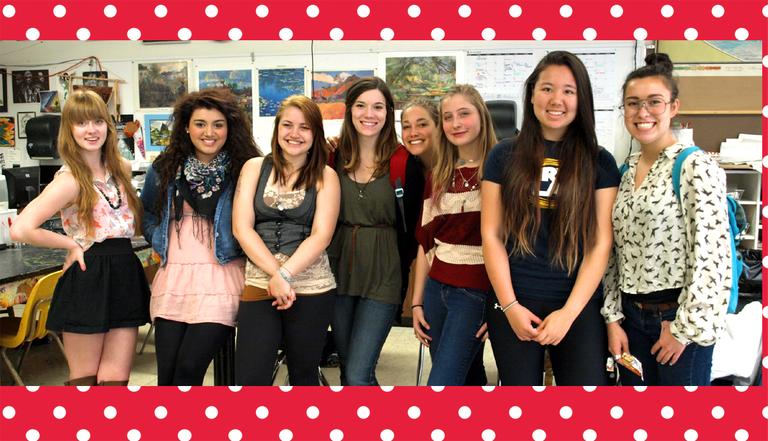 Teen talent abounds at Hood River Valley High School, and some of that creativity will fill the Columbia Center for the Arts Thursday evening.
The Fashion Show and Silent Art Auction will begin at 6:30 p.m. in the lobby with a show and silent auction of art students' ceramics, glass and paintings. Funds raised in the auction will benefit the school's art department.
The fashion show, a fundraiser for the HRVHS Fashion Club, will follow at 7 p.m., showcasing designs by the fledgling clothes designers and modeled by students. The club chose a theme this year of "Around the World."
"I'm doing a joint project with Siena (Harlin); we're basing it on what we've learned in our Chinese class," said Danica Klas. "So we're making Asian prints."
Other countries chosen include Japan, Scotland, Old London and Egypt.
"Last year I designed maxi dresses," said Alexa Lindley, who wears some of her fashions to school. "I restyled them to fit the Egyptian theme, since they were long, and kind of Egyptian-y."
The girls design, sew, and fit their fashions to models, under the mentorship of Cathy Carter, Robin Allen, Haley Harkema and Cathy Stever. This is the fifth fashion show since the formation of the club, but this is the first time it has been held at the arts center.
There are about 15 designers in the club, and each one has designed anywhere from a three to five different pieces for the show. They are free to create what they want, with no specific assignments. Though the designers do model the designs for each other, they also need to get other models as well.
They were involved in last winter's Fashion Gala, and are excited about having their own show at the arts center. The poster and tickets were designed by Kenya Osario, who also won the poster contest for Hood River County Reads the last two years.
Tickets for the fashion show are $15, and are available only at the Columbia Center for the Arts.
Event details:
What: Fashion Show and Silent Art Auction
Where: Columbia Center for the Arts
When: Thursday, April 11, 6:30 p.m.
Tickets: $15, at the door
Benefits: HRVHS Art Dept. and Fashion Club