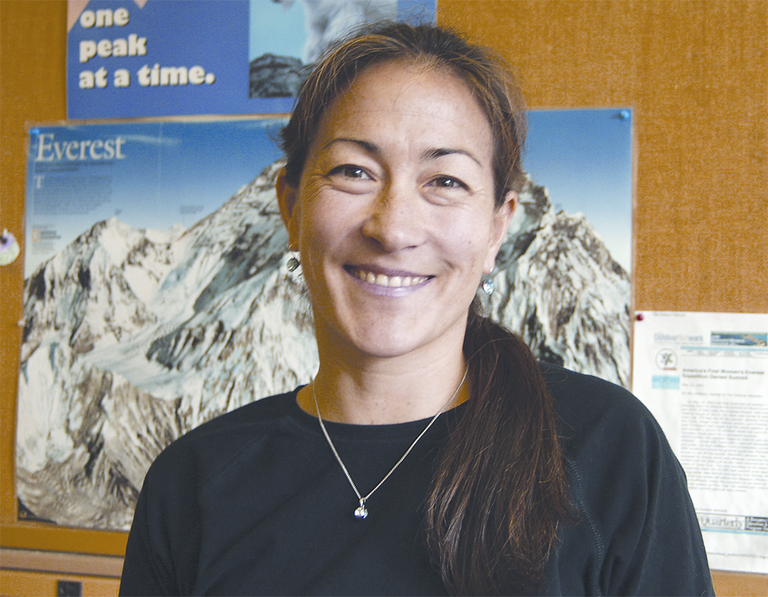 As stalwart runners from around the world crossed the finish line at the Boston Marathon on April 15, the first bomb went off, according to national news reports, at 2:50 p.m. EST with a second blast following just 13 seconds later.
As of press time, it is reported that three individuals were killed by the blasts, including an 8-year-old boy, and more than 100 were injured, many with grave wounds.
Six runners from Hood River, some with family members in attendance, and three more runners from communities across the Gorge are now part of that horrific moment in history.
Hood River runners include Ruth Coffman, Gary Daubenspeck, Shawn Emmons, Patrick Jones, Lisa Rust and Gwen Thomas. Betsey Scott of Trout Lake, Kim Brislawn of White Salmon and Erin Ford of The Dalles joined the Hood River contingent.
Emmons' mother, Caroline DeBorde, and daughter Denali Emmons had been standing in the spectator area between the two bombs cheering for Shawn, minutes before the blasts. Rust also had family arriving at the finish line.
According to race records, all nine local runners have been listed as having completed the race.
In a telephone interview from Boston on Tuesday, Lisa Rust, Hood River Middle School teacher, provided a firsthand account of the events.
Rust had finished the race just before the bombings and was in the finish zone area for post-race wrap-up activities when she heard the blasts. Her mother and sister were scheduled to watch her at the finish line but had arrived late via subway. When the blasts hit, they were turned away and would then wait for over an hour to hear from Lisa when phone lines were blocked and rendezvous areas were barricaded.
"It is an emotional experience and I'm saying prayers for everybody. You can train for marathons but not for stuff like this," she said in a phone interview the day after the event.
"I was in the finish area. I'd come across about 30 minutes before the bombs went off. The way they have it set up, you have to walk through to a tent to undergo recovery, get a blanket, get your medal and then go to change your clothes. I had just gotten my bags and gotten changed.
"I heard and felt this huge explosion and at first my reaction was, 'Oh, wow, they've got fireworks here; there must be a cannon going off.' Then I saw huge black billowing smoke almost immediately and saw the second explosion.
"After hearing two I'm thinking, 'Will there be more ... which way should I go?'
"Quickly everyone became nervous and panicky, thinking what to do and where do we go? We (the runners) were barricaded in there on both sides and people started breaking down barricades — people got panicked.
"The police were amazing, though, and there was this huge medical tent right there. There were already so many marathoners that had collapsed before the explosion — I saw at least a dozen in wheel chairs going into the medical tent — so they were already dealing with that. Then, on top of that it became quickly much more of an emergency.
"They had been sending us (runners) back toward the finish line, toward the changing area, when it hit. They immediately turned us around the other way. I walked several blocks away and tried to get to the family-meeting area but couldn't get through.
"All the phone lines were immediately shut down to prevent them sending remote cell signals to detonate other bombs. I started using strangers' cellphones because some text messages were getting through. But I couldn't get anything through."
Luckily for Rust, she and her family had arranged to meet back at the hotel if anything unexpected happened. They reunited about an hour later there.
"The saddest thing of it all is that we went from screams of joy and music and everyone being happy on this high and all of a sudden it just turns into this horrific event.
"For my part, a lot of my emotion is going out the people who have loved ones that are hurt or killed, and to those who were at mile 25 and were told they couldn't finish after all their training.
"It puts life in perspective — I'm just happy to see my family. And, I'm so thankful that I ran a little faster than I planned.
"I checked on all the Hood River runners. If you had a finishing time, more than likely you had gotten through and gotten out. They all came in with times before the blast and we're fortunate that we were all okay.
"The general feeling everywhere is sadness and everything is closed in Boston — ships, monuments — we are in a lock-down situation."
When asked if she had seen any of the blast-injured people, Rust responded, "Luckily I was about a football field length away. Smoke was all over. I heard people screaming — but there were police officers everywhere already and they got in the road and directed people within a minute of the blast. There were sirens coming from every direction.
"They dealt with it very well. It could have been so much worse. The whole 26 miles of the race were lined with people. There were so my people that it could have been much, much worse.
"I am now with my family — my mom and sister. We met up afterwards. Lots of people couldn't find family since it was pretty chaotic and scary and there was no way to meet up.
"We had a meeting spot at the hotel. I had no means of contacting anyone. I met back up at the hotel — it was lucky we had a just-in-case plan.
"I never thought I'd say this but I'm so glad my kids weren't out here. It would have been a whole different feeling."
n
Speaking from the White House, President Obama vowed to bring those responsible for the blasts to justice.
"We will get to the bottom of this," he said. "We will find who did this, and we will find out why they did this. Any responsible individuals, any responsible groups will feel the full weight of justice."