Originally published April 19, 2013 at 2:33 p.m., updated April 19, 2013 at 4:32 p.m.
Mike Gangwer was running his 199th marathon on April 15 when the explosions went off near the finish line.
It was his 14th in Boston and the only marathon he has not finished.
Gangwer, a 1971 Hood River Valley High School graduate who grew up in Parkdale and now lives in Alma, Mich., gave relief to his many concerned friends with his Facebook post Monday letting them know he was all right — physically, at least.
"Thank you all again for your concern about the tragedy in Boston today," Gangwer wrote on Facebook. "Yes, I was here running my 14th Boston and yet within the last just-less-than-half-mile to go, we runners heard the blasts and then saw the smoke plume.
"The Boston Police stopped the race and secured the area, so thousands of us never got to cross the finish line.
"This is not important," he wrote. "What is is the loss of life and over a hundred people with trauma injuries.
"I am out of the city now, and cold and tired and checked into a hotel for the night. I will drive home tomorrow, and decompress, and whilst on the journey home, think about how fortunate I was not to be four minutes sooner and thus right on the finish line."
He posted again once he returned home the next day:
"I drove home today and could not listen to the news. I feel traumatized and this is not about being weak, but honest with what we all went through.
"This was my 199th marathon and the first one not crossing the finish line. Someone or a group of someones took that away from not only me but several thousand others. And the loss of life and trauma injuries at the finish line spectator section is almost unbearable for me to work through.
"I usually cried after crossing the finish line in the early years, the emotional feeling of finishing the oldest and most prestigious marathon in the world was that powerful. Yesterday, we cried for a different reason.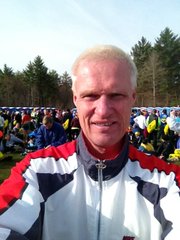 "One short story: A young Asian runner standing next to us was shivering so much that she was turning blue. We still were not allowed to leave the holding area and we had no extra clothes. So five of us pressed our bodies next to her and began to massage her over her entire body.
"After 15 minutes or so she warmed up and with pink lips now, kissed each one of us.
"This was Boston yesterday, and is repeated everywhere when people come together as strangers and depart as common shares. I'll not forget this very special moment, one of many."
When contacted by the News Thursday, Gangwer was understandably still shaken.
"I find myself emotionally traumatized," he said. "I really believed I would be OK. I was deployed overseas for four years and saw manifestations of enormous suffering and cruelty.
"But perhaps because I have seen these, I am experiencing these here again at a deeper level," he said. "I am sure others feel this way, too.
"I ran the course already 13 times so I know the sweep of emotions that flood over every one of us at the finish line," he said. "For those there this year for the first time, it is lost. I grieve for them.
"But I grieve more for those standing on the sidewalk behind the barrier, waiting, waiting, waiting for their husband, father, sister, cousin, lover, or just a friend to see the look on their face as they cross the finish line, but were tragically injured or killed.
"We cannot make rational sense of this," he said. "I cry every time I think about Monday. I am grateful that this was not my time. But every day is certainly a little closer to joyful living and participation."