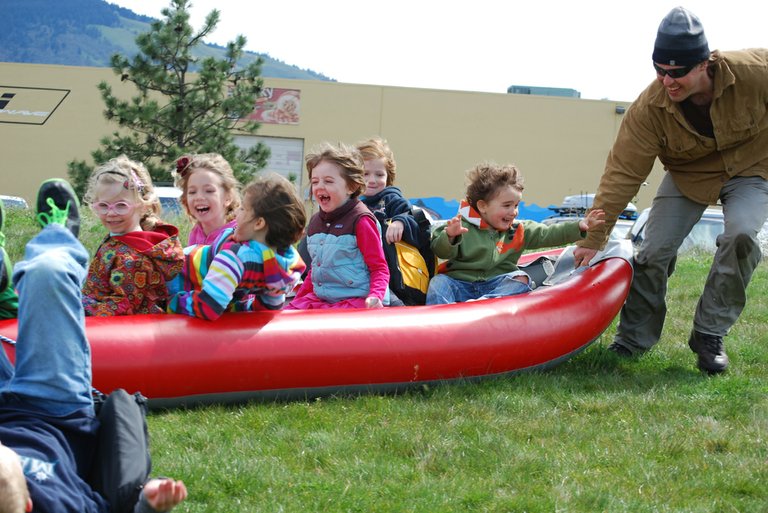 With volunteer workers edging over a hundred adults plus innumerable child-helpers, the Earth Day celebration and Waterfront park cleanup event on Saturday simultaneously brought smiles to faces and much-needed order to park landscaping.
"This was a great turn-out," said City Councilman Mark Zanmiller, on hand to push wheelbarrows and wield shovels with the best of them.
By late morning the wind was gusting, but adults carried on with weeding, laying bark, installing replacement native plants and generalized cleaning.
The junior gardeners, when not assisting the adults, were treated to a cavalcade of activities under the guidance of teachers from Cascadia Adventure Education School and other community programs. Homemade bows and arrows were tested in a cordoned-off safe zone and inflatable kayaks were taken out for spins on a sea of grassy fields, next to a full-sized teepee.
According to volunteers Diana Clark and Mary Hanrahan, who were there to tend their adopted plot known as "Salamander," additional people are still needed to adopt other unclaimed areas.
"We took over this spot about two years ago," said Clark. "Humble Roots nursery in Washington has been great about providing native plants. We've brought in some of our own, as well."
Some of the plants chosen to repopulate unsuccessful older landscaping include thimbleberry, mugwort and Oregon grape, to name just a few.
Along with the hard work, the community gathered to celebrate and to educate the upcoming generations about their responsibility to shepherd the earth.
Stepping onto the swimming beach it took only a moment to find youngsters exemplifying the message of the day. Bucket in hand, a "team" worked together to "plant" some mustard flowers into the sand, construct a waterway and haul the precious resource into use.
The moment made it easy to see how readily humans can direct their work toward a shared, common goal. Contact the City of Hood River to help at (541) 386-1488.