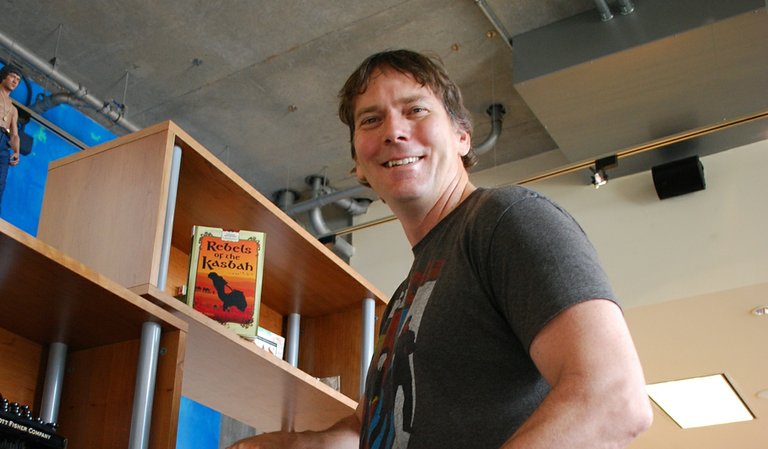 Joe O'Neill stands tall, wears a good-natured smile and hides a twinkle of mischief in his eyes — appropriate for a man who has experienced real-life adventures in both literal and high-tech jungles before making his home in Hood River.
O'Neill is an author of children's books, a publisher, a current offshore data processing business owner and a successful, former dot.com entrepreneur. He is at ease wielding antique daggers and swords, as well as laptops and old-fashioned Underwood typewriters. He is an new-fashioned renaissance man whose interests cross centuries and cultural boundaries.
His latest enterprise, creating a new story collection called "The Red Hand Adventures," began on a bumpy jeep ride through the wild lands of Sri Lanka while on a photography safari when a herd of elephants surrounded his vehicle with menacing intent.
'Rebels of the Kasbah'
Joe O'Neill's new book is available at local stores, and he offers interactive contests and games for his readers via his website www.redhandadvent...
Though the scene might sound like an exotic setting from a chapter of O'Neill's inaugural book, "Rebels of the Kasbah," it is instead a true depiction of the day O'Neill dreamed up his new career.
"The story just popped into my head about a boy camel jockey," said O'Neill. "I started writing images in my journal that night — Morocco, an underground resistance, children sold into slavery — just descriptive terms."
That fateful night was O'Neill's first time in the jungle but not the first time in Sri Lanka, where his other business, Waquis Global, operates one of its data management centers. It has been a few years since that safari, but the first book is now a hardcopy reality with several follow-up stories in the pipeline.
As for book one, written for 9- to 15-year-olds, O'Neill introduces readers to his young hero, Tariq, who is captured from his safe life in a Tangier orphanage in 1912 and sold into slavery as a camel jockey. From the corrupt slave trade of Tangier, to the wild frontier of the Moroccan desert, into the heart of ancient China, Tariq and his new friends Aseem, Margaret and Fez face a dangerous world with daring and friendship.
"I absolutely love writing these books," said O'Neill, who researched his foreign locales and regional history extensively while writing his stories. He decided to open his own publishing house after researching the nature of the business and deciding he had the skills to lead his own company.
Now available online through Amazon and Kindle, as well as at Waucoma Bookstore and G. Williker's Toy Shoppe, local May Street students have already pored through the pages of "Rebels of the Kasbah" and given their "thumbs-up!" to the series.
"We did some readings at the school and kids got really into it," said O'Neill, who is also developing fun interactive contests and games for his readers via his website, www.redhandadventures.com. Online activites include knot-tying instructions, advice on how to survive shark attacks and ongoing trivia contests. Each month, an "Adventurer of the Month" will be selected from student entries. Recurrent writing contests are also featured.
Seeking opportunities to give back to his own community, O'Neill has partnered with Tassie Mack of Mike's Ice Cream to offer a "Red Hand" flavor of the month, which, when purchased, will return a 50-cent donation to the Hood River library fund. His publishing company is also sponsoring Hood River Dynamos soccer teams.
"The kids on the teams have read the book, too," said O'Neill, who purposely sought out local feedback as part of his determination to create his own publishing business. The successful start-up, according to O'Neill, is due in large part to the added creativity of his wife and partner, Kristin Myrdahl O'Neill, the artist responsible for the series' overall graphic design, artwork and covers.
If you visit O'Neill's Black Ship Publishing offices located behind Doppio Coffee and Lounge at 310 Oak Street, you will see Kristin's skill on display, from her former life as a set designer, in the eclectic and engaging office interior.
The O'Neills plan to expand their publishing endeavor to include other authors, with an eye toward both fiction for middle-readers and texts that take on the all-too-prevalent issue of bullying.
As to his choice to come to Hood River, O'Neill said it was a connection to his old friend and local kiteboarder Cory Roesler that kept him visiting the Gorge over the years. When it came time to settle down with a family in mind, Hood River was "the perfect place."
O'Neill shared a bit about the background that led him to his adventurous lifestyle and how that ties into his mission as a writer and publisher.
"I moved 17 times before I was 15," he said. "You develop an active imagination when you fend for yourself. I learned from my mother, an inventor herself, to be fearless. I want to encourage kids to develop adventure skills, and to read."
The next Red Hand Adventure, "Wrath of the Caid," is due out next month.