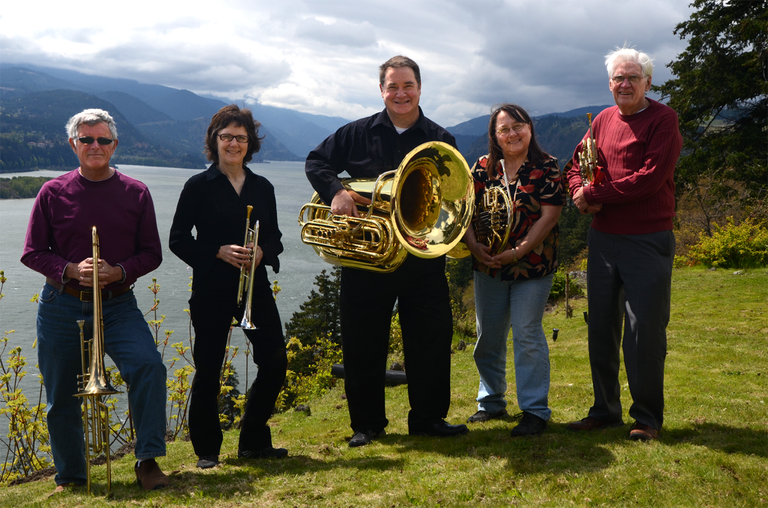 'Groove for Thought' April 26
Skamania Performing Arts Foundation presents "Groove for Thought," a vocal a capella group that has been featured on CBS's "The Sing Off" on Friday, April 26, at 8 p.m. at the Columbia Gorge Interpretive Center in Stevenson, Wash. Awards and accolades have been coming Groove's way since they first began performing in public. Most notably, they are winners of the 2005 National Harmony Sweepstakes Competition, and the Contemporary A Cappella Recording Awards for "Best Jazz Song" in 2006 and 2012 and "Best Holiday Song" in 2011.
If you enjoy groups like the Manhattan Transfer, you will love Groove For Thought.

Groove for Thought will also present a workshop/
master class for Gorge area students at 1:30 p.m. Call 541-400-9792 for details. Concert tickets are $16 for adults, $11 students; available online at: www.SkamaniaArts.org or by calling 1-800-494-TIX (8497).
Swing with the Sinfonietta
The Columbia Gorge Orchestra Association presents Sinfonietta in concert with some very special guests: The Off Beat Swing Band, featuring a supergroup of nine local musicians playing some classic swing with the orchestra. Also on the bill is the Gorge Ukestra, with music by Aaron Copland, and the world premiere of a brand-new trombone concerto, featuring soloist Hugh Amick. With two big shows, this will be a unique musical experience not to be missed.
Shows are Friday, May 3, at 7:30 p.m. and Sunday, May 5, at 2 p.m., both at the Wy'east Middle School Performing Arts Center. Suggested donation is $10.
New Orleans jazz at Elks May 4
Come join the New Orleans Jazz and Dance Extravaganza at Hood River's Elks Club, featuring the Hood River Jazz Theater, on Saturday evening, May 4, at the Elks Lodge, 304 Cascade Ave., Hood River. With a cajun buffet followed by old-fashioned jazz and swing music for dancing, the evening will offer a taste of the magic of Bourbon Street. The cajun buffet starts at 5 p.m. and the dancing starts no later than 8 p.m. For reservations call 541-386-1507. $10 cover; $15 per person cajun buffet.
Art Krug at The Pines April 26
Enjoy another evening of nonstop laughter at Comedy Night at The Pines with the sensational Art Krug.
Art Krug has traveled across the U.S. and Canada for 22 years, performing at such prestigious venues as The Improv in L.A., and The Riviera in Las Vegas. He has opened for Dana Carvey, Drew Carey and many others. Art's unique style has been seen nationally on Showtime's Comedy Club Network and in many television commercials. Friday, April 26, 8 p.m. This show is 21+ only, $10 in advance; $15 at the door. Doors open at 7 p.m. Seating is first-come, first-served. The Pines Tasting Room, 202 State St., Hood River; 541-993-8301.
Smiley at CEBU Lounge
This week at CEBU Lounge:
Friday, April 26: Tony Smiley, 9:30 p.m – Smiley, aka The Loop Ninja, is absolutely captivating as he rocks the Boss Loop pedal, looping every single instrument to build a whole world as he takes you along on a ride of rock, world fusion dance mixed with old school roots of '80s/'90s new wave, beat-boxing mixed with Mongolian throat singing and a dash of Middle Eastern tabla.
Saturday, April 27: Garett Brennan & the Great Salt Licks with W.C. Beck, 9:30 p.m. — Tom Waits in a cocktail dress. "Brennan's clearly following the speak-singing storytelling style of Greg Brown or Tom Waits ... if you can't afford your own mountain cabin, this album will take you right there." Best Western Hood River Inn, 1108 E. Marina Way; 541-386-2200.
Stillman at Gallery 301
Mike Stillman and friends will hold a jazz marathon on Friday, April 26. These guys put the OO in smooth; join them starting at 4 p.m. until they drop. The Gallery 301, corner of Oak and Third, downtown Hood River, 541-436-0281.
Chamber music concert April 28
The Columbia Gorge Orchestra Association presents an afternoon of Chamber Music on Sunday, April 28, at 2 p.m. at the Hood River Middle School Auditorium. This will be a concert of intimate music for brass, woodwind and strings by Mozart, Borodin and many others.
This will be an opportunity to experience and support local Columbia River Gorge classical musicians. Donation of $10 is recommended. Pictured is the Gorge Brass Quintet, featuring Hugh Amick, Linda Orum, Jerry Keith, Carol Goter and Sam Grotte. The quintet is just one of the scheduled bands for the program.
Entertainment listings can be e-mailed to jdrake@hoodrivernews.com