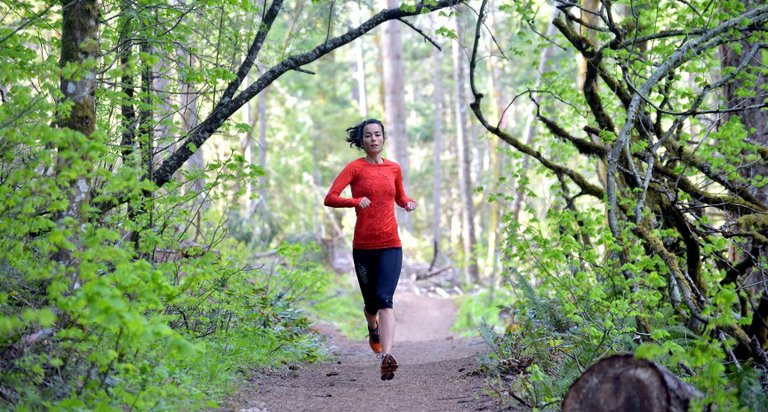 Originally published April 26, 2013 at 2:14 p.m., updated April 29, 2013 at 8:58 a.m.
Inundated by the tragic aftermath of the Boston Marathon bombings, it would be easy to forget the many stories of hope connected to the run itself.
One of those stories begins in Hood River with an admirable marathon finish time of 3:41:05.
Whether you've seen her on the forest trails or open roads of Hood River, you might have noticed something unusual about Ruth Coffman; her tiny frame is not representative of her athletic prowess or the number of obstacles she has faced in becoming a marathon runner.
For Coffman, telling her story today is about paying it forward; the possibility of helping someone else, as she has been helped.
First, stop the clock about 20 minutes before the first bomb went off.
Now, imagine this 34-year-old mother of two triumphantly crossing the finish line, joy and exhilaration spreading out from every fiber of her being; her completion carrying a special meaning for those who know her secret.
That is how Coffman and her family will remember April 15.
This was no ordinary finish. Coffman, who has suffered from Gaucher's disease since childhood, was racing against huge physical odds. To add to her triumph, her medical obstacles had been doubled in September 2012, when she was told that Parkinson's disease would be an added challenge in her future.
"I was diagnosed with Gaucher's disease when I was four years old," said Coffman, who explained the affects of the chronic, painful condition that forced numerous hospitalizations throughout her life. Gaucher's is caused by a hereditary deficiency of an enzyme. Symptoms include an enlarged spleen and liver, increased susceptibility to infections, liver malfunction, skeletal disorders and bone lesions that become severely painful, causing "boney crises."
But this rare disease came up against formidable opponents in Coffman's family.
First there was the diligent pursuit of cutting edge gene therapy, trial infusions and innovative treatments for Ruth, along with engaging Dr. John Barranger – a world-class expert in Gaucher's disease – onto her care team.
And then, there was the mental training.
"My father was a college football coach," said Coffman. While he was practicing scrimmages with his team, she'd be running cross-country on the track up the stairs from his field. "He'd call out to me, and have his team stop and yell, 'Don't let those boys beat you!'" The discipline and mental toughness paid off; her growing endurance and speed would often leave the team in the dust.
Coffman became a lifelong runner, finding solace and strength in her five weekly runs and daily exercise/nutrition regime, but the recent Parkinson's diagnosis threw her into a tailspin.
"It was worse than depression. It was total despair," said Coffman about her initial months facing the news. She admits that friends and family who reached out could not bridge the chasm of isolation she felt. The diagnosis drowned her for awhile.
As a family nurse practitioner, Coffman knew what she could be facing. Parkinson's is a progressive disease affecting the nervous system resulting from the death of dopamine- generating cells in the brain. Symptoms are generally movement-related with shaking and rigidity increasing over time, along with neurologic complications.
But those symptoms describe a disease, not a person: And here is where the "pay-it-forward" part of the story begins.
Coffman found a mentor who led her from her solitude.
British ultra-long distance runner Alex Flynn became a personal guide to Coffman. He was diagnosed with Parkinson's over four years ago and has been speaking out and running on behalf of Parkinson's sufferers ever since. Flynn recently returned from an epic 3,500-mile ultra-challenge crossing the U.S. from West to East in a quest to raise $1.5 million in support of Parkinson's research.
"After I read about him, I emailed him and he responded via Skype within two hours," said Coffman, who has since followed Flynn's guidance and example, using her own story to offer hope to others.
It was Flynn's personal contact that helped set Coffman on an upward path, inspiring her to train for the marathon. She took small steps this winter, which grew more confident as spring began to unfold.
"He (Flynn) told me, I had to keep putting one foot in front of the other; he told me to cherish each moment and live each day fully," said Coffman.
Along with Flynn's words and the support of her husband Stephan, her children Victor and Tsadiku, her friends and family, Coffman credits fellow runner Gwen Thomas with her return to hope.
"She was with me every step of the way," said Coffman about her running partner who took third at the Eugene Marathon this year in the women's division.
"Ruth was absolutely radiant as she ran the course. She was giving high fives to everyone the entire way. It was a beautiful thing to witness," said Thomas, who shared that Coffman's transformation between September to April was nothing short of a miracle.
"If my story can in any way help others," said Coffman, "that would really mean something to me." Coffman initially worried that sharing the severity of her disease might bring hardships at work and with friends. She has since experienced the opposite, with her colleagues stepping up to support her in unexpected and numerous ways.
"I had a whole circle of people supporting me during the race," said Coffman. Friends and family joined her in Boston and groups of friends formed prayer circles at home. After the race ended, Coffman had 37 text messages awaiting her in her hotel room. She felt "completely surrounded" by love.
Today, Coffman is beginning to see how her continued physical challenges can become a pathway towards a higher purpose.
"Seeing patients, I can bring a shared understanding to that relationship because of my illness," said Coffman, who works at NorthShore Medical Group in Stevenson. "I can also see how so many things play a role in healing and wellness . . . exercise, healthy eating, traditional medicine and some complimentary practices. I want to learn about all of that."
Coffman also recognizes the power of the mind. She regularly uses inspirational mottos and mantras to guide her inner energies towards healing.
Inspiring words Coffman keeps close to her heart come from Ralph Waldo Emerson: "To know even one life has breathed easier because you have lived. This is to have succeeded."
Going on to share one of her favorite "mental checklists" Coffman quotes runner Scott Jurek's four-point response guide to difficult challenges: 1) Feel it; 2) Take stock; 3) Seek a remedy; keep moving forward; 4) Separate out negative thoughts from reality.
Taking her own advice, Coffman is moving forward. She is training to receive a certificate in functional medicine that she hopes to complete in the near future. She is continuing to train hard and use every avenue available to maximize her health and the health of her patients. She is living her life to the fullest.
Coffman offered, in parting, a reflection on the marathon and the events that ensued after the stopwatch continued beyond her finish time.
"The route of the marathon, all 26.2 miles of it, were lined with thousands of people cheering each other along; great runners, people running for causes, people overcoming something, like me. There wasn't one step of the way that I didn't feel connected to everyone there. It was amazing. The bombs were a terrible, big disconnection for the world, but that wasn't the only story. The other story was the connections – the little kids, the guys in wheelchairs, the hospital patients wheeled out, people everywhere – all there to share in the incredible experience together."