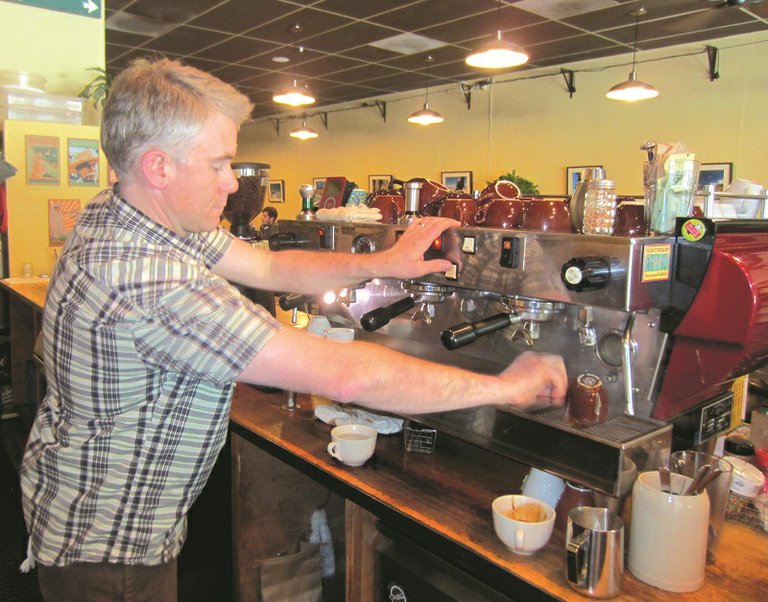 Walk into Dog River Coffee, and there's a good chance you'll be served by owner Nathan DeVol.
DeVol describes himself as a hands-on business owner with an official title that reads something like "owner, manager, barista, light bulb changer and dishwasher."
The day starts at 5 a.m., when employees prep for the morning rush. Mornings are the busiest time — Dog River opens at 6 a.m. on weekdays and 7 a.m. on weekends — although the business is open until 6 p.m.
DeVol came to Hood River in 2000 from Michigan "by way of Montana." He attended Montana State, receiving a B.S. degree in geography. He's here, he said, for the same reason as everyone else — the recreation opportunities the town affords.
DeVol opened Dog River Coffee, located at 411 Oak Street, in 2004 with two partners he has since bought out.
"We saw an opportunity to have a community gathering space as well as offering super coffee," he said. "We also wanted to take the opportunity to offer a better coffee experience than was available in town at the time."
Because of that welcoming atmosphere, Dog River serves a varied clientele. DeVol describes the space as a quasi-office and kid area because business meetings and play dates often take place simultaneously. Free Wifi for laptop and tablet users, or two onsite computers, keep everyone connected.
DeVol is on a first name basis with two-thirds of his regular customers, and makes it a point to introduce new employees "so everyone is on a first name basis."
"We try not to act like something out of the Pearl District in Portland," he said. "We serve an awesome product — coffee — and don't want people to be intimidated."
DeVol serves coffee from Stumptown Coffee Roasters in Portland, and offers only a few food items to keep coffee the shop's main focus.
"Stumptown offers the best coffee in the industry, and no one else spends as much time or money in coffee growing regions," he said, adding that Stumptown does a lot of direct trade with farmers not only to get a quality product, but to make sure "everyone is taken care of," from the farmers to the workers to the land.
Last October, Dog River participated in the Best Coffee House Competition in Seattle — their first competition ever — and took third place. He's thinking about entering again this year.
DeVol gives his baristas credit for the business' success. "I would not be half as successful without my staff," he said, noting that on average workers have been with him for three to five years. "We have a really solid, long term crew." He puts a lot of effort into staff training and making the coffee served at Dog River continually better.
Luckily, there aren't any changes in Dog River's future. DeVol plans to just keep doing what he's doing, "tidy things up, replace broken things, keep chugging along."
May 1 at Dog River: Rural Revial Craft Fair, a monthly event held spring through fall, returns to Dog River on May 1, 6-9 p.m. Meet local creators of arts and crafts, and enjoy live music; coffee, and beer will be for sale.