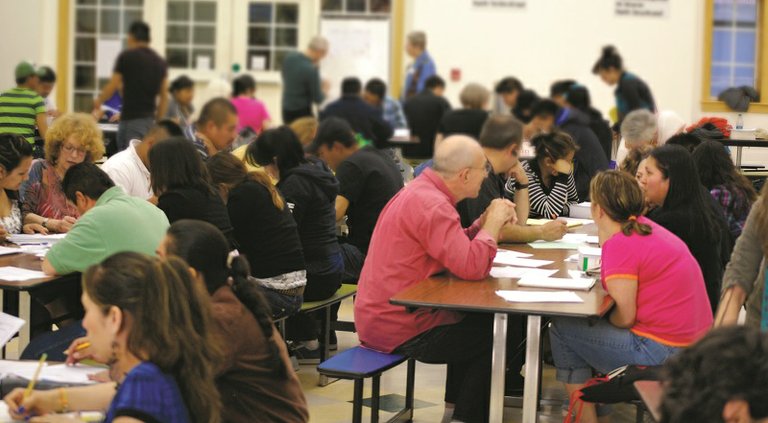 Gleaming rays of evening light illuminate the cafeteria of Hood River Middle School, providing an appropriate reflection of the uplifted mood shared by the 65 or so adults gathered inside.
It is Wednesday night and tucked around the youth-sized tables are 51 Spanish-speaking adults — all reaching for the American dream — guided by a cadre of 15 English-speaking volunteers and one official teacher.
Welcome to the newly launched Spanish GED program being offered through Hood River County Community Education taught by Gale Arnold, assisted by adult students of her Spanish language classes.
Each week Spanish-learners are working side-by-side with limited-English speakers in a winning combination of cross-cultural outreach that will help guide many hopeful adults onto General Education Development completion.
"The class was full before the catalogue came out," said Arnold, who was recruited to teach the class by Jesuit Volunteer Corps member Daniel Taylor of Columbia Gorge Community College. "We were supposed to limit it to 35 but there are 51 here tonight. There was no way I was going to turn anyone away."
U.S. Census figures report Hood River County's Hispanic residents make up 29.8 percent of the population. Some of these individuals are still monolingual Spanish speakers; add to that an annual influx of seasonal and migrant workers of Hispanic origin who arrive to work the farmland, and the basic need for education in Spanish seems natural.
When Arnold was asked to take on the project, she realized that her other students, enrolled in her Community Education Spanish classes, would be perfect candidates to help out.
"My helpers are mostly retired adults, with some still working," said Arnold. "There is no better way to practice Spanish than by working one-on-one with someone. I was retiring from teaching Spanish and this felt like a perfect set-up. People wanted to continue their Spanish, and here they are, helping those who want to improve their English and math."
Arnold has taken her group of Spanish GED learners and divided them into three groups, reflecting their existing education levels, which range from elementary education levels to high school graduates. Each group then works with the volunteer tutors on mastering skills needed to prepare for and pass the GED.
To assess her students, Arnold had each write a short story about why they wanted to take the class or what their life was like outside of class.
"I was reading those compositions and I just started crying," said Arnold. "So many described what they'd lost in their rural lives in Mexico and about real poverty – real hunger." For those students, the chance to get their GED represented hope for a better life for themselves and their families.
When asked to say how the GED would help them, Arnold read about hopes and dreams, the desire to feel proud instead of embarrassed and the aspiration to gain jobs outside of the orchard.
"They are so intent on learning and it means so much to them," Arnold said.
"The primary reason I want to complete my GED is to increase my chances for good work and I want to grow and develop as a person," said a student named Samuel, through an interpreter. He already has a high school degree in Mexico that wasn't accepted in the U.S.
"This is also good because there are actually people here willing to help us achieve this goal," Samuel added as he looked around the crowded room.
Leti Valle, of Community Education, has coordinated the class details and feels students and volunteers are getting a great opportunity through the model. "You don't learn a language really until you teach it."
Tutors and students are also arranging to meet outside of the once-a-week class to prepare for the six sub-sections of the GED: language arts, writing, social studies, science, reading and mathematics.
According to Taylor, an added pressure may also be helping to boost enrollment for some of the students now attending.
The new federal government "deferred action" program, for undocumented immigrants, requires individuals to have either a high school diploma or GED (in either English or Spanish) in order to apply.
Those qualifying for deferred action will receive temporary protection from deportation and work authorization after meeting certain criteria including proven multi-year residency prior to application.
An added challenge for those wishing to seek deferred action will be begin in 2014. That is when the corporate ownership of the GED test itself passes to a new company, which will then require test applicants to provide additional identification, including a social security number, in order to take the test.
For those still hoping to obtain deferred action status, they will not have the required identification needed to take the test. And, they will be required have taken the test in order to obtain the necessary identification.
"It is a Catch-22 situation once the test is taken over by the new company," said Taylor, who recognized the urgency of offering the preparation before the change comes about.
"I know how important it is to have a GED," said Judy Maule, a GED class volunteer who retired from the U.S. Geological Survey but used to teach students preparing for the English GED. "This is difficult to do after a full day working somewhere else, but everyone here is very motivated."
According to Leti Valle, Community Education hopes to offer two additional Spanish GED courses this year and will plan for more in the future to help meet the need.
The class is $25. A Spanish GED textbook for those who need it is an additional $18.
The final Spanish GED offered in 2013 will be in November. For more information, contact Community Education at 541-386-2055.