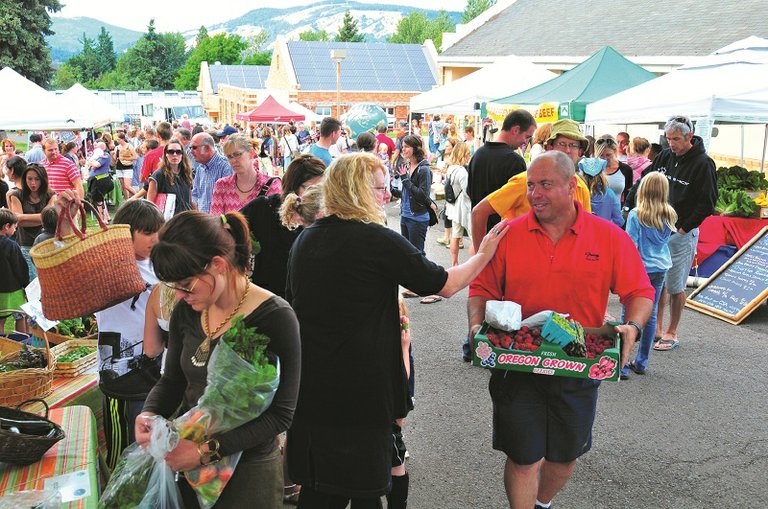 Gorge farmers' markets begin opening for the 2013 season in May with the Gorge Grown Farmers' Market (Thursdays in Hood River), the Hood River Saturday Market and the Goldendale Farmers' Market (Saturdays).
By the end of June the Gorge will have 13 bustling farmers' markets in full swing.
Gorge Grown Food Network (GGFN) recently brought together the managers and vendors from these markets in March to share resources, coordinate efforts and set goals for the season.
"The farmers' markets of the Gorge are a strong unified team and together they have set a regional goal of $1 million in gross sales for 2013," said Todd Dierker, co-director of GGFN.
According to Dierker, farmers' markets support local economic development with direct and indirect benefits including sales revenues, job creation and the spurring of additional economic activity as a result of the markets.
GGFN is collecting region-wide data as an attempt to measure the impact that farmers' markets have in the Columbia River Gorge region.
The growth in regional farmers' markets over the last few years is reflected in the region-wide search for additional market vendors. The farmers' markets of the Gorge are ready to expand.
Farmers, prolific gardeners, hot food vendors, or other food producers interested in selling products at a local farmers' market are encouraged to contact the manager of that market immediately.
The most thorough, up-to-date list of farmers' markets in the Gorge and market contacts is available at www.gorgegrown.com.
"I encourage people to get involved with their local market even if they only have spare produce from their garden or a few dozen eggs. Farmers' markets are community-centered events and there is a place for everyone to get involved," said Dierker.

In addition to vendors, the markets can use the support of volunteers, musicians, and community leaders to create a weekly event that brings people together to buy healthy locally-grown foods, share recipes and enjoy the company of friends and neighbors.
For 2013, GGFN has created a Gorge Farmers' Markets Pocket Guide to help people discover all of these unique markets. Contact your local market manager or GGFN to receive a copy.
"I urge everyone to build relationships with the vendors at the market in their community because these are the people that feed us, keep us eating healthy foods and care for our land," said Dierker.

Beginning May 2, buy fresh fruits, veggies, grass fed beef, cut flowers, cheeses, fresh salmon, bread, eggs and more at the Gorge Grown Farmers' Market every Thursday from 4 to 7 p.m. at the Hood River Middle School located on 13th and May Street.
The Gorge Grown Farmers' Market accepts SNAP Food Stamp cards as well as Debit cards. Thanks to business sponsors, food stamp shoppers can get $5 free to spend with their first $5 in purchases. Visit the INFO booth at the market for more information.