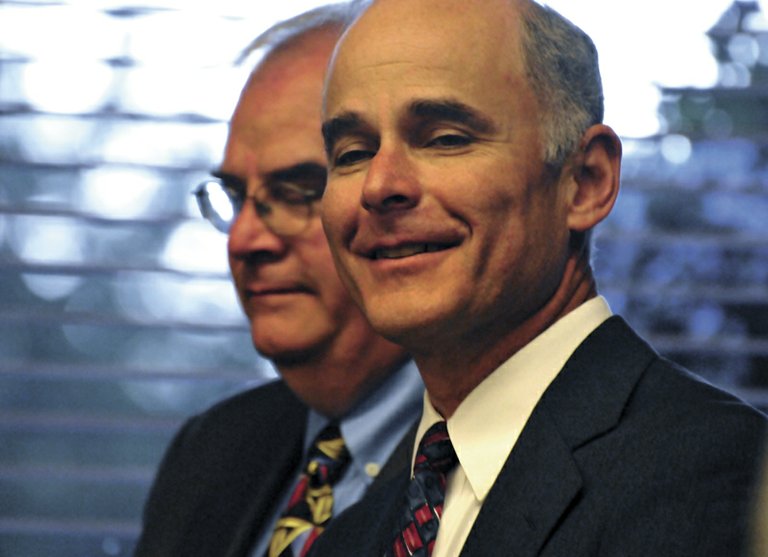 A newly formed group calling itself Hood River Citizens For Accountability (HRCA) is joining three past city mayors in asking the City of Hood River's mayor Arthur Babitz to resign, saying his resignation is in the best interest of the city.
Paul Cummings, Glenn Taylor and Bob Palmer have sent a two-sentence letter to Babitz asking him to resign (text at end of this article).
Mayor Babitz could not be reached for comment.
HRCA is also collecting signatures in an on-line letter to Babitz calling for his resignation at surveymonkey.com/s/BZW72SC which it is promoting in an email sent Aug. 1 to more than 1,500 people.
The call for Babitz to resign follows the recent resignation of City Manager Bob Francis who quit saying that Babitz's micromanagement and interference in the day-to-day operations of the city created an impossible working environment.
HRCA says that Babitz has repeatedly overstepped his authority as mayor allowed by the Hood River City Charter and that it will not be possible to recruit a new and well-qualified city manager as long as Babitz remains in office.
"We all recognize Arthur has made some positive contributions to the city," said former city council member Gary Gorman with the HRCA. "But he's acted far outside his authority as mayor under Hood River's City Charter and already cost us one of the best city managers we've had."
"It is in the best interest of Hood River if Mayor Babitz would step down as Mayor," said former Hood River Mayor Paul Cummings. "The recruitment process could possibly draw more qualified personnel if Mayor Babitz were not in a position of authority."
"Finding a new city manager will cost Hood River many thousands of dollars and be a major setback for city operations. That's directly as a result of Babitz's meddling and micromanaging," said Greg Colt, who helped form the HRCA.
"The mayor has not only violated the City Charter but he's putting the city at risk from a financial perspective," adds Ruth Nye with the HRCA. "Mayor Babitz has now chased out the city manager, city police chief, city finance director, city attorney and public works director. His inability to work with city staff is obvious and each replacement comes at a major financial cost to the city."
All three former mayors, along with Colt, Nye and Gorman, spoke to the mayor and council at public meetings in July leading up to Francis' departure, and all told Babitz directly they believe he should resign.
n
The July 31 letter to Arthur Babitz from Cummings, Taylor and Palmer reads:
"We are writing as previous City of Hood river mayors to express both appreciation for your dedicated service to the City and to encourage you go resign your position as mayor. We believe that your resignation would be in the best interests of the City and that a decision not to resign would be detrimental to city operations and Hood River's reputation."