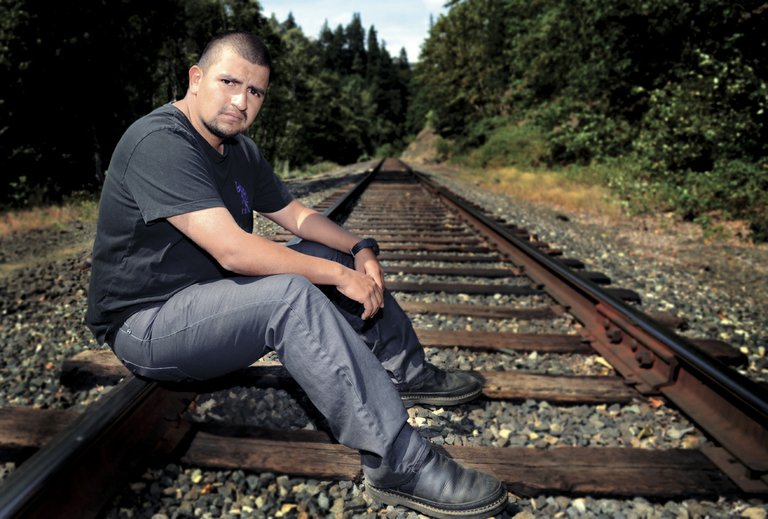 Jose Sergio Garcia Villa waited for his eyes to adjust to the light as the blanket his kidnappers had covered him with an hour or two before was ripped from his face. Standing before him were five men, dressed in ski masks, assault rifles dangling from straps around their necks. One of them — perhaps the leader, Jose thought — stepped forward.
"The reason you are here is we want a reward for your life," he said matter-of-factly in Spanish. "We're going to give you a phone so that you can call your relatives. We don't care who, just call whoever can help you the most. We want 2 million pesos ($160,000 U.S.)."
Otherwise, they told him, he'd be a dead man in three weeks.
With the instructions concluded, Jose was blindfolded with a fabric bandage that was wound around his head, returning him to a world of darkness.
A different time
Before he was kidnapped in Mexico this January, Jose Garcia, 28, led a relatively normal life in Hood River. Originally born in the Mexican state of Michoacán, Jose, his parents, and his two brothers and one sister moved to Hood River, legally, in 1996 after his parents had worked in the area since the early 1980s. Jose enrolled in school and eventually graduated Hood River Valley High School in 2003, the same year he met his wife, whose name Jose requested be left out of the story, in addition to the names of his other family members.
Like Jose himself, his wife is also from Mexico, but unlike Jose, was in the United States illegally when they first met. The two married in 2005 and had a daughter, while Jose worked at E&L Auto Parts in Hood River. In 2009, Jose says his wife "was asked to leave the United States" by immigration officials due to issues with her residency status and had to wait "anywhere from one to 10 years" before she could be naturalized and return to the U.S. She returned to her home state, which borders Jose's home state of Michoacán. Jose's daughter went with her.
"That part has been tough," Jose says of his family's absence, which caused him to be treated for depression at Providence Hood River Memorial Hospital late in 2009. "But that's not the point."
Jose continued to work and send money to his wife and would fly down to Mexico two or three times a year to visit his family, which included aunts, uncles, and cousins in the Morelia, the capital city of Michoacán.
In 2012, Jose's life went through two big changes: He started his own event promotion business in the spring, Bridon Promotions, and most importantly, learned he was going to be a father, again. He was unable to be present for the birth of his child, a son, but flew down to meet him in November.
"He was 6 months old when I got to see him," Jose remembers. "That was the first time I got to see my baby boy."
After a two-week visit, Jose flew back to Portland, and immediately began thinking about his next trip to Mexico. After saving up more money, he flew down to Mexico on Tuesday, Jan. 15, 2013, a date Jose will likely remember for the rest of his life.
Bienvenido a Mexico
Jose flew into Guadalajara International Airport, located in the state of Jalisco, the afternoon of Jan. 15 and began what had become a familiar routine. After landing and retrieving his luggage from the baggage claim, Jose would go to the rental car section and find a vehicle to take to his uncle's house in Morelia, about three hours away by car. As one of the largest airports in Mexico, Jose says he often flew into the Guadalajara airport as opposed to the one in Morelia because it offered more flights and more car selections.
"Usually I rent a car from Budget Rental at the airport," Jose explains. "That's the other thing I like about the airport: all the U.S. rental car companies are there: Budget, Avis, Alamo. It's like being back in the U.S."
But Jose never rented anything flashy. He was aware of how dangerous his boyhood home had become and knew better than to draw attention to himself. Less than five years before, a grenade attack had taken place in Morelia, killing eight and injuring more than 100. Drug cartels were blamed.
"I would just go down there and stay with my family and just do minor stuff because that's some of the precautions you have to do," he says. "It's not like back in the day when it was safer."
To keep himself under the radar, he picked a car that was unassuming.
"I just drove a white Nissan Sentra," he says with a laugh. "Not even aluminum wheels or nothing."
After renting the Nissan, Jose drove the 180 miles or so to Morelia without incident and arrived at his aunt and uncle's place in the evening. After visiting with his relatives, Jose went to bed and got what would be the last good night's sleep he would have for weeks.
"Just follow our orders"
The next morning, Jose awoke and prepared himself for the five-hour drive to see his wife, his daughter and his 8-month-old son. He started out in the afternoon, getting on the freeway, or autopista that ran from Morelia to Patzcuaro, a smaller city in Michoacán.
Jose hadn't been on the road long when he noticed a white pickup in his side mirror. Four men were in the bed of the pickup and were waving in Jose's general direction, as if they were signaling him to pull over. At first. Jose ignored them.
"I thought they were telling another car," he remembers. "I wasn't really paying attention; I just saw them in my side view mirror."
The pickup raced alongside Jose and then cut in front of him. The men in the back were clearly interested in Jose, motioning frantically for him to pull over. Jose could see what he thought were AK-47 rifles slung around their necks. He complied.
"I thought they were police or something, because in Mexico there are three or four departments of police," Jose explains. "There are federales, transit police, state police, and the other police they call judiciales. The judiciales, they look like undercovers. I was thinking it was them."
However, it soon became apparent to Jose that these men were not law enforcement.
"They came up to me and said, 'Get out the car,' in a bad manner, cussing and swearing," he says. "At that moment, I knew they were not the judiciales."
The men, whoever they were, instructed him to "just follow our orders," and led him to the truck. Jose asked the men why they were doing this.
"Shut up and don't ask any questions," one of them barked at him. They placed a blanket over his head, shoved him into the bed of the truck and drove away, leaving his Nissan Sentra, which still contained his luggage, on the side of the road. The whole exchange took all of two minutes. It happened so fast that Jose noticed little about his kidnappers, other than they seemed like local Michoacános.
Under the blanket, Jose could tell they were still heading west as the driver of the truck hadn't turned around. He estimated they continued on the freeway for 45 minutes to an hour before exiting, then drove on a mixture of pavement and dirt roads for another 45 minutes. His captors offered up little conversation other than a few banal remarks about the traffic. One of the men did let one key piece of information slip: a comment about a road sign, which told Jose he was headed for a destination somewhere outside the city of Uruapan, an area in the heart of Mexico known for its abundance of Monarch butterflies and avocado farms as well as cartel violence.
A familiar voice
After Jose was dragged out of the pickup and uncovered, he had only a few moments to carefully take in his surroundings. It was dark now. He could tell he was out in the country somewhere. Ahead of him was a dilapidated wood cabin. Then, a bandage was placed over his eyes and handcuffs around his wrist.
He was led into a room that reeked horribly of excrement and Jose could tell there were other hostages there.
Some time during the night, one of his captors asked Jose who he wanted to call so his family could start collecting funds to pay his ransom. Jose could only remember three numbers: his wife's, his parents' and a brother's in Hood River. He decided to call his brother and gave the man his number, as he wouldn't let Jose dial the number himself.
Jose's brother picked up despite the late hour. He was worried because he hadn't heard from Jose, who was long overdue at his wife's place. He told him what had happened and instructed his brother to see if he could take money out Jose's bank account, to sell his cars, to start asking relatives for money, and to see if they could take out loans from the bank. The phone was taken away from Jose's ear and he was left alone for the rest of the night sitting on the cabin floor.
"I didn't sleep that night," Jose says. "I never slept. I slept maybe 15 minutes a day. I was worried that if I slept, they would do something to me."
Life in captivity
As Jose got used to his new living quarters, he also got used to the routine of life within the confines of the cabin. As near as he could tell, there were three groups of three guards that rotated on what Jose assumed was a 24-hour basis. He could tell them apart by their voices and how they treated him and his new roommates.
"Each group had their own way of treating us, like one of the groups was really aggressive and they would hit us, all of us, just lightly, but the other guys would hit us in the face with, I don't know, the long rifle," he recalls. "They would hit me in the ribs or they would just kick me on my knees or something like that, just showing their power."
Jose's captors would give him food and water once a day, which consisted of a high-sodium diet of a soup Jose recognized as Cup o' Noodles, and on occasion, salsa, tortillas, and fried chicken.
"Every time they would feed us they would give us Cup o' Noodles," he says. "For the rest of my life, I will hate Cup o' Noodles."
Still blindfolded, Jose figured out over the next few days that there were approximately two or three other hostages in the room. Although Jose and the other hostages were forbidden to talk under penalty of severe beatings, Jose says the guards both questioned and threatened their captives. One hostage sounded like a teenaged girl and had apparently angered whoever these people were by dating someone in the Mexican army. Another, hostage, likely an older man, was there for committing some kind of crime — rape, from what Jose could gather.
After six or seven days, the blindfold was finally taken off Jose for a few moments by a shift of guards he characterized as more compassionate than the others. They advised him to open and shut his eyes repeatedly so as not to damage his vision after a spending a week in darkness. In between blinks he could see avocado trees through the cabin windows. Then, the bandage was wrapped around his head once again.
Besides having the blindfold briefly removed, Jose believes his exalted status as a hostage who was there for ransom gave him one other small, but important comfort over the other captives.
"Because of the smell, I could tell they wouldn't let the others go do their sanitation," he explains. "They would pee and poop right there, but the reason I was there is for money so they would allow me to go outdoors and do my sanitation. But the others they just left them there and they would have to do their own thing right there."
"Like devils"
After what Jose had estimated was a little over a week, another hostage, a man, was brought into the cabin. By his voice, Jose thought he might have been in his early 20s and the guards seemed to take a particular interest in him.
"I could hear them asking questions like who his commander was or stuff like that," Jose says. "Every day they would ask him questions, what he knew, what he knew about them, what he told his boss about them and stuff like that."
The man was beaten on a daily basis and more viciously than the other captives, Jose says, who thought the young man might have been "military intelligence," based on the questions asked of him by the guards.
After several days of interrogations and beatings, Jose says he heard the guards take the man out back and then, a gunshot. The guards then discussed among themselves about how to best dismember and burn the body.
Before they killed the man, Jose remembers they asked him if he had a family. He said he did, a wife and two kids. But it didn't matter to the guards.
"Those people are the worst," Jose says with anger in his voice. "They don't have no feelings, nothing. I could hear those guys, killing that guy, laughing, it was like they were killing, I don't know, like a cow or something. They were enjoying it. They were laughing. They were making fun of that guy being dead there… They're like devils."
"At that moment I was more afraid for my life," he continues, "because that was my first time hearing how a person gets killed. I can't tell you how you feel at that moment when see or hear someone get killed. You feel — you go out of this world, you go neutral, you don't know what to think. You're just afraid you're the next person in line to get killed."
After the guards murdered the man, they came back into the cabin with a message for the hostages.
"They killed that guy," Jose says, "and they told everyone in that room: 'If you try to escape, or if you don't pay your reward that we're asking, that's going to happen to you.'"
Coming Aug. 7: Price for Life Part 2
The second part of our story will feature details on Jose's final days in captivity, his release, the aftermath of his ordeal, and why he decided to tell his story.