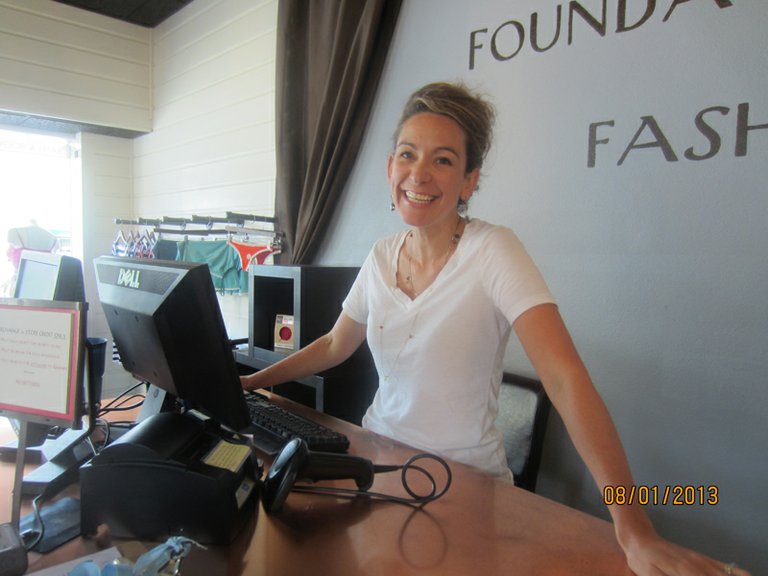 When Brooke Pauly and her husband, Mike, were married almost 11 years ago, they bought a travel trailer, quit their jobs, and toured the United States. The trip, while fun, had a purpose, too: The Paulys wanted to move to a small town, and they were looking for just the right one.
Two weeks into their 20,000 mile cross-country journey, they came to Hood River. And fell in love.
But they continued with their trip. They made a big circle, starting in Colorado (Pauly is from Boulder) and winding through the Pacific Northwest, over to Maine, down to Florida, across to Texas, and then to California — but they didn't find another small town that compared to Hood River.
So they came back.
Pauly owns Foundation 45, the Oak Street lingerie, bath and body shop that offers everything from bras and pajamas to candles and bubble bath. But before she opened shop, she held a variety of jobs, first commuting to a Gresham restaurant before taking over the management of Brian's Pourhouse for four years. From Brian's, she moved to the Ruddy Duck. "I've been working my way slowly down Oak Street," she joked.
The concept of a lingerie shop began to take shape after Pauly noticed there wasn't anything like it in Hood River. Though she did not have previous experience in lingerie sales, she knew it was something she wanted to do.
"Some of it was, we wanted to do our own thing," she said. "It evolved from there."
Pauly has made Foundation 45 "a cozy little comfortable place to come," and the store enjoys a steady local following. "Lots of locals come in once or twice a year," she said, and she enjoys seeing the familiar faces.
She even has regulars who live in Portland and Seattle, stopping by each time they're in town. "It's super fun to have regulars who don't even live here," she said.
"We have such good customers, and such good tourists in town," added Pauly. "People come in here and they're respectful. They love it here and they're good to the town."
She enjoys working with customers more than paperwork — although paperwork is, of course, necessary, as is researching new lines and paying bills. Pauly has two employees who make up essentially one part-time position, so she is the one who is usually minding the store.
One common misconception people have, she said, is that it only carries really expensive, super-sexy merchandise.
"We do have some beautiful imported lines," said Pauly, but adds that she has a wide range of products in a variety of sizes and prices. She carries many of the same brands found at Nordstrom and Macys, purposely pricing her items at or below those found in Portland — to save people the trip to Portland.
"Our bras start at about $35, and we have sizes 32A up to 40DDD," she said. "We also do special orders. People have favorite things."
Hood River has grown in the 11 years since the Paulys came to town — partially because their two children, Kate, who will be in third grade at May Street this fall, and Jack, who is three, were born here — but the town has managed to keep "that small-town thing going," said Pauly. "Sometimes towns lose that as they grow, but with Hood River, it's kept that small-town feeling.
"The people are so friendly here," she added. "It's a great place to raise kids. And all the activities you can do here is incredible."