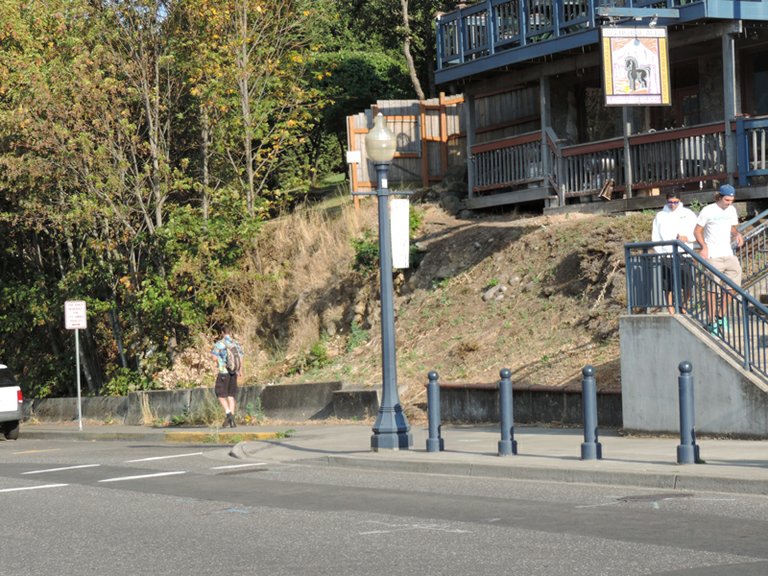 Work on phase one of State Street redevelopment, a retaining wall and sidewalk, begins Monday on the State Street Urban Renewal Project.
Traffic will be one-way on State, between Front and Second streets, for about two weeks as Crestline Construction starts work on a two-tier retaining wall between First and Second, just east of Horsefeathers Pub and Big Horse Brewery. Excavation and gradual removal of trees and shrubs will be the most visible aspect of the project. Crews will begin shoring up the bank in preparation for construction of the retaining wall, which will have a raised walkway.
Parking between Front and Second is unavailable for the next two months, and while flaggers will route traffic one-way during the day, both lanes will be open overnight.
All work will be on the south side of the street.
Second Street stairs will remain open, and traffic will increase on Second as drivers are encouraged to take it as an alternative to the one-way work zone.
Come Sept. 1, crews will be tearing up State Street between Second and Seventh Street, and in October and November, on Front Street and on Oak between Front and Second.
These and other facts were presented Monday night to about 15 business owners in a meeting at City Hall with construction representatives and the Urban Renewal Advisory Board.
The $4.2 million project will result in new streets, sidewalks, lighting, and pedestrian plazas, and all utilities will be placed underground.
Gary Lindemyer of the City of Hood River is the point man for the city on the project. He said two-week work schedules will be posted on the city web site.
Ben Sheppard of Sheppard's, Scott Reynier of Columbia River Insurance and Buzzy Nielsen of Hood River Library serve as community liaisons; anyone with concerns is encouraged to contact any of the trio, and they will work directly with the city and Crestline for resolutions.
Project Manager Bill Ketchum of Crestline said his company has rented street-level office space at 212 Second St. (the former Next Door office) and Crestline officials are available there or on the work site to answer questions. (An article in the July 31 edition gave the wrong general contractor name.)
"I'm always around," Ketchum said. "We will work with all business owners to do what we can to help make sure they have access."
Designer Dev Bell explained that an entirely new utility system must be installed underground before the power poles are removed.
"Every piece of underground is spoken for. It is busy under there," Bell said. Public utilities and private ones including phone, cable, and natural gas have worked with the designers, and all parties are satisfied with the plan, he said. The complexity of the undergrounding is the primary reason for the long duration of the project, he said.
"There's a lot of time involved, and you just have to wait for things to happen," Bell said.
Lindemyer said the increased traffic on Second and Oak, already a busy intersection for cars and pedestrians, is something "we have given a lot of thought to," and he added that Oregon Department of Transportation will be monitoring motor and pedestrian use of the intersection.