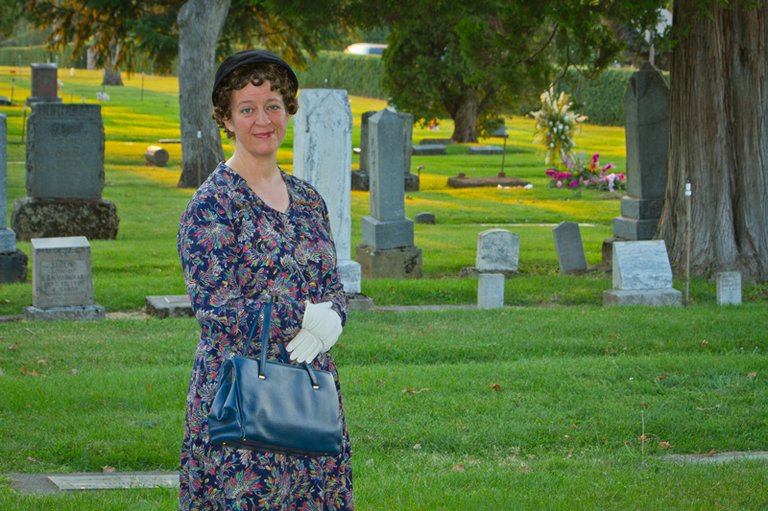 Wednesday, August 7, 2013
Tickets are now on sale for The History Museum of Hood River County's fifth-annual production of Cemetery Tales, to be held Sept. 27-29 at Idlewilde Cemetery.
There will be multiple performances each day and evening, with a limit of 15 people per time slot. Tickets are $15 per person general admission; $12 for museum members and groups of 15 (entire time block).
Check-in and staging takes place at the Hood River Valley Adult Center, 2010 Sterling Place, Hood River
A lasagna dinner will be held Friday and Saturday evenings, with proceeds to benefit the Hood River Valley Adult Center's Meals on Wheels program. Meal tickets are $9, and can be purchased through The History Museum. Dinner includes lasagna, salad, garlic bread and peach-berry cobbler.
Tickets for Cemetery Tales may be purchased online at www.co.hood-river.or.us/museum; click on Cemetery Tales on the left, and then follow directions to the link to order. Payments may be made by credit card or check.
Tickets are also available by calling the museum office at 541-386-6772. You can also find an ordering link on our Facebook page.
Museum Coordinator Connie Nice said that due to the nature of this program with three days and 24 performance times, the museum is unable to refund, exchange or change your purchased tickets."
Some things to remember:
n This is the fifth year for this very popular fall event. The event has sold out each year so get your tickets early.

n Since this event is an outdoor performance (rain or shine), the museum encourages you to keep this in mind when selecting what to wear. Always bring a jacket and sturdy walking shoes. This year's performance is a few weeks later than in the past, so the evening temperature will be quite cool. Dress warmly so you can enjoy the program in comfort.
n This event is not designed for children under the age of 10 due to the format of the performance. Please call the museum office if you have questions about this.
n This performance style is unique as each guest begins their Cemetery Tales journey by bus which takes them from the Hood River Valley Adult Center, into the cemetery and then drops them at the starting location. The groups are then guided from graveside to graveside by an experienced volunteer, following a path of hundreds of luminaries.
Once at a graveside station, guests are seated and then treated to a very intimate and personal look at the lives of the person buried there. Cemetery Tales is more than a program about dates and locations; it's an intimate journey into the lives of these unique people.
n The purpose of this event is to utilize first-person dramatic monologues to engage and connect with the stories of community members that have passed on before us. This style of performance allows you to experience our community's history in a very personal way.
"Many people don't realize the preparation and planning that goes into the seemingly effortless success of Cemetery Tales," says Museum Coordinator Connie Nice. "We begin working on the next year's performance in October (just a few weeks after the actual performance dates). We start by selecting story options from throughout the cemetery and then we go back to the museums research files to start fine tuning that list.
"Once the casting call goes out and we see who is interested in acting for this season, we narrow the list down again and being to develop a final cast list," she says. "Each actor is then given a packet of research materials to start developing their story outline and eventually their script. The scripts go through multiple revisions, always honing in on telling a story that isn't just about dates and names — but about life and living. Costumes are then developed, designed and made.
"The final push comes when the tickets go on sale mid-July followed by the actual rehearsal and performance days in September," Nice says. "The History Museum works hard to have this special community event bring a deeper awareness of the museum and our mission, but also to create an opportunity for people to make a deep connection with the stories of our grandmothers and grandfathers.
"Despite all the preparation and work that goes into this event, it is my favorite community program that the museum offers and one that I look forward to each year."

n
For more information about Cemetery Tales, contact Connie Nice at 541-386-6772 or email thehistorymuseum@hrecn.net. For information on volunteering for Cemetery Tales or other museum programs and opportunities, contact Carly Squyres at 541-386-6772 or thmvolunteer@hrecn.net.