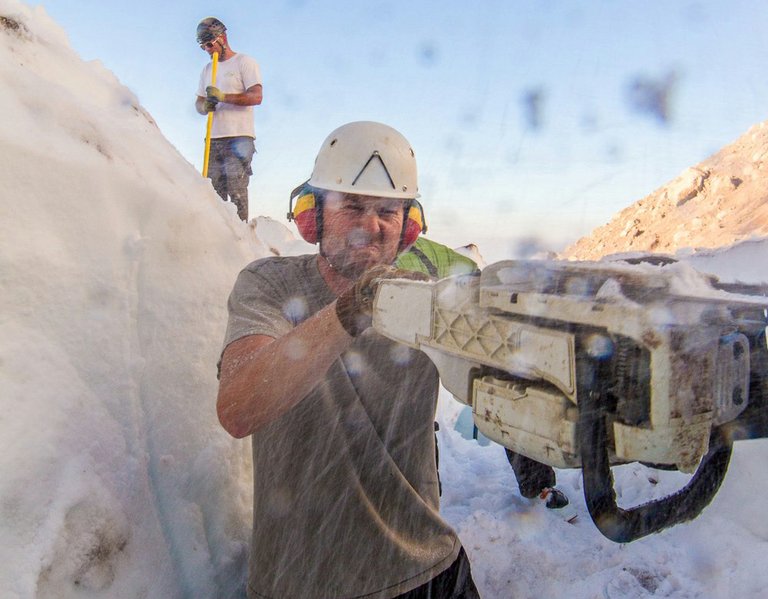 Wednesday, August 7, 2013
In a first for rescue and recovery efforts on Mount Hood, chain saws were used on the White River glacier Sunday to cut away ice and retrieve the body of a 25-year-old Colorado snowboarder.
Collin Backowski from Pines, Colo., died after a chunk of ice weighing an estimated 4,000 pounds fell on him in an ice tunnel at the 8,100-foot level of the White River glacier on Mount Hood, according to a report from the Hood River County Sheriff's Office.
The incident happened about 300 yards east of the Palmer snow field. Backowski and a group of five other snowboarders had been out looking for areas to snowboard and film, according to the sheriff's report. The ice collapse happened at about 3:50 p.m. Saturday, and recovery of Backowski's body happened at about 11 a.m. Sunday, after a seven-hour operation including three-and-half hours of digging and cutting through ice. Six-man crews took turns with shovels and chain saws.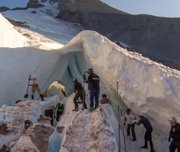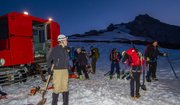 A team of Hood River Crag Rats went to the scene Saturday night to assess the situation, and a larger group returned starting at 4 a.m. Sunday, when temperatures were lower and it was safer to ascend the mountain.
The rescuers took a 20-minute snow cat ride then hiked 10 minutes to reach the place where Backowski was trapped.
With Portland Mountain Rescue volunteers, Crag Rats used shovels and chain saws to widen the tunnel entrance and retrieve the body.
Based on reconnaissance, and from what the witnesses said, the recovery team was all but certain that Backowski was dead, according to Crag Rats.
But "we didn't discount the remote possibility" that Backowski was alive, said Crag Rat Richard Hallman.
Crag Rat Christopher Van Tilburg said "We weren't too preoccupied with what we'd find, but were focused on the task at hand."
Because of the sun warming the glacier, members of the recovery team were also concerned about their own safety, and were prepared for further ice collapse as well as rockfall.
They moved a volume of ice "about the size of a school bus," Hallman said. They removed snow and ice by passing four shovels up and down a line, away from the tunnel.
Longtime Crag Rats said they could not remember another time when chain saws were used in a mountain recovery effort.
"Being glacier ice, it's made up of layers that are sometimes soft, sometimes bullet-proof ice," Van Tilburg said, adding that the rescuers cut and moved big blocks or piles, alternating between handling the saws and moving the snow.
Hallman said, "Our first thought was, 'This will be extremely daunting.' We knew we wanted to do the best we can to get to him as quickly as possible, but it was another warm day and the snow was melting and crumbling, that was why it fell on him and we didn't want it to fall on us."
"It was thick condensed snow; not all of it was blue, so it technically wasn't ice, but pretty close to it," Hukari said.
"We were cutting blocks as big as we could handle, some weighed 40-50 pounds, and there were a lot of them."
"The chain saws were awesome; I'm pretty sure it cut our time in half and probably by a third. By noon would have had to shut things down, would have been warm. They helped move things along," Van Tilburg said. He added that the saws' vibrations, along with the rising temperatures, were matters of concern for the stability of the ice in that location.
"It was a very hot day, and we took that really seriously, and went up with safety of the rescuers as primary," Hallman said.
"It was in our consciousness, that this was a really dangerous spot to be in, and we had to be careful and we got the job done safely," he said.
"The chainsaws were critical to the quick extrication of the body," Van Tilburg said. Hukari said he and Rick Ragan jointly thought of employing chain saws, and each brought saws with 3-foot blades. In addition to the saws, they also had to carry gasoline and oil up the mountain.
Two of Backowski's friends were partially buried when the ice fell, but were pulled out and were apparently uninjured.
The other men attempted to dig into the collapse but could not do much due to the density of the snow and ice and danger of further falling debris, according to the sheriff's office.
Hukari noted that "experienced climbers would know not to go in there at that time of day."
"This is the most dangerous time to be on the glacier, and more dangerous time of day, 3 p.m.," said Van Tilburg.
The group of snowboarders ranged in age from 29 to 24. The men found an area where the glacier meets a rock talus slope and had melted a tunnel into the ice and snow.
Van Tilburg said it appeared they had not been doing any jumping at the site, but were "there looking for something to do."
American Medical Response Reach and Treat responders probed the area and were not successful in finding Backowski.
Sheriff's Office Search and Rescue personnel responded to Timberline Lodge. The Clackamas County Sheriff's Office also responded and assisted. AMT members were the first to arrive and went to the location of the missing man. Mountain Wave Communications along with the Sheriff's Office set up a base site.
As to Backowski's exact location, "We were just going by our best guess."
"We had kind of an idea where he was, tried using Recco detector but he wasn't wearing a receiver of any kind, nothing in his pockets; he had earplugs in his ears," Hukari said. (Recco is a sounding device used to find people buried in snow and ice that picks up a directional signal emitted by half-inch metal disks that are worn in clothing by skiers, snowboarders and others.)
Crag Rats involved were Jay Sherrerd, Paul Klein (son of Crag Rat Denno Klein), Micah McNullty, Ron Martin, Merideth Martin, Rick Ragan, Chris Van Tilburg, Todd Hanna. Richard Hallman and Brian Hukari.
Hallman and Van Tilburg hailed the cooperation between the different agencies PMR, Crag Rats, and Timberline.
"It was a lot of people who come together to make things happen," Hallman said.
"Maybe because we've been doing this so much now, it's amazing how smooth things go, and you don't need a lot of communication."