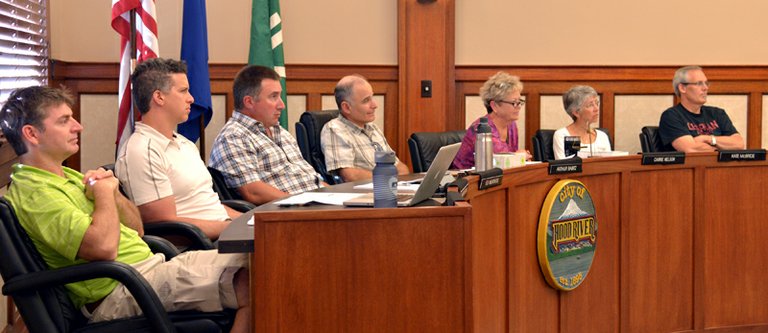 Wednesday, August 7, 2013
Mayor Arthur Babitz said Monday that calls for him to resign are unfounded and based on secondhand information.
"I understand the City Charter and I have never done anything in violation of the charter," Babitz said.
A newly formed group calling itself Hood River Citizens For Accountability (HRCA) last week asked Babitz to resign, claiming that Babitz has violated the city charter, and that his presence in office will make it more difficult to hire a city manager to replace Bob Francis, who retried in July citing "micromanagement" by Babitz.
Former mayors Paul Cummings, Glenn Taylor and Bob Palmer sent a two-sentence letter to Babitz asking him to resign, and HRCA is also collecting signatures in an online letter to Babitz calling for his resignation.
But Babitz said the charter allows the mayor and council do set policy and do oversight. "I think what people are upset about, I'm guessing, in my appraisal it is that we have taken a more active role in setting policy and oversight. I cannot think of any examples of this council directing staff contrary to the city manager. The city manager has a direct line to all staff, and I am extremely careful not to give direct instruction to any staff and I have no knowledge of any council member doing so."
Babitz statement
Mayor Babitz issued a response to his critics, found on page A4.
Babitz said critics "are acting from secondary things they think they have heard or things they think are true. There is this assertion that I overstepped the charter, that I don't understand the charter. Of course I understand the charter, and I have not violated the charter. I took an oath to uphold the charter four times and I do not believe I have in any way violated the charter."
He said "a series of assertions were made about me in council about process, and micromanaging. To be clear, he never made any of those assertions to me or any of the council members prior to his resignation.
"I am convinced I was elected because people knew I would ask hard questions and knew I would do deep research, and I am convinced that was what the city has needed and I have provided that service; and that is a contributing factor to us making the progress we have made," Babitz said. "I believe it is absolutely my responsibility to ask the questions, do the homework, and that is what I am doing. I think it is remarkably clear and I don't know how people get confused between that and giving directions. When I am asking questions I am not giving directions.
"My focus is on getting the best city manager in as a replacement for Bob that we can, and that's what the City Council is working on," he said.
"I thought carefully about what my role is and I am going to play a more peripheral role because this is going to be my last term (in office)," Babitz said.
"I've thought about what effect my resignation would have and I disagree with their analysis that my resignation would in some way help the case; when in fact I have a fair amount to offer — I have had experience in hiring executives."