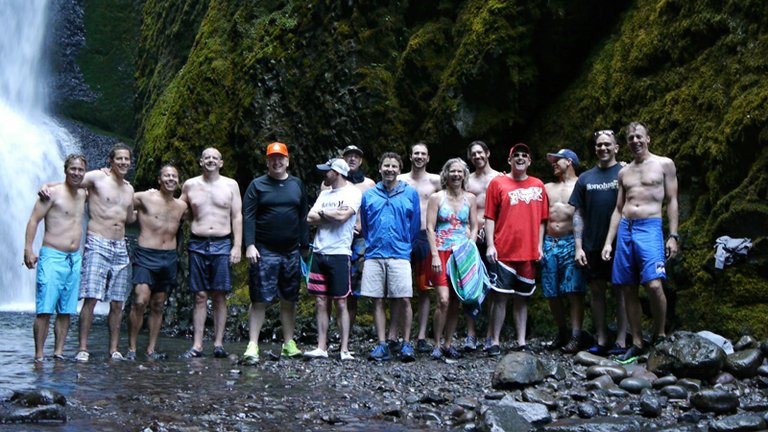 Wednesday, August 7, 2013
With the mantra of building relationships and growing business through recreation, Global Sessions co-founders Aaron Sales and Matt Sweeting are holding the first of what they hope will be many multi-faceted business, networking and recreation-based retreats this weekend in Hood River. Called The Gorge Sessions, the goal of the Aug. 8-11 event is to bring adventurous business men and women to the Gorge to network and share ideas with one another, attend mini-conferences and presentations and partake in some of the many adventure sports the region has to offer.
The Gorge Sessions are part of Sales' and Sweeting's larger venture, Global Sessions, in which the two are carrying the same theme of bringing professionals together by mixing business with pleasure to the Gorge and more exotic locales around the world.

Sweeting says this week's Gorge Session will bring to town upwards of 30 men and women, most from Portland and southern California, and utilizes local businesses whenever possible. Participants pay an up-front price for the all-inclusive event, which has the west half of the Event Site booked Aug. 8-11 for riverside presentations and conferences.
"Recreation is the ultimate icebreaker, and Hood River is one of the best places in the world for this kind of event, both in terms of the variety of world-class recreation we have out our doorstep and in the unique and vibrant business community in the Gorge," Sweeting said. "In a way, these kinds of sports are like the start-up of a business. There's adrenaline, risk and reward involved in both, both are exciting, and both take a spirit of adventure and a determination in order to succeed."
The theory is to use activities like kiteboarding, stand-up paddling, mountain biking and golfing to break up the conference schedule and showcase the area as a business and recreation hotspot to visiting clients. Although most will have a background in at least some of the sports on the agenda, participants will choose their own adventures and pro athletes have been enlisted to accompany them and give one-one-one coaching.
After hosting the successful Gorge Mai Tai event last summer that brought several dozen entrepreneurs to town for a kiteboarding-specific business retreat, Sales and Sweeting launched Global Sessions. The two have already brought clients from Nike, Adidas, Best Western and The CLYMB to the Gorge for their brand of all-inclusive and intimate corporate retreat hosting.
Beyond hosting custom retreats in the Gorge, Global Sessions has its sights set on the warmer climate of the North Shore of Oahu this fall for its next major event.
n
Both Sales and Sweeting call Hood River home and bring decades' worth of traveling and adventure sports experience to Global Sessions. Sales has been in Hood River for more than ten years, six of which as the editor of Kiteboarding Magazine, where he had the opportunity to experience first-hand many of the best action sports venues and events on the planet. Sweeting is currently a fitness coach at CrossFit Hood River. The Britain native has traveled the world extensively, developing a background in hospitality and resort management before finding his way to Hood River in 2010.
For more on Sales, Sweeting and Global Sessions, check www.globalsession.com.