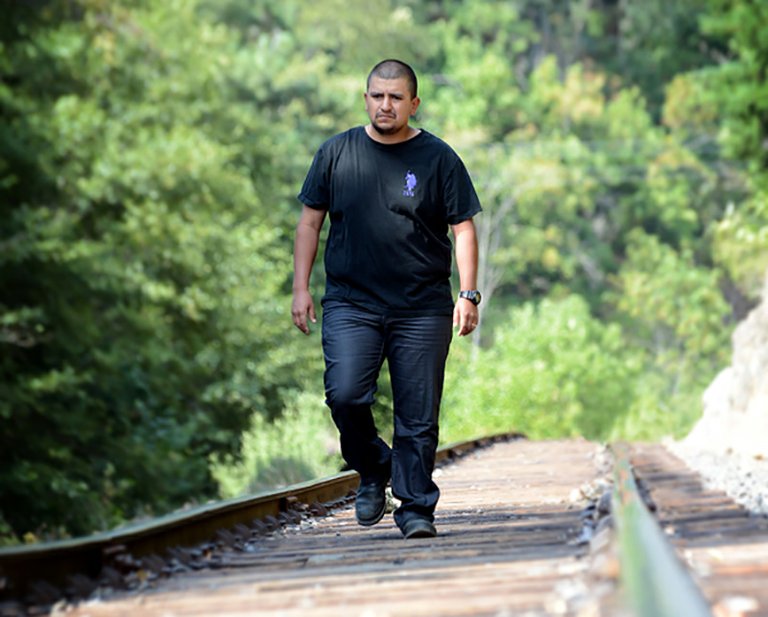 Wednesday, August 7, 2013
... After the guards returned from killing the young father of two, and after they had threatened the lives of everyone else in the cabin, they had Jose call his brother to see where the ransom money was. Jose told his brother the gruesome news.
"I didn't want to pressure him because it's hard to get all that money, but I told him to try his best or else this might happen to me too," Jose says.
A group effort
Meanwhile, in Hood River, word had begun to go around town, mainly in the Hispanic community, about Jose's plight.
Humberto Calderon, who is a DJ at Radio Tierra in Hood River and who also owns the Novedades El Potrillo store on the Heights, saw Jose's mother walk into his store one January day. Calderon, who says he has known Jose and his family for about 15 years, immediately got a bad feeling.
"Usually I see her happy," Calderon says of Jose's mother, "but when I saw her face, I knew something was happening."
Calderon remembers seeing the pain in the face of Jose's mother and knew he had to do something.
"If you can do something to help somebody, help somebody," he says.
Calderon began organizing a fundraising drive for Jose, and says nearly 500 people contributed to the effort by either donating money or by purchasing tickets for a raffle Calderon had set up. After about two weeks, Calderon says the community had come up with nearly $7,000.
The money was a good start, but nowhere near the $160,000 Jose's kidnappers had requested for his life. Jose's brother sold off an old Nissan pickup and some ATVs Jose had lying around at his house in Hood River. He tried to see if he could withdraw money from Jose's account at a local bank, but wasn't able to because his name wasn't on the account. Extended family from Chicago and California also sent money for Jose's release, and his brother wired the funds down to their uncle in Morelia in $2,000 and $3,000 increments due to transfer limits. In Mexico, Jose says his aunts and uncles worked on raising funds for his safe return as well, but he didn't know if or when the money would come through.
"My aunts and uncles down in Mexico were getting loans," he says, "but loans can take one week, two weeks, three weeks to get approved."
After the first week, Jose says family members were able to raise somewhere between $50,000 and $60,000. It seemed unlikely they would be able to sustain that pace of fundraising, but if they did, it might be enough to free Jose.
Another threat
Back in the cabin, somewhere on the outskirts of Uruapan, Jose spent his days in silence, in darkness, and in deep contemplation, with days punctuated by a meal, a bathroom break, and an occasional quick call to his brother to see how the collection was going.
"All the time I was there, I went through my life — I can't tell you how many times — thinking about times when I was a kid, thinking about all the things I have done, what things I have done wrong, what things I can do better," Jose remembers. "I mean, when you're in that situation, you just think, 'If I get out of this luckily, I'm going to do things different.'"
The monotony was broken up though, briefly, approximately two weeks into Jose's ordeal when his captors got spooked and decided to move everyone to another location in the area — where exactly, Jose wasn't sure, but he thought it might still be somewhere near Uruapan judging by the short distance he estimated they had traveled.
"We heard the army was nearby and the people were afraid too, because there have been situations where the army comes and tries to take those people down," Jose explains, "and you can get killed too there by the army, because there's shooting and they can't tell who's the good guys and who's the bad guys."
Where are you?
With the three-week deadline looming and no word yet on whether his aunts' and uncles' loans had come through, Jose's prospects were growing dimmer by the day. But he was proud of how he had handled his situation with as much dignity as his captors would allow. He never acted tough or defied his captors, but he never cried either.
About two and a half weeks into his captivity though, he broke down when he was finally allowed to call his wife and daughter. His wife knew the danger Jose was in, but had shielded their daughter from that information.
"I called my wife and I told her I'm okay and then my little girl was there and she said, 'Let me talk to my dad,'" Jose remembers. "I did and I talked to her and she asked, 'Where are you? Why aren't you here?' because she was waiting for me and she knew I had been two, three weeks late and that's when I broke up. The whole time I was there I was strong and I never cried, but when I heard my little girl asking me, 'Where are you?' then that broke me up. That's one thing I will never forget is my daughter asking me where I was and I couldn't tell her — I mean she's a little girl and she doesn't need to know those things."
Jose thought about his little boy, still too young to speak, and how his visit in November may have been both the first and last time he would get to see his child.
"In my mind I would think, 'At least I got to meet him,' if I got killed," Jose recalls.
Cautious optimism
Approximately a day or two before the three weeks were up, the guard gave Jose the phone again to call his brother and see how much money had been gathered. The loans that his aunts and uncles in Mexico had applied for had come through, but they were still half a million pesos short — approximately $40,000 — of where they needed to be.
Jose decided to take a chance and informed one of the guards that his family had collected $1.5 million pesos — around $118,000 — and asked if that would suffice for his release. The guard said he would check.
Jose heard the sound of footsteps coming his way and a voice he thought he recognized as the man who first informed Jose of why he had been kidnapped.
"He said, 'How much money does your family have,'" Jose recalls, "and I said, 'We have a million and a half pesos,' he goes, 'I'm going to give out this name and this place and have one of your family members take it to this place and if that money is correct, then we're going to release you.'
"And that was it," Jose continues, "but I was afraid that even by giving out the money, I would still get killed… because that's most of the cases: out of 10 people that get taken hostage and asked for a reward, eight of them get killed, even by them paying the reward, so lots of other people were thinking the worst here in the community."
For an agonizing two days, Jose waited on the floor, wondering if the "bad people" had received their money, wondering if his uncle had been harmed, wondering if he would be released. Finally, someone approached Jose.
"Get up," a man's voice instructed him. Jose didn't know whether this meant he would be killed or released, but knew he had no other choice but to rise to his feet. He was led outside the cabin and into a vehicle. After a 30-minute drive, they stopped and ordered Jose out of the vehicle and took him inside a new building. His blindfold and handcuffs were released and Jose saw he was in yet another small house. A man in a ski mask handed Jose a new set of clothing and instructed him to go to the bathroom and take a shower, which Jose took as a promising sign.
"At that point, I kind of realized I was going to get released," he says.
The second chance
After a quick shower, a taxi came by 15-20 minutes later and took Jose from the cabin. This time, however, his captors stayed behind. The cabbie said nothing to Jose, who decided not to ask any questions. He was free to look out the window, unbound, as the avocado orchards began to fade away to buildings as they neared what looked like a city.
It was Uruapan.
The driver finally turned into the parking lot of a grocery store after about 20 minutes. There, standing beside their car in one of the parking spaces, were Jose's aunt and uncle.
Jose was free. He got out of the taxi, grabbed his aunt and uncle up in a big hug, and cried.
"I was alive again," Jose says. "That was the second chance in my life."
His aunt and uncle then drove him back to Morelia where more of Jose's family waited eagerly to see him. After visiting for a couple days, his uncle drove Jose to see his wife and kids — this time taking a safer, longer toll road.
"We just hugged and cried," Jose says of his reunion with this family. "I would just hug my baby boy, my wife, my daughter. I was just showing them that I was there and all in one piece."
They spent the next few days at home, relaxing, rarely venturing outside the house. After three days and with a heavy heart, Jose said his goodbyes. He had to go back to the United States, to Hood River, to his home. There was much to do and his mom, dad, sister, brothers, friends, and other family members were waiting for him back in Oregon. Jose waved goodbye to his wife, his daughter and his baby boy, not knowing when he would be able to see them again.
With airfare provided by his family, Jose boarded a plane at the Guadalajara airport and landed in Portland on Feb. 14. He had been gone from the United States almost exactly one month.
Questions and doubts
Jose felt relieved to be alive and back in America, but was also deeply conflicted about his homecoming.
"I felt like I was free, like I was home, like I was safe," he explains, "but at the same time, I was sad that I couldn't go easy back to my country, because it's my country too. I was born down there; that's where my family is. So I was sad I was coming back to the U.S. in that situation."
Although he feels safe in the U.S., Jose doesn't know who kidnapped him — a drug cartel, a gang, a loose consortium of criminals — or why they singled him out. The masked men divulged scant details of their identities and Jose speculates someone may have been watching him either in Mexico or in America. As part of his business, Jose books Latin bands from Mexico to play music at Hispanic clubs in Portland and Seattle. Jose throws out the idea that someone with criminal connections in Mexico may have noticed him at one of the clubs. Perhaps someone at the rental car desk in the airport was paid off or threatened to provide information about his or other American tourists' arrivals. Perhaps it was a random attack, although Jose dismisses that scenario for the most part.
"It seemed like someone was watching me," he says. "I don't think it was a coincidence."
Jose doesn't believe he will ever know the answer. He explains law enforcement can oftentimes be woefully ineffectual and corrupt in Mexico and says the Morelia police "didn't do anything" when his aunt and uncle gave them what little information they had on the details of his capture. All they had was the location of Jose's rental car, which he says his uncle recovered on the side of the road the day after his kidnapping, keys still in the ignition.
While Jose speculates on the method of his kidnapping, others don't believe it happened at all. Jose mentions the rumors he's heard floating around town about his experience, that he orchestrated the story of his kidnapping to try and swindle his family and the community out of their money, or that he needed bail money after getting caught trying to smuggle drugs across the border. The rumors irk Jose, and he cites them as a prime motivator for sharing this story. He says though that most people have been supportive and wanted to thank all of the businesses and people who helped free him.
"Most of the Hispanic community was really cooperative with the whole situation and I'm really pleased with them," he says warmly. "They brought me back to life."
Jose acknowledges his story may sound incredulous to some, but notes kidnappings and homicides are all-too frequent occurrences in Mexico. He hopes people will keep his story in mind when traveling south of the border. He also hopes people will recognize the plight of Mexican immigrants — both legal and illegal — who come to the U.S. not just to look for work, but more often, to escape the violence.
Lou DeSitter, who recently retired after serving for 18 years as the deacon of St. Mary's Catholic Church in Hood River, agrees. For decades, DeSitter has helped Hispanic families who have had loved ones deported to Mexico by writing waiver letters to immigration officials, offering up extenuating circumstances in the hopes they will be allowed to return to the United States. Often, he says, the fear of killings and kidnappings are cited as chief reasons for why they want to leave Mexico.
"It happens all the time," he says of the kidnappings. "It is commonplace."
During one Sunday mass at St. Mary's earlier this year, DeSitter says he was delivering a homily to the congregation and asked they pray for a member of the community who had also supposedly been kidnapped in Mexico. After the service, he found Jose's father outside.
"Jose's dad was crying on the stairs of the church and said, 'My son's been kidnapped too,'" DeSitter remembers.
A few weeks later, after Jose had been released, DeSitter saw Jose's father again at mass.
"Right after the homily I asked, 'How is your son doing?' and he said, 'He's free,' and gave me a big ol' smile," DeSitter says.
Though he doesn't know Jose personally, DeSitter says he's known his father for over 25 years.
"His father's tears don't lie," he says.
A price for life
Since returning to the United States almost six months ago, Jose has tried to move on with his life as best he can. He's resumed his event promotion business and is trying to still send money to his wife and kids in Mexico while paying off the tens of thousands of dollars he owes to friends and family.
Every night though, Jose is haunted by the memories of his trip to Michoacán. He lies awake in bed, thinking of the man who was killed. He has good days and bad days. On good days, Jose conducts his business as usual. On bad days, he is paralyzed with anxiety and finds it difficult to leave his home. Jose started therapy in late June to help deal with his traumatic experience and hopes telling his story will aid in the healing process. His debt from the ransom though, ensures the memory of his captivity stays fresh.
"It reminds me every day of that situation," he says. "I can't forget about it yet. I was telling (my therapist) that I will feel better once I don't owe anybody about this."
In the nearly six months since he returned from his ordeal, Jose has not been back to Mexico. Cartel violence has escalated in Michaoacán in the past few months, most notably last week when the vice admiral of Mexico's navy was assassinated just 90 minutes from the home of Jose's aunt and uncle. Traveling to Jose's home state is more dangerous than ever.
Jose desperately wants to see his wife and kids, but considering the kidnapping, he can't bring himself to enter Mexico. Separated from his wife and kids indefinitely, saddled with debt, and tormented by the memories of what happened in Michoacán — Jose is alive, but it has come at a great cost.
"I'm not at peace," he says. "It feels like I'm dead in life… I feel like I'm just floating on the air."