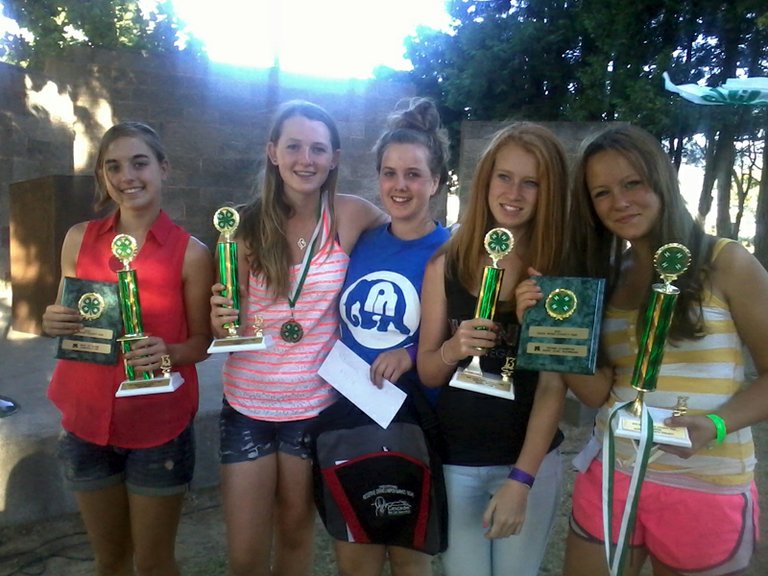 Saturday, August 10, 2013
This year at the Hood River County Fair was a big one for a lot of 4-H and FFA members in the Upper Valley.
In the Mt. Hood 4-H group, the final year for FFA member Eduardo Santacruz was another big one. His top awards included All Around Showman and High Point 4-H/FFA Livestock Judge Award, won by receiving the highest score on knowledge of classes of animals and answering questions about them.
"Eduardo has been a great example for all the kids to follow in the 4-H program and will be missed," said Brenda Myers, leader for Mt. Hood 4-H. "He's always been willing to learn, willing to try, and willing to help."
Eduardo's sister Gabby Santacruz won Reserve Supreme Sheep Award and a Champion ribbon for her clothing entry of a skirt that has been invited to the Oregon State Fair at the end of this month.
Other Mt. Hood 4-H winners include Laney Erickson for Champion Market Lamb Intermediate level, Brendon Bailey for Champion Beef Showman Junior level, and Cade Parker raised a blue ribbon steer in his first year.
Celilo Brun of Mt. Hood 4-H received the Outstanding Junior Livestock Exhibitor trophy, a prestigious award nominated and voted on by 4-H leaders and barn superintendents.
The Hood Hoppers 4-H group in Parkdale won several awards in the Family Consumer Sciences that include arts, foods, clothing, and textiles.
Megan Ball received six Champion ribbons for her entries in food, photography, and window display, Grand Champion ribbons and medallions for My Favorite Outfit and Window Display, a Grand Champion award for her snickerdoodle cookies, and a Champion Foods trophy. Several of her award-winning entries were also invited to the Oregon State Fair.
Sara Zeman won Grand Champion for her container garden and the Best of Show Horticulture plaque as well as Grand Champion in photography, and Kayla Green received a Reserve Champion ribbon for her photography entry.
The beautiful artwork of Angela and Valerie Bruggeman were awarded with several Champion ribbons and Angela received a Grand Champion ribbon for her seascape painting as well as Champion Expressive Arts Project award and the Champion Art for All medallion.
Hood Hoppers also did well in their animal entries with Angela Bruggeman as Grand Champion Dairy Goat Showman, Rachel Mooney as Grand Champion Junior Goat Showman, Madison Mooney Reserve Grand Champion Goat Confirmation, Rebecca Kiyokawa Reserve Grand Champion Junior Showman Poultry, and Kayla Green winner of the Fastest Growing Sheep trophy.
In the Mountain Top 4-H group Wade Pickering won a Champion ribbon for his educational display on the pear industry and Brenton Meyers won a Champion ribbon for his fly-tying exhibit.
There were many other Upper Valley 4-Hers and FFA students who also won ribbons and trophies this year, too many to name here, but congratulations go out to all of them.
"We're so proud of how well all these kids did at Fair this year," said Linda Mooney, a Hood Hoppers 4-H leader. "They worked hard with their animals and projects and it shows in the number of awards they received."
n
Send items to: UVupdate@yahoo.com