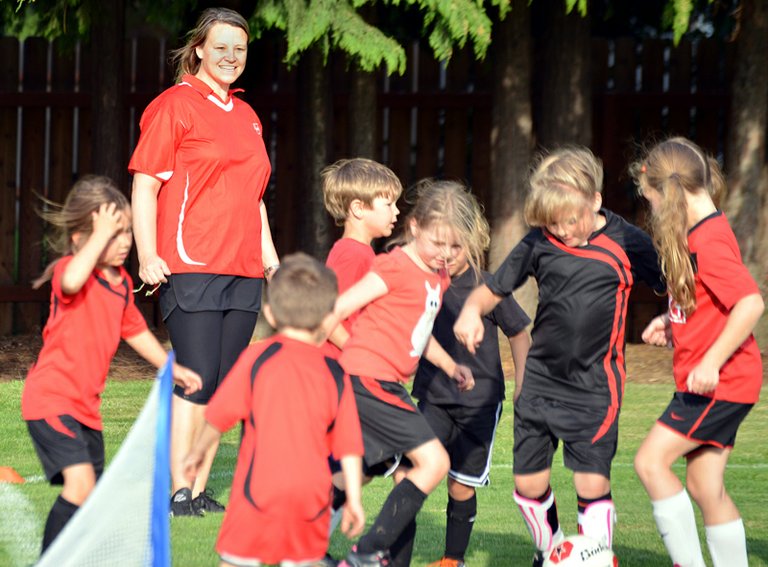 Saturday, August 10, 2013
Hood River County Community Educations' summer recreational soccer league wrapped up Wednesday afternoon with one final hurrah of the season at Westside Elementary School. Like a Skittles tornado, about 250 kids in brightly-colored jerseys spent the evening running in circles, chasing soccer balls, goofing around and scrimmaging against other teams of the same age.
For the two dozen coaches shouting direction and keeping players on task, the evening was a light-hearted test of their team's progress since the beginning of the season, and a colorful reminder of the joyful activity they helped facilitate for the last three months.
The evening's action was punctuated by free popsicles for all, courtesy of Rosauers Supermarket, before the storm dissipated and players went their separate ways.
"We want to recognize and thank all the coaches and parents who helped make this season possible for the kids," said Leticia Valle, Community Education outreach coordinator. "Their time, energy and dedication are what make programs like this a success. Without these generous volunteers, it just wouldn't be possible."
HRCCE's summer rec league brought kids ages 4-10 from around the county together twice a week since May for a season focused on basic skill building with no official games. A fall season for players grades 3-8, starting in a few weeks, focuses on competition, with teams from Parkdale, Odell, Hood River, White Salmon, Stevenson and The Dalles playing one another.
n Signups for the fall league will be open soon through Community Education's website (www.hrcommunityed.org) or over the phone (541-386-2055). Valle says volunteer coaches and assistants for that league are also needed.