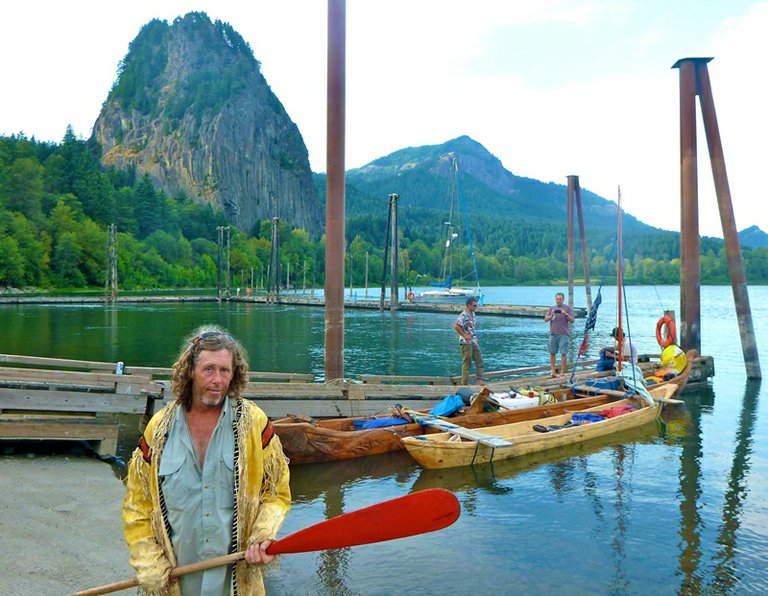 Saturday, August 10, 2013
A unique opportunity to see, touch and paddle a dugout canoe on the Columbia River is coming to the History Museum of Hood River County Aug. 11 at 10 a.m.
Voyages of Rediscovery, located out of Chewelah, Wash., north of Spokane, specializes in facilitating educational expeditions along the Columbia River and connecting Native American youth to natural and cultural history using their "backyard river," said Daniel Cassell, an educator with Voyages of Rediscovery.
It took nine months for some 200 students at Wellpinit High School (Spokane Indian Reservation), Inchelium Middle School and the sharpening stone overlooking Kettle Falls (The Confederated Tribes of the Colville Reservation) to create five dugout canoes, two of which are now on display at the Hood River County Historical Museum.
The canoes are all unique, having been made "one woodchip at a time," said Cassell. The 30-foot vessels were designed to represent the five species of Pacific salmon.
Two more of the canoes are currently making their way up river, having started earlier this month at Astoria and working their way along the Columbia River to Lake Columbia, located in British Columbia, in a trip meant to symbolize salmon returning to the headwaters.
(The fifth is a scouting canoe and is not fit for the Columbia River, said Cassell.)
The group of six making the journey will be stopping in Hood River Aug. 11 and invite all interested persons and families to the museum to learn about the Voyages of Rediscovery, see a short documentary called "The Power of the Canoe," and paddle a handmade dugout canoe on the river.
"People have been paddling dugout canoes on the Columbia for thousands of years," said Cassell. "(Those attending) will be participating in a true sense of place activity. It may be their only opportunity in life to do that."