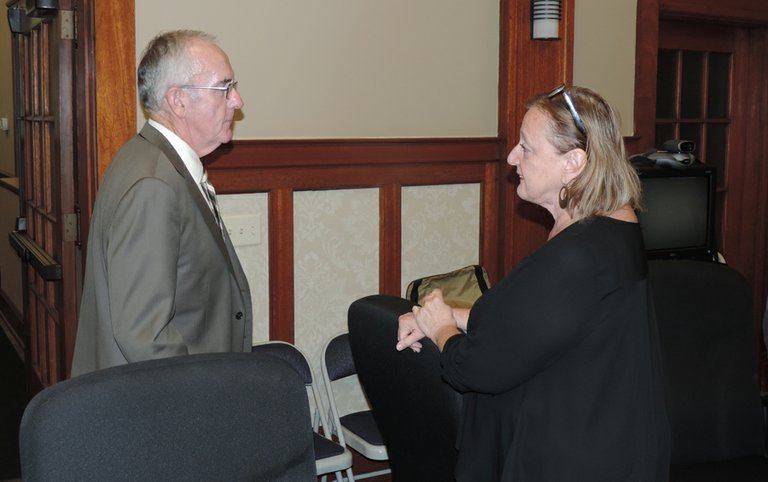 Wednesday, August 14, 2013
Two tiers for Waterfront Park.
City Council approved a — literally — scaled-down redesign for Phase 2 of the Hood River Waterfront Park in its meeting Monday, and gave staff permission to advertise this fall for the construction of the amphitheater and public area with two levels instead of the originally planned seven. It is scheduled for construction starting this fall.
Don Otterman will have a role in overseeing the project, as interim city manager. Otterman was hired Monday and will start work on Aug. 20.
Meanwhile, council learned that a set of public safety signs are in the works for the park and all points along the waterfront, in a deal between the city and port (see page A11 for details).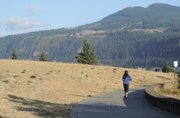 Council approved a revision of the original 2010 plan for Phase 2, for an outdoor theater with levels of tiered lawn seating, and landscaping and utilities. Under the revised plan, there will be an upper lawn and a lower lawn, and plaza-style stage that will be level with the ground instead of the first idea of a raised stage.
Ann Frodel of the Waterfront Park Advisory Committee said the revisions followed input and meetings involving the city and WCPA, user groups, and Parks and Recreation District and Port. Frodel said the revised plan will be more flexible, easier to maintain, and fully compliant with Americans with Disabilities Act.
Landscaping will emphasize shade trees rather than flowers. Also speaking were Jacquie Brown-Barone and Jane Duncombe, who donated a revised landscaping plan.
"We concluded that we didn't need it to be so fancy, and we wanted to make it appealing to a wide variety of users, as it has become a much more heavily used park," said Frodel, who said the space will be suitable for weddings, art shows, picnics: "more than just concerts, but there will be concerts."
The bids for the projects, estimated to cost $517,000, should go out in October. (Construction estimates have ranged from $449,000 to $517,000, according to Frodel.)
Frodel said that the WCPA has a total of $518,000 grants, cash and in-kind donations, including a $27,000 grant from the Oregon Community Foundation that must be spent by January 2014; those funds will be used on initial grading this fall. A $250,000 grant from Oregon Parks and Recreation must be spent by July 2014.
The budget also includes $83,000 from local donations, and $65,000 in-kind from the city for management and technical uses.
Otterman, the new interim manager, is the retired former city manager of North Plains and Scappoose, and has done interim service with Wheeler, Rockaway Beach and other cities. Otterman has been employed in some form of city management since 1985. He has an urban planning degree and a master's degree in public administration from California State-Los Angeles.
"I haven't been working for a year and I kind of miss it. I am anxious to get back to it," Otterman said, He was one of four finalists for the job, and "pretty quickly rose to the top," said Cindy Walbridge, planning director and acting city manager.
The city is preparing to review recruitment firms that will guide the process of hiring a permanent city manager, a process that will take four to six months. Bob Francis resigned as city manager July 8, and Walbridge has since filled in as acting manager.
In two other related actions, council approved increased compensation for Walbridge for the period of July 9 to Aug. 20, amounting to paying her the equivalent of the city manager's hourly wage for that period.
"Given the amount of work she's done, it's reasonable. She's done a heck of a lot," said City Finance Director Lynn Rasmussen. "I think she's eager to get back to planning, and she has a stack of projects waiting for her."
Walbridge said, "It would have been a completely impossible job without the help of the other department managers, the city recorder (Jennifer Gray) and city attorney (Dan Kearns)."
Council also approved a separation agreement with Francis, totaling $25,000 (three-months' salary) that says Francis may not "institute any action at law, suit or proceeding of any kind or nature whatsoever in a court of law against the City." Further, the agreement states that Francis agrees not to pursue "any litigation, or any claim or demand of money, of any kind or nature against the City." It states that Francis "understands and agrees that this agreement constitutes a full and final compromise, satisfaction and settlement of all claims and rights he may have against the city."
The agreement also forbids either party from "any untruthful disparagement or vilification of the other."
In fact, Francis is likely to be back in temporary employment by the city: once a new city manager is hired, Francis will be called upon to assist in the transition under a special services contract.