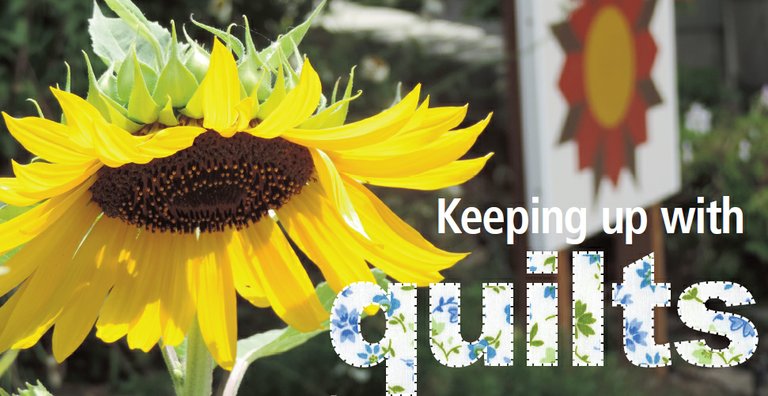 Wednesday, August 14, 2013
Follow the Quilt Block Trail
It starts in Cascade Locks, though creators hope it will expand throughout the Gorge
By KIRBY NEUMANN-REA
News editor
Quilting is an indoor activity, except when it comes to the new Bridge of the Gods Quilt Block Trail.
The trail started in January with the installation of six boards, painted with traditional quilting patterns, or blocks.
There are now 32 quilt blocks on the trail, located on the outsides of homes and other locations, visible from the street.
The blocks are displayed mostly in Cascade Locks, with one each in Hood River and Home Prairie, and more to come including the Parkdale and Hood River libraries. By fall, the list will grow to 39 including those on order.
Document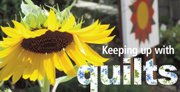 A "Choose A Book" block, designed for Cascade Locks Library, is in place in front of Cascade Locks City Hall, where the library is currently located. It's No. 3 on the tour.
The Quilt Block Trail is the brainchild of longtime resident Anne Holmstrom, a member of the Bridge of the Gods Quilting Group, which started meeting 10 years ago, gathering to learn to make the classic "Log Cabin" block, with the help of co-founder Darla Davis.
You can see an example of Log Cabin on Wheeler Street in Cascade Locks, No. 23 on the map.
Holmstrom's Forest Lane home (stop No. 20) features Friendship Star and Mariner's Compass.
Guides are available at Cascade Locks hotels, ETC in Hood River (where a quilt block was installed this spring), local chambers of commerce offices, Lorang Art Gallery in Cascade Locks, and at State Parks kiosks in the Gorge.
"My ultimate goal is to have someone or a group take it on in Hood River, White Salmon, or other communities," Holmstrom said. "Our goal is to create a trail from Cascade Locks to Goldendale, the range of the Columbia Gorge Quilters Guild."
To order a quilt, call Marva Janik at 541-374-8701. Blocks are either 2x2 feet or 4x4, and the cost is from $50 to $150, depending on the size, design and/or color.
There are two installation styles: hanging on the side of the home or building or on a stake for placement close to the house but visible from the street. Participants agree to keep the quilt block hanging for five years.
This weekend's Quilt Show boasts 100 quilts, more classes
The Columbia River Gorge Quilters' Guild Quilt Show will return Aug. 15-17 from 10 a.m. to 5 p.m. to the Hood River Middle School, 1602 May St. Daily admission is $6.
More than 100 quilts will be on display, representing traditional and contemporary work from local quilt makers in Washington and Oregon. Professionally accredited judges will evaluate the quilts in five categories, and first, second and third place in each category will be awarded cash prizes.
Show attendees will be able to vote for their favorite quilts, and the quilt with the most votes will received the highly prized "Viewer's Choice Award."
Gayle Jacobson, who co-founded the Guild seven years ago with Marbe Cook, said that new this year is a fourth day of classes, and many participants are expected to come a day early to attend. Oregon artist Hilde Moran, who currently has an exhibit at The Gallery 301 in Hood River, will teach how to make fabric bowls. Popular Portland-area instructor Ann Shaw will, whom Jacobson says does "really interesting things with bits of fabric," will help students create collages of vegetables in one class, and roosters in another. Artist Nancy Shepard will show how to sew on metal and incorporate the pieces into quilts.
The event's featured artist is internationally acclaimed lecturer and teacher Mary Lou Weidman from Spokane. Weidman has traveled the world sharing her colorful, folk-style story quilts. She began quilting with her grandmother in grade school, but painting with her artist/musician father became her first love. For a time, they shared a studio where they painted and sold their work, but years later, after experimenting with many mediums to express herself, Weidman traded it all for fabric and thread in the early 1970s.
Weidman, whom Jacobson describes as having a "really quirky sense of quilting," has written five books on quilting and penned many booklets, owns a pattern company, and has been designing fabric for 14 years. She will share both her quilts and her stories about quilters and quilting in a special brown bag lunch lecture from 12:30-.1:30 p.m. on Aug. 17 at noon. Admission is $15.
The show will also include a merchants mall, with more than 20 booths selling the latest fabric, patterns, books, tools and accessories to inspire new and experienced quilters.
Jacobson says that 151 quilts have been entered, the largest number ever. "We have a much larger percentage of those quilts being judged this year, so the quality is going to be higher," she said. "We're expecting our attendance to be higher, also."
n
For more information on the upcoming quilt show, visit gorgequiltersguild.org.
Enter the drawing for annual Harvest Quilt
Every summer and fall in Hood River County a traveling quilt shows up at key places around the Gorge.
It's the Harvest Quilt, a long-standing Hood River tradition.
Quilters from around the region contribute the 30 quilt blocks of their own design, which is turned into an artistic quilt celebrating the Gorge. The palette of colors is provided at ETC Quilting each January, and quilters collect them and create blocks depicting Gorge scenes, using the palette for continuity. Quilters submit their entries and at Blossom Festival in April the blocks are displayed, and the public votes on the top 30. Those are pieced by Elaine Kirby and quilted by Janine Scott, and at changing locations the quilt is displayed and tickets are sold. The drawing will be during the Hood River Harvest Festival, hence the name.
The Harvest Quilt will be on display at the Quilt Show at Hood River Middle School. Tickets are $1 each or six for $5. Proceeds go to Hood River Soroptimist scholarship fund.
Cascade Locks' Lorang Gallery promotes local quilting culture
A good place to start on the Bridge of the Gods Quilt Block Trail (story above) might be Lorang Art Gallery, on WaNaPa Street near the Marine Park entrance.
Owner Debora Lorang has set aside a prominent section of the gallery to the art of quilting as practiced by her friends in the Bridge of the Gods Quilting Group. You can pick up a copy of the Quilt Block Trail map.
Visitors can purchase Quilt Trail boards for display at their home or business, or admire fabric blocks and whole quilts made by the Bridge of the Gods group.
Several of the fabric quilts are for sale, with proceeds going to help the Bridge of the Gods group in its ongoing charity projects, which include creating quilts and other warming objects for the elderly and newborn children in need.
Also on display is a quilt that is up for drawing this fall; tickets are $5 each, with proceeds supporting the group's projects.
The quilt, an assembly of varied blocks made by members in 2006-07, measures 100-by-100 inches.