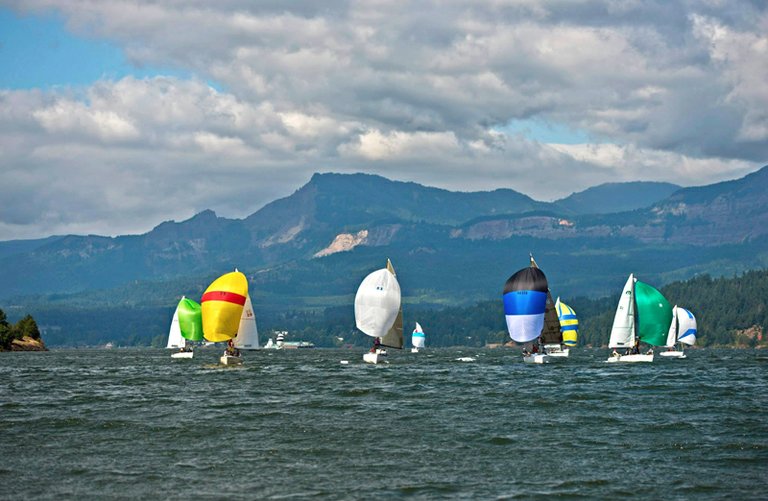 Wednesday, August 14, 2013
Hood River Yacht Club held its annual Double Damned race Saturday and was met with variable but constant winds, a solid fleet of competitors and only slightly nerve-wracking threats of thunder and lightning boiling in the clouds overhead.
In its fifth year running, the downwind sailboat race from Bonneville to The Dalles dams saw San Francisco-area sailor Bill Erklens, at the helm of "Jack," finish with the fastest time of the day at 4:37.19. HRYC's first finishers were Electric Mayhem in sixth (5:14.17) and Nice Ripple in seventh (5:15.25), captained by Brian Petros and Andrew Estcourt.
"With a little stronger wind in Cascade Locks than we have had in years past, we were out of the gate fast," said HRYC's Doug Archbald, who captained Morjito to a ninth-place finish. "We had stronger wind and some excitement and wipeouts from east of Dog Mountain to the Hatchery, and from about Hood River to The Dalles it was pretty smooth sailing."
The fastest time on record is 3:53.23, set in 2009 by this year's third-place finisher, "Bruzer," captained by Morgan Larson. Last year's race brought the event's biggest fleet of racers (27), but the wind didn't cooperate and only about half of the boats finished, with the winning time at over seven and a half hours. This year "Dogslobber" was the only boat of 19 that didn't finish.
After Friday's impressive show of thunder and lightning across much of the race course, Saturday's weather wasn't threatening enough to call off the race, but did bring an additional sense of urgency to finish as quickly as possible.
"It was enough to keep everyone wondering about their contingency plan if thunder and lightning did start," Archbald said. "Something else unique this year is, this was the year of the barge. We basically sailed the entire way with a barge this year. There was a lot of maneuvering determined by trying to avoid that barge."
HRYC racing continues through August and most of September with its annual summer/fall racing series every Wednesday evening from the Hood River Marina. The club is open to new members who have an interest in boating (owning a boat is not a requisite). See www.hoodriveryachtclub.org for details.

2013 Double Damned results:
1st: Jack (Bill Erklens), 4:37.19
2nd: Fayaway (Gay Morris)
3rd: Bruzer (Morgan Larson)
4th: More Uff Da (Ben Braden)
5th: Little Blue Dune Buggy (Alex Simanis)
6th: Electric Mayhem (Brian Petros, HRYC)
7th: Nice Ripple (Andrew Estcourt, HRYC)
8th: Wet Spot (Mike O'Callighan)
9th: Morjito (Doug Archbald, HRYC)
10th: Monster Express (Ted Lohr)
11th: Moore Cowbell (Katherine Meyer)
12th: Moxie (Bill Summerfield, HRYC)
13th: Kokopelli (Eric Collins)
14th: Poore Decisions (Scott Walsh, HRYC)
15th: Shazam! (Bob Tollenaar)
16th: Mirage (Stan Perkins, HRYC)
17th: Magic (Bart Vervouet, HRYC)
18th: Rain Child (Tamara Rogers, HRYC)