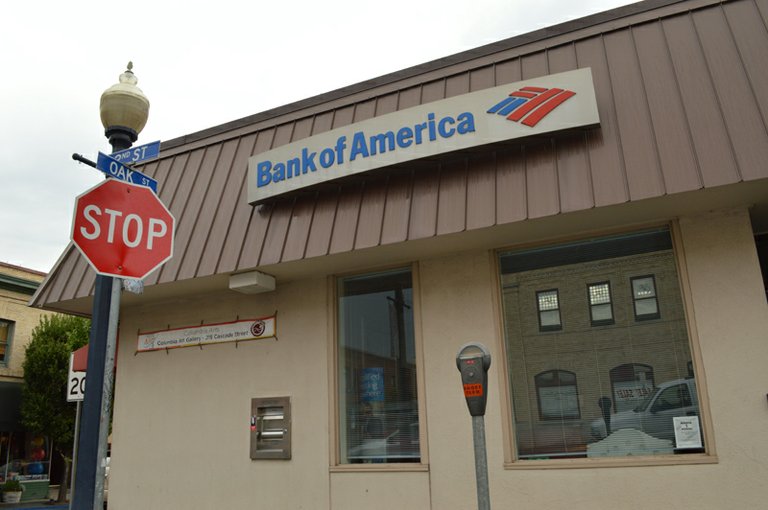 Saturday, August 17, 2013
After existing for over 20 years as a Bank of America branch, the building at 115 Oak St., right in the heart of downtown Hood River, will soon have different occupants.
Bank of America's Hood River location was one of 51 branches spread throughout Washington, New Mexico, Idaho, and Oregon that were sold to Washington Federal, a bank headquartered in Seattle, last month. The sale is expected to be completed on Dec. 6 following regulatory approval from the federal government.
Though the logo on the front of the building may change, the people who work inside won't have to leave, according to Bank of America spokesperson T.J. Crawford.
"Washington Federal will retain all employees at all locations," he said.
The building at 115 Oak St. has been home to Bank of America since 1989 or 1990, according to Crawford. Before that, it was the site of a Benjamin Franklin Savings and Loan — a Portland-based bank that was sold to Bank of America after falling victim to the savings and loan crisis of the 1980s and '90s. According to the State Historic and Preservation Office, the building was originally built in 1889 by A.S. Blowers to house his hardware store and is believed to be the first brick building constructed in the city of Hood River.
In addition to the bank itself, Washington Federal will also own the two Bank of America ATMs located in Hood River: one located directly in front of the bank and one located at Rosauers Supermarket on 12th Street. Bank of America's The Dalles ATM and branch, located at 115 E. Fourth St., will also transfer to Washington Federal. Currently, Washington Federal already has a location in Hood River, located in the Cascade Commons shopping center on West Cascade Avenue.
According to the Portland Business Journal, the Hood River and The Dalles branches were two of the six sold to Washington Federal in the state of Oregon. Bank of America currently has 51 locations in Oregon and will continue to have branches in the Portland Metro area.
When asked why the Hood River branch in particular was sold, Crawford didn't delve deep into specifics.
"There's a number of factors that go into these decisions," he explained. "Certainly transaction volume plays a big role here."
According to an information packet distributed by the bank to customers, deposit accounts, some loans, and safe deposit boxes will transition to Washington Federal. Credit cards, mortgages, investments and merchant services accounts, and the personal and business deposit accounts of U.S. Trust and Merrill Lynch Wealth Management clients will stay with Bank of America.
For more information on the transition, Bank of America customers are advised to speak with an associate or call 1-866-251-0233.