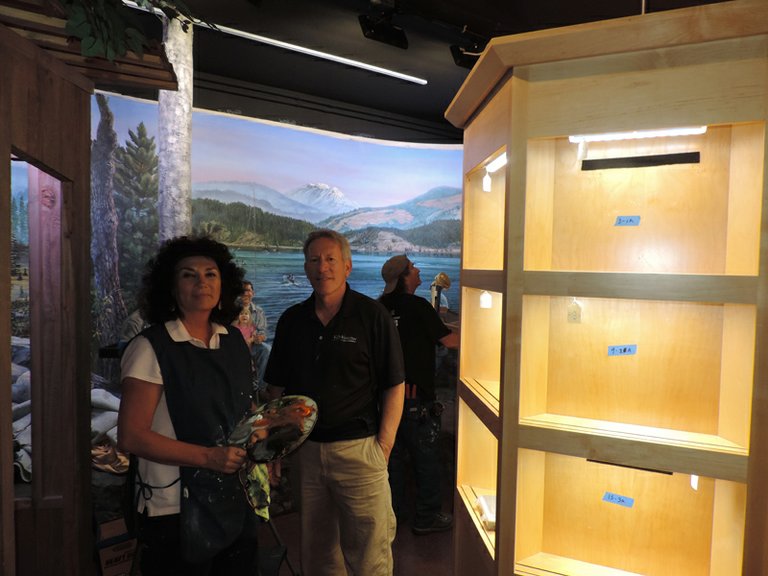 Saturday, August 17, 2013
After six months of preparations, the Luhr Jensen & Sons Gallery has been completed and in celebration, will have a grand opening today at 1 p.m. at The History Museum of Hood River County.
Museum remains closed during regular hours for audit
According to County Administrator David Meriwether, The History Museum of Hood River County is still closed for the time being while auditors examine the financial records of the museum.
Meriwether said auditors from the Tigard accounting firm Pauly Rogers and Co. arrived Thursday morning to look over the museum's books. The county learned last week of possible accounting issues that may have derived from the museum's pending application for a federal nonprofit tax designation.
The museum has been closed for approximately one week and Meriwether still predicted Thursday morning that the museum's closure would be brief. He noted the museum will be opened specially for the Luhr Jensen Gallery debut and reunion party occurring this Saturday, Aug. 17, from 1 to 5 p.m. at the museum, which is located at 300 E. Port Marina Drive.
The permanent exhibit will chronicle the nearly 75 years the fishing tackle manufacturer resided in Hood River before it was sold in 2005 to Rapala — a company from Finland that is the world's largest producer of fishing lures — which moved manufacturing operations overseas.
The business was started in 1932 by Luhr Jensen Sr. — an avid angler who made his own fishing lures in his home workshop in Hood River. Over the years, the business gradually expanded from a one-person operation to an over 300-person operation, which also included a business that sold meat smokers. The business was located at 400 Portway Avenue in Hood River, currently in use by another homegrown Hood River business, Turtle Island Foods.
After Luhr Sr. passed away in 1972, the Luhr Jensen business stayed family-owned until its sale in 2005. Phil Jensen, son of Luhr Sr., served as the last president and owner of the company and looks back on the business his father built with fondness.
"Not everyone is lucky enough to love what they do," he said.
Phil Jensen has long been active with The History Museum and has been both board member and benefactor over the years. He has had plans to have a Luhr Jensen collection displayed at the museum for years.
The exhibit is located in the southeast corner of the building, right near the entrance, and features a 12-foot-long mural, three different video screens that will display old Luhr Jensen photos and play other media, and a display of fishing rods, lures, spinners, and other fishing gear and equipment manufactured by the company.
Phil Jensen said he has also invited former Luhr Jensen employees to a reunion party that will coincide with the gallery opening on Saturday, Aug. 17, from 1 to 5 p.m. at The History Museum, located at 300 E. Port Marina Drive. Refreshments will be served, including strawberry shortcake, and fishing lures will also be given away to guests. A $5 donation is suggested for the public event, with all proceeds going to United Way of the Columbia Gorge.