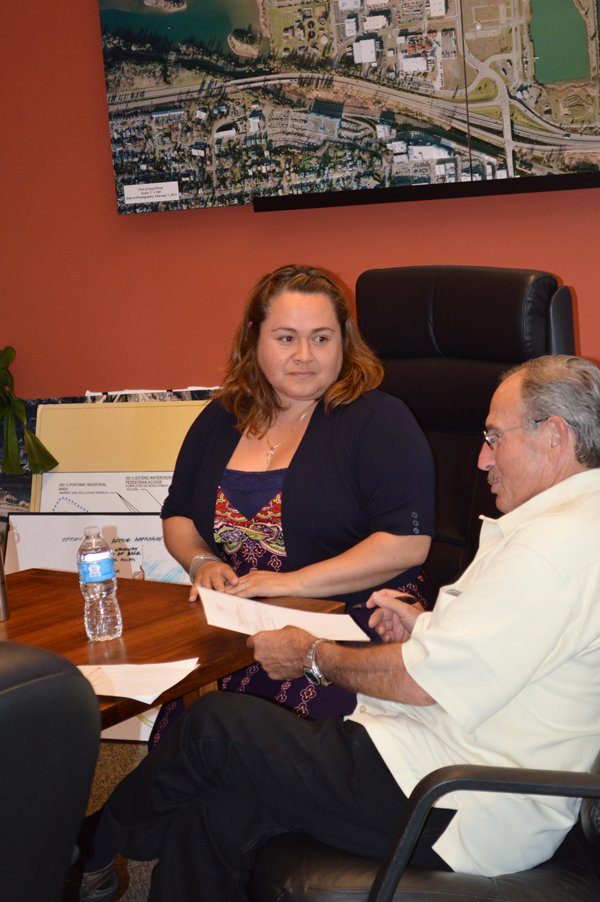 Saturday, August 17, 2013
Schools are preparing for big changes in 2014-15.
In a meeting that was part summer wrap-up and part fall preview the Board of Directors of Hood River County School District conducted a wide variety of business Wednesday, including news on how two statewide assessment and reporting programs will affect local schools.
Julia Garcia-Ramirez took the oath of office, and new superintendent Dan Goldman said he continues to seek input from staff and wants guidance on how to better communicate with the community.
For most students in the HRCSD, classes start Sept. 3; Hood River News will publish back-to-school information, and bus schedules, in the Aug. 28 edition.
Goldman also made a pointed request of school board members and the community to "put pressure" on Legislators on the issue of educational funding. The HRCSD board includes a state representative, Republican Mark Johnson.
The meeting was also the first for two new members of the district chief administrators, or cabinet: Finance Director Saundra Buchanan, formerly with Columbia Gorge Community College, and interim chief academic officer Erin Lolich, who was hired this month to serve for the 2013-14 school year.
Here are summaries of action or discussion by the board:
Two new statewide programs, the Oregon Kindergarten Assessment and revised school and district report cards, were presented by Lolich, who previously served as associate director of curriculum and instruction at Tualatin-Tigard School District, where she worked with Goldman.
The board also and learned that kindergartners face a ground-breaking, but not altogether welcome, set of assessment tests to start within the first two days of the school year.
The board approved a list of facility upgrades to be paid for out of construction bond levy funds; look for a new ADA ramp at Pine Grove, hallway flooring at Wy'east Middle School, and brick-and-mortar repair on the north side of the historic Hood River Middle School, all scheduled to be completed by the time school starts. Facilities Director Randall Johnston said the HRMS project is still in the bidding process, but was confident it could be done by Sept. 3.
The board also approved acceptance of a $473,604 "21st Century Learning Grant," to be used for the next five years, to enhance student learning via programs for students and families after school, before school, evenings, and during summers.
"It looks promising and we're very excited," Lolich said.
The board met Amanda Rodriquez, a senior at Hood River Valley High School, and her niece, Rosa, a freshman, both of Parkdale, who helped every day for two weeks on the massive mural promoting substance abuse prevention, staged at Mid Valley Elementary in mid-July and mounted on the stadium at Wy'east Middle School. Amanda and Rosa presented Wy'east Principal Catherine Dalbey and Assistant Principal Patricia Cooper with a framed photo collage of the project.
"It's a message on a grand scale," said Belinda Ballah, prevention coordinator with the Hood River County Commission on Children and Families, which coordinated the project with artist-in-residence Alison Bell Fox (a Wy'east and HRVHS alum), the high school and middle school Health Media clubs, and numerous community groups.
Ballah showed the board a short video on the planning and execution of the mural, which had the participation of 323 summer school students, and a number of high school and adult helpers. The mural on the east side of the stadium measures 1.900 feet, in more than 25 plywood panels that were painted at Mid Valley and then assembled at Wy'east. A smaller linear mural, with an intense Eagle's gaze, was mounted on the west side of the stadium, facing the school.
More than 700 hand prints grace the mural, and several hundred names. "It calls on us to 'soar above the influence,' and choose healthy lifestyles," said Ballah, noting that the main mural will be seen by hundreds of youth and adult soccer participants, Ultimate Frisbee players, and people attending county fair and other events on the school grounds.
Referring to Gov. John Kitzhaber's July 24 visit to Hood River Middle School, Goldman said "all I know is we need more money for classrooms, but we are very fortunate in this district that we have local folks who support us," referring to construction bond approvals and passage of the Local Option, which provides extra funds for instructional programs.
"Without that support we'd really look like a different school district," Goldman said, adding that during Kitzhaber's visit with local officials, teachers and community leaders, he heard the arguments on increasing revenue and on reducing PERS payments as the governor did a sounding on his push for a Special Session on education funding but said, "I want people to put pressure on the Legislature to have this debate."
"The discussion is one that we need in Oregon and nationally right now," Goldman said. "We need less kids in the classrooms, and I'm going to look at efficiencies away from the classroom as much as possible."
The Oregon Kindergarten Assessment program had been called Oregon Kindergarten Readiness Assessment, until a name change following passage of House Bill 4165 that created it in 2012. OKA includes measures of early literacy, math, social-emotional development and self-regulation.
It asks these questions: Are children arriving at kindergarten ready for school: Is the level of school readiness improving or declining? Are there disparities (geographical, cultural, racial and socio-economic) between groups? Are there particular domains of school readiness that Oregon should target? according to materials presented by Lolich.
While no individual student results will be reported back to schools or parents, and the district will be rated by participation, not outcomes, Lolich said, "There is a bit of anxiousness" over the new assessments. It is connected to the federally mandated Race to the Top program, and is "Oregon's first blush at the assessment."
Board member Jan Veldhuisen Virk said "It sounds stressful for kids and families that are already adjusting" to the new demands of all-day kindergarten, and asked Lolich, "The purpose of this is what?"
"There is a bit of frustration and questioning by a lot of educators," Lolich said. "This is a regulation and our district will do things the best way possible for the kids."
Goldman said it was a positive that results won't be reported back specifically by students, but said "This is good for making policy but not so good for kids."
Johnson said he wishes the word "Readiness" had not been removed from the OKA name, "because readiness is essentially what it looks at." He asked that people keep an open mind on OKA, saying "it is an assessment to help us determine how we're doing in that early pre-K(indergarten). We need to assess."
Lolich also spoke to the board about the significant changes in the scope of the school and district report card, which is sent to parents twice a year to demonstrate how each school, and the district, stacks up concerning test scores and other information. She said that starting this school year, the report card will be "new and hopefully improved," expanding from two pages to four pages on school level information and six on the district as a whole. "It's a wealth of information," Lolich said.
"My concern is that it may be too much," she said. "Visually, it provides families with better information and a more holistic look, by that I mean it gives more than just assessment data. This includes details on school and district-wide extracurricular offerings, building safety data, demographics by race, program and economic distribution of students, multi-year trends, state and like-school comparisons, district funding, enrollment, curriculum and learning environment data, graduation rates, and college prep test participation."
The report card will answer, "How are students at this school performing compared to those at other schools?
"If folks can wade through the information, I think people will be happy with it," Lolich said.