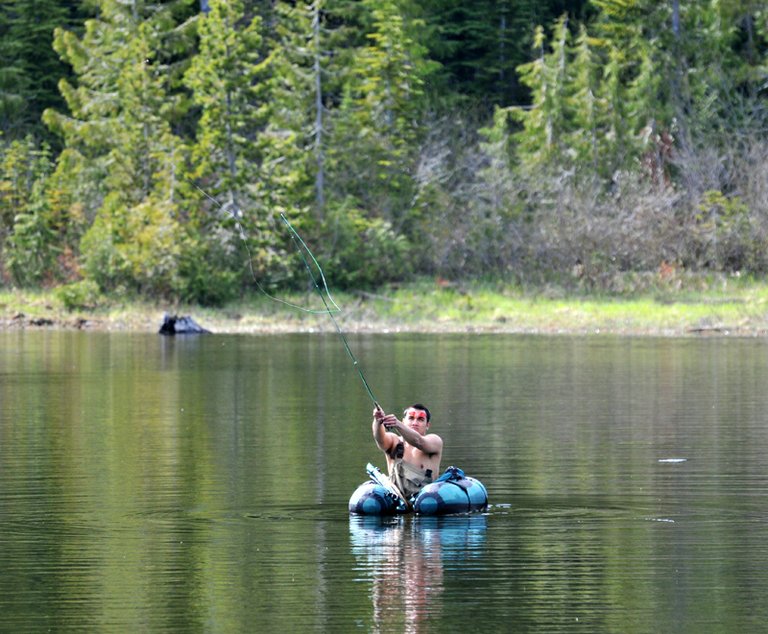 Wednesday, August 21, 2013
While not considered remote by most standards, Rainy Lake is out of the way enough that the chances of having the lake to yourself on any given day are pretty good. From Hood River, Rainy is about an hour's drive from downtown and is one of several lakes oriented in a north-south line stretching between Mount Defiance to the north and Mount Hood to the south. Black, Rainy and North lakes are all accessible from the same Forest Service Road 2820, or Dead Point Road, which can be reached either from Kingsley Reservoir or Dee. Not far to the south geographically, but accessed from different roads are Whatum and Scout lakes, and beyond those are Lost Lake and Bull Run Lake.
Rainy is just a small and shallow pancake of a lake, but what it lacks in bravado, it makes up for in its quaint woodsy nostalgia as warm west winds swirl through the surrounding forest while hawks and eagles circle overhead, and salamanders and trout below nip at whatever the latest hatch has left floating on the surface of the cool, clear water.
On a hot summer day, pass-up the more popular Kingsley Reservoir for Rainy; blow up an air mattress or inflatable kayak, shove off and let the wind blow you in circles around the lake — you won't be disappointed. And don't forget a fishing rod, if you're so inclined; fly-fishing seems to work the best, especially in the morning and evening hours when the sun is off the lake.
The entrance of the lake can be tough to spot; you know you've gone a little too far if you come to the end of the road and the very similarly sized and shaped Black Lake. If you're looking for privacy and cars are parked at Rainy, it's worth checking Black Lake since it's so close. The lake is about a quarter-mile hike from a small parking area and four-site campground. There's not much room around the edge of the lake for lounging, so something inflatable comes highly recommended here.
For the more adventurous, there's the Rainy Whatum Trail #409, which runs along the edge of the Mark O. Hatfield Wilderness between Rainy and Whatum lakes along Waucoma Ridge. Several other trails also tie into this network, including Herman Creek and Green Point Ridge. A quick search for these will give you details.