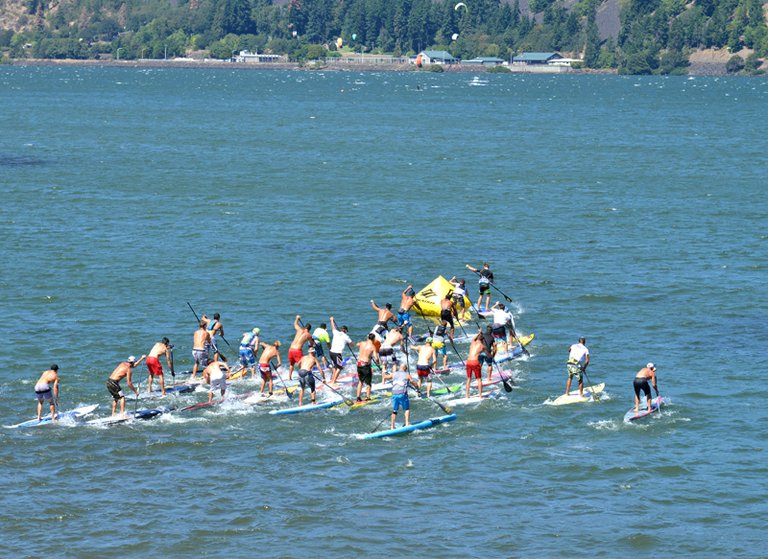 Wednesday, August 21, 2013
Event highlights
For complete results see: gorgepaddlechallenge.com.
Overall Waterman:
Kody Kerbox
Overall Waterwoman:
Fiona Wylde
Saturday distance:
Elite Men:
1st: Kody Kerbox, 1:03:56
2nd: George Cronsteadt, 1:04:52
3rd: Slater Trout, 1:07:30
4th: Noa Ginella, 1:07:54
5th: Livio Menelau, 1:09:07
Open men:
1st: Mark Raaphorst, 1:11:21
2nd: Jon Davies, 1:13:33
3rd: Joy Braley, 1:16:02
4th: Douglas Hopkins, 1:16:32
5th: Gregg Leion, 1:16:57
Elite women:
1st: Andrea Moller, 1:15:14
2nd: Fiona Wylde, 1:15:55
3rd: Candice Appleby, 1:17:19
4th: Mariko Strickland, 1:17:30
5th: Jenny Kalmbach, 1:19:13
Open women:
1st: Linda DeJong, 1:30:31
2nd: Bonnie Fromm, 1:30:45
3rd: Victoria Hopkins, 1:35:10
4th: Lori Parker, 1:35:20
5th: Kim Rueter, 1:35:23
Sunday course:
Elite men:
1st: George Cronsteadt, 49:41
2nd: Kody Kerbox, 49:58
3rd: Slater Trout, 50:29
Elite women:
1st: Candice Appleby, 56:32
2nd: Jenny Kalmbach, 57:01
3rd: Fiona Wylde, 57:43
Open men overall:
1st: Jon Davies, 36:10
2nd: Ford Huntington, 37:19
3rd: Rob Dies, 37:22
Open women overall:
1st: Bonnie Fromm, 43:12
2nd: Maria Randle, 43:41
3rd: Lysanne Lavigne, 43:59
Men 16-17:
1st: Ford Huntington, 37:19
2nd: Sam Wiley, 38:18
3rd: Tyler Tschritter, 39:20
Women 16-17:
1st: Sam Davies, 47:14
2nd: Savannah Boersma, 48:51
3rd: Abigail Leion, 49:55
Men 50 and over:
1st: Bill Babcock, 25:15
2nd: Dwayne Lotnick, 37:25
3rd: Gregg Leion, 38:05
Women 50 and over:
1st: Bonnie Fromm, 43:12
2nd: Teressmarie Tucker, 45:37
3rd: Judy Shasek, 54:07
Open youth:
1st: Ian Light, 21:20
2nd: Valerie Fisher, 24:21
Jane Staples, 24:35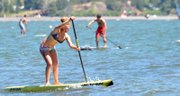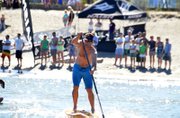 Several epic battles ensued this weekend in what is already being hailed a very successful third-annual NAISH Columbia Gorge Paddle Challenge.
Starting Saturday with the distance race, relatively light wind meant paddlers' endurance was truly put to the test in the six-mile upriver grind from Viento State Park to Hood River. Wind picked up on Sunday for course racing in front of the Hood River Waterfront Park, and again paddlers were pushed to their limits, as half of the diamond-shaped course faced straight upwind.
Winning the overall Waterman and Waterwoman awards (and the $500 payout) for the fastest combined times of the two days were 19-year-old Kody Kerbox of Hawaii and Hood River's own, 16-year-old Fiona Wylde.
Kerbox won Saturday's distance race in a time of 1:03:66 and finished second the following day, 17 seconds behind Tahitian paddler Gorge Cronsteadt, which was enough for the fastest overall time. Wylde caught female pro frontrunners off-guard Saturday with a second-place showing in the distance race, finishing in 1:15:55, 41 seconds behind 33-year-old pro Andrea Moller and almost a minute and a half ahead of last year's overall winner, 27-year-old Candice Appleby. Roles were reversed on Sunday, as Appleby won the elite women's race, followed by Jenny Kalmbach and Wylde in third at 57:43. Wylde's combined time was 13 seconds faster than Appleby's for the Waterwoman award.
A field of 188 racers, ranging in age from 11 (Jane Staples) to 70 (Dave Larkman), turned out for this year's event, including a solid representation of local paddlers.
Leading the charge in Sunday's open-class action was Hood River's 47-year-old Jon Davies, who paddled like a man half his age to win the race in 36:10 — more than a minute ahead of 16-year-old second-place finisher Ford Huntington. In the open women's class, 51-year-old Bonnie Fromm showed the importance of good form and determination as she crossed the finish line in 43:12 to the cheering of a large group of spectators.
"I thought I had a chance but wasn't sure," Davies said of Sunday's race. He finished second in the open men's distance race the day before. After a mass-chaos start and sprint around the first buoy, the field spread out and much of the course race was a grind against the wind and waves. "A few of us got a good breakaway at the start. I managed to get around the lead pack and after that it was a mental battle to stay focused and keep good technique. I came around the buoy after the second lap and started to feel slow and tired, so it really became a mental battle to focus on form — to paddle with core muscles and not just my arms."
With a diamond-shaped course that received much praise for its layout, paddlers faced a strong headwind in one direction and a tailwind in the other. Top finishers paddled hard through both, keeping their heads down and grunting through the upwind legs and carrying momentum to glide with the waves on the downwind stretch. In between, buoy turns added a crucial technical element to the mix.
After completing four laps and sprinting across the finish line, Davis watched with an obvious sense of relief and satisfaction as others finished behind him with similar expressions, including his daughter, Sam, who won her age group (women age 16-17).
"That was the highlight of my whole weekend," he said. "I got to cheer her along on the course and then watch her finish. It was the best part of the whole event for me."
When asked if he'll compete in the elite division next year, Davis laughed and said maybe, but he'd have to stop supporting the local pubs in order to get to that level by next August.