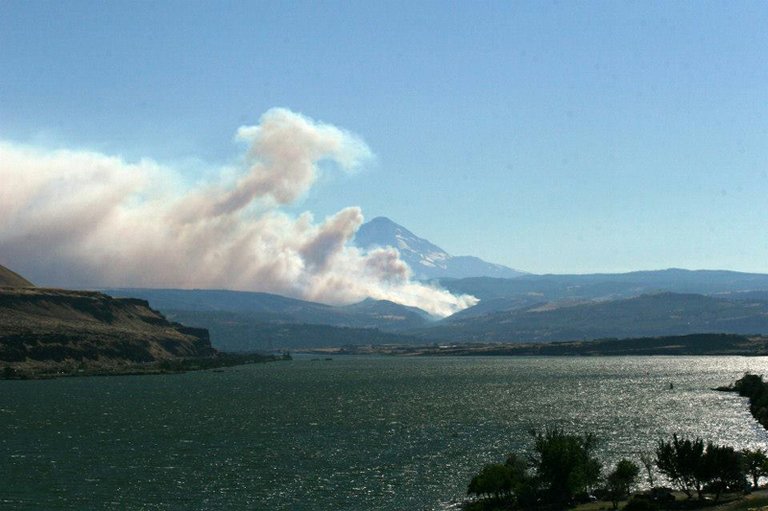 Wednesday, August 21, 2013
Hood River County fire crews are part of a group of over 700 firefighters who are trying to extinguish the nearly 7,000-acre Government Flats Complex wildfire burning approximately 6-10 miles southwest of The Dalles. The Oregon State Fire Marshal reported Tuesday morning that two homes and five outbuildings have been consumed by the flames.
According to Wy'East Fire Chief Greg Borton, Hood River County fire crews have been battling the blazes since Friday morning; just hours after lightning strikes ignited the three wildfires.
"Friday morning, we were dispatched as immediate needs to help Mid-Columbia Fire and Rescue," Borton said Monday. "We came home Friday night, got to sleep, and then they activated us Saturday morning and we were up there for about 12 hours. Then the fire behavior got really bad."
Borton, who was on scene Friday and Saturday, said the fires have been spurred on by windy conditions, making extinguishing efforts difficult.
"It's burning in deep canyons and ridges and it's burning hard," he noted. "It's a challenge."
The Blackburn fire, which has burned more than 6,430 acres of land along Blackburn Canyon, is by far the largest and most southern of the three fires in the complex, which is burning dry grasses, oak, Ponderosa pine, and Douglas fir in The Dalles Watershed. The fire is approximately one mile from The Dalles water treatment plant. As of press time, the fire was listed as only 10-percent contained. The complex also includes the 66-acre Wells fire, located approximately 1.5 miles to the north and the 168-acre Government Flat fire, burning approximately two miles north of the Wells fire area, both of which are listed as contained.
At 8 p.m. on Saturday, Gov. John Kitzhaber declared the fire area a state conflagration, which means Oregon may be eligible for partial reimbursement by the federal government for firefighting costs.
After the declaration, the Hood River Interface Task Force, headed by Hood River Fire and EMS Chief Devon Wells, left with 13 local firefighters (four from Wy'East), four brush trucks, and a tender to go help with firefighting efforts. Several helicopters and tanker planes have been attacking the blaze from the air. This is the second time the Hood River Task Force has been dispatched to a conflagration, coming just little more than a week after the group was sent to John Day to fight the Grouse Mountain Complex.
The task force was called upon because of their ability to fight both structure and wildland fires — an especially useful skill considering the Government Flats Complex has burned two unoccupied sheds, five homes, and currently threatens dozens more structures. A level II evacuation notice was posted for 35 residents of Mill Creek Road and Reservoir Road on Sunday, which were blocked from non-local traffic. At 4:30 p.m. Monday, the evacuation was upgraded to level III and expanded to 50 dwellings, meaning residents needed to leave their homes immediately.
With the Hood River County fire crews departing Sunday morning, the annual Fallen Firefighter Memorial Service scheduled for Sunday afternoon in Odell felt especially somber. Borton, who presided over the service held at the Odell fire hall, noted the group of firefighters standing at attention to his left was smaller than in past years — their numbers shrunk by the call of duty. The safety of the firefighters weighed heavily on the minds of the firefighters, the dozens of people who showed up for the service, and Borton, who commented on how perilous this year has been for firefighters in the U.S.
"This has been a bad year for firefighters," Borton announced to a silent crowd. "There have been so many deaths. All of Oregon is on fire."
In a later interview, Borton said the summer of 2013 was "probably the most severe fire seasons since 2002 or 2003."
Other speakers included State Senator Chuck Thomsen, who is himself a member of the Pine Grove Fire Department, and Wy'East Chaplain Ricky Walker, who read a poem, written by an anonymous person, who wanted to express gratitude to all emergency personnel who put their lives on the line every day.
"As the days go by, you are called upon to assist someone in need," Walker read, "leaving your family known to you and love, knowing someday, something may go wrong."
The weather is expected to stay hot and dry today, with temperatures in the low 90s. Wind is supposed to be out of the east today, which will help the wildfire burn back on itself, but may also drive smoke toward Hood River.