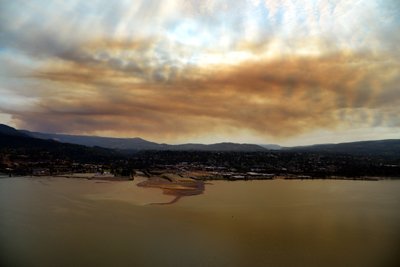 Originally published August 21, 2013 at 4:30 p.m., updated August 22, 2013 at 9:41 a.m.
A complex of wildfires burning several miles southwest of The Dalles are directly responsible for the darkened skies and decreased air quality in Hood River today.
The Government Flats Complex Fire was ignited by lightning strikes on Aug. 16 and has burned nearly 9,000 acres as of Wednesday afternoon. The Blackburn Fire is the most active and largest of the three wildfires in the complex. Over 800 firefighting personnel are working round the clock from the ground and the air to extinguish the flames that have consumed three homes and five outbuildings as of last count. The fire is still listed as only 15-percent contained.
Today, shifting winds have caused the Hood River Valley area to become inundated with acrid smoke, tinting the sky to a gauzy orange color. A Department of Environmental Quality monitoring station in The Dalles registered moderate levels of particulates in the air earlier today.
Although there is no DEQ air quality monitoring station in Hood River, the Hood River County Health Department issued an advisory today about the smoke and its potential health impacts:
Hood River County Public Health officials urge people throughout the county to take precautions as air quality may deteriorate and reach potentially unhealthy levels with shifting winds over the next 48 hours.
"People with chronic lung or heart conditions, the elderly and children have higher risk of health problems from the fine particles in wildfire smoke," said Bruce Gutelius, M.D., M.P.H., deputy state epidemiologist with the Oregon Public Health Division. "People who suffer from asthma or other respiratory conditions should follow their breathing management plans, keep medications on hand, and contact health care providers if necessary."
DEQ and local county health departments urge residents to take the following precautions to avoid breathing problems or other symptoms from smoke:
Be aware of smoke concentrations in your area and avoid the places with highest concentrations.
Residents can check the current local air quality conditions on DEQ's website at www.deq.state.or.us/aqi/ or call 503-229-6397
Avoid outdoor activities when air quality is unhealthy and hazardous.
To avoid smoke either leave the area or protect yourself by staying indoors, closing as many windows and doors as possible without letting your home overheat, and using a filter in your heating or cooling system that removes very fine particulate matter.
Avoid strenuous outdoor activity in smoky conditions. Young children and persons with heart or lung problems are especially vulnerable.
Persons suffering from asthma or other respiratory problems should follow their breathing management plans or contact their health care providers.
More info is available on the Oregon smoke blog at http://oregonsmoke.blogspot.com/.