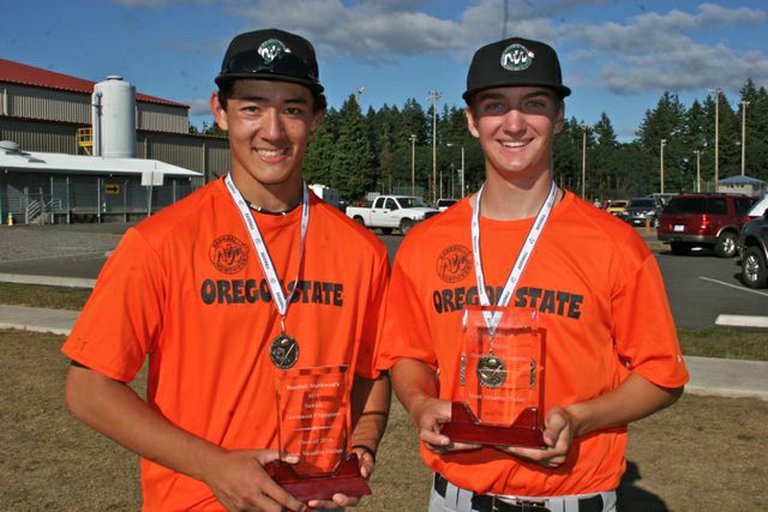 Saturday, August 24, 2013
While fall sports are gearing up for action, soon-to-be junior Ryan Ward and sophomore Kellan Duffy have been busy all summer building on their stand-out spring seasons and representing what looks to be a very promising future for Hood River Valley High School baseball.
Most recently, the two played on the Baseball Northwest Senior Championship Tournament in Centralia, Wash. — Ward on the 2015 team and Duffy on the 2016 — where they were both named Most Valuable Pitcher for their class after team-leading performances.
Ward started on the mound for the Class of 2015 Oregon State team in the opening game of the tournament and turned in one of his best performances of the year, striking out eight and allowing three hits on his way to a seven-inning complete game shutout against the Washington Metro squad. The team won its remaining games going 4-0, earning a berth in the championship game three days later. Ward pitched two innings of scoreless relief in the 7th and 8th innings on the way to an 11-inning victory over Utah.

Duffy, playing for the class of 2016 Oregon State team, was thrown into the unexpected role of closer, in addition to playing third base and outfield. He pitched in three of the teams wins, closing out two of the games with shutout relief to help his team to the championship game facing Oregon Metro. In that game, Duffy was called in to close out the win with a one-run lead in the bottom of the 7th. Three errors and one unearned run later, the game went into extra innings, where Duffy powered through with another four innings of scoreless relief before Oregon State scored twice in the 11th inning for the championship win.
Both Ward and Duffy were awarded Most Valuable Pitcher for their performances. The two were selected for the tournament after a tryout process that evaluated hundreds of players throughout the state of Oregon. This year's tournament included nearly 600 of the top Northwest players in 2014, 2015 and 2016 classes from Oregon, Washington, Idaho, Montana, Wyoming, South Dakota, Utah and British Columbia.