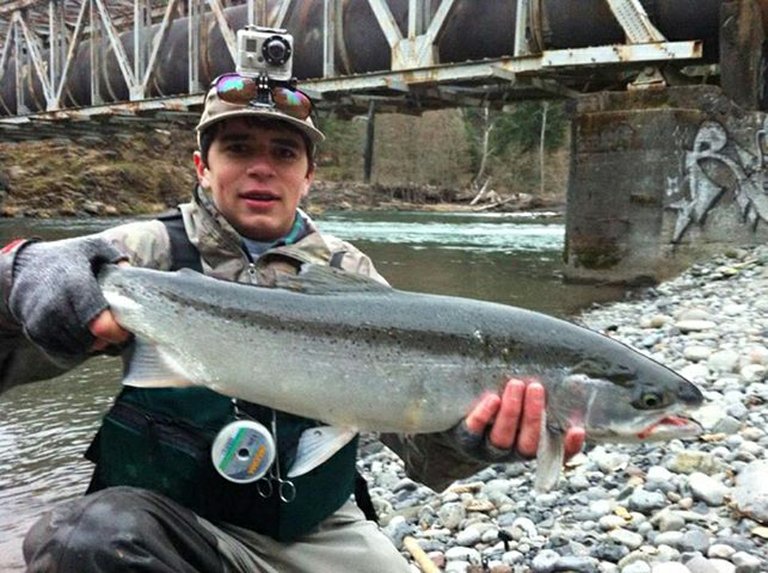 Wednesday, August 28, 2013
Fishing is a way of life for Gabe Cunningham. Surrounded by water, he is happy to call a place like Hood River home and has found satisfaction in spending his youth along the shorelines of some of the Northwest's best rivers, lakes and streams. But as the Hood River Valley High School sophomore matures, so does his perception of favorite local fishing rivers like the Hood, Klickitat and Deschutes.
To learn more about how he can help improve the condition of streams and rivers locally, Cunningham traveled this summer to Jackson Hole, Wyo., to attend one of several youth leadership and stewardship camps offered by the conservation organization Trout Unlimited. The five-day camp brought youth from around the country to the pristine waters at the base of the Teton Mountains to discuss current conservation issues and instill a sense of responsibility for stewardship to return home with.
"I learned a lot about conservation and a lot of ideas to bring back here," Cunningham said about the camp. "Without conservation, we won't have healthy streams and good fishing. A big part of the camp was to be able to bring ideas back home to show other people. We are the main cause of why the rivers need help, and we are also the main solution."
Cunningham said the group also fished every day, which was a fun and relevant way to connect the group with some of the many conservation issues facing rivers and streams across the country.
"That was pretty cool," He said. "We also checked out an old dam site that had been removed and got to see fish moving back up where the dam used to be. And we did an invasive plants clean-up where we pulled thistles and stinging nettles along the Snake River. One thing I brought back is knowing that if you do something to help, you can see the outcome. It's pretty crazy how fast rivers can recover."
Around Hood River, Cunningham says he fishes an average of a few times a week, even during the school year. He does a lot of other activities, but fishing, he says, is definitely top on his list.
"The Deschutes is really good for summer steelhead right now," he advised. "Fall chinook are coming, too. The Klickitat and lower Deschutes are good; obviously there's the Columbia, and the Hood is always an option. I know the Hood like the back of my hand. I like to ride my bike down to the old powerhouse, hike up the river as far as I can and then fish my way back down."
Cunningham said he's not sure exactly where to start in terms of local stewardship projects, but with active local conservation groups like the Hood River Watershed Group and Columbia Riverkeeper, he will likely have plenty of support in whatever he decides.