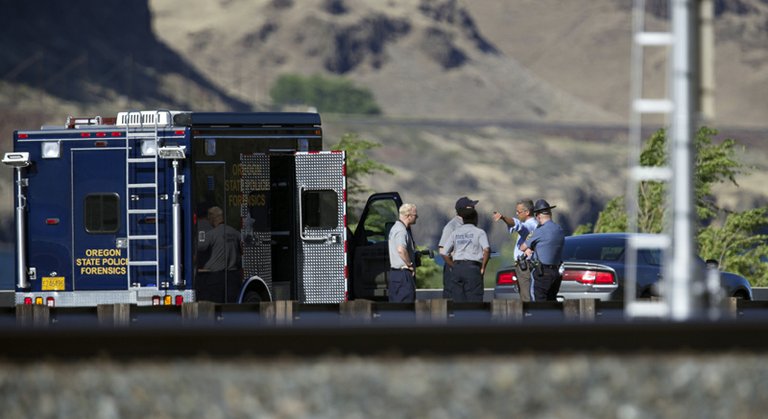 Saturday, August 31, 2013
The investigation continues in an officer-involved shooting Thursday afternoon along Interstate 84 east of Biggs Junction in Sherman County. The incident resulted in 26-year-old Oregon State Police trooper Matthew Zistel being wounded and the death of the male suspect, 34-year-old John Van Allen II.
The following information was approved for release Friday by investigators and Sherman County District Attorney's Office: The involved officer is Trooper Matthew Zistel, age 26, assigned in the Patrol Services Division at The Dalles Area Command office. Trooper Zistel has been with OSP for five years and is married with no children. He was treated and released Thursday evening from Mid-Columbia Medical Center for a minor gunshot wound to his left side.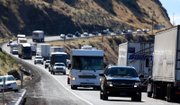 Van Allen II has previous addresses in South Carolina and Pennsylvania, but was most recently residing in the Portland area. During the incident he was accompanied in the vehicle by his three children; a 10-year old girl, and two boys ages 13 and 15. They were placed in Department of Human Services' custody last night and their names are not being released. An autopsy completed Friday morning at the Oregon State Medical Examiner's Office concluded Allen died from a single gunshot wound to the chest. No other injuries were noted. Preliminary investigation indicates Allen was shot by the trooper during the exchange of gunfire. Trooper Zistel was working construction zone traffic safety overtime enforcement when he stopped the vehicle for a speeding violation. As the trooper exited the patrol car, Van Allen reportedly got out and shot at the trooper who returned fire. About one minute after the stop, the trooper radioed to dispatch that he was shot after the vehicle drove away eastbound.
Back-up officers from multiple law enforcement agencies from Oregon and Washington responded to the scene. OSP troopers who headed eastbound to locate the involved vehicle saw it stopped on the right eastbound shoulder about a half mile from the traffic stop scene. When officers were able to safely check the vehicle they found the male driver slumped over the steering wheel. They pulled him out of the vehicle onto the roadway and attempted to revive him. He was pronounced deceased at the scene.
The three other occupants in the vehicle were not injured and were transported to The Dalles for interviews with investigators. Trooper Zistel was transported to Mid-Columbia Medical Center for treatment of what was called a non-life threatening gunshot wound to his side.
Responding agencies to the incident included OSP, Sherman County Sheriff's Office, Wasco County Sheriff's Office, Klickitat County, Washington Sheriff's Office, Gilliam County Sheriff's Office, Hood River County Sheriff's Office, The Dalles Police Department, Hood River Police Department, Hermiston Police Department, Sherman County District Attorney's Office and Oregon Department of Transportation.
Both east and westbound lanes were closed for several hours resulting extensive delays. The westbound lanes were open about 6:20 p.m. and one eastbound lane opened shortly thereafter.