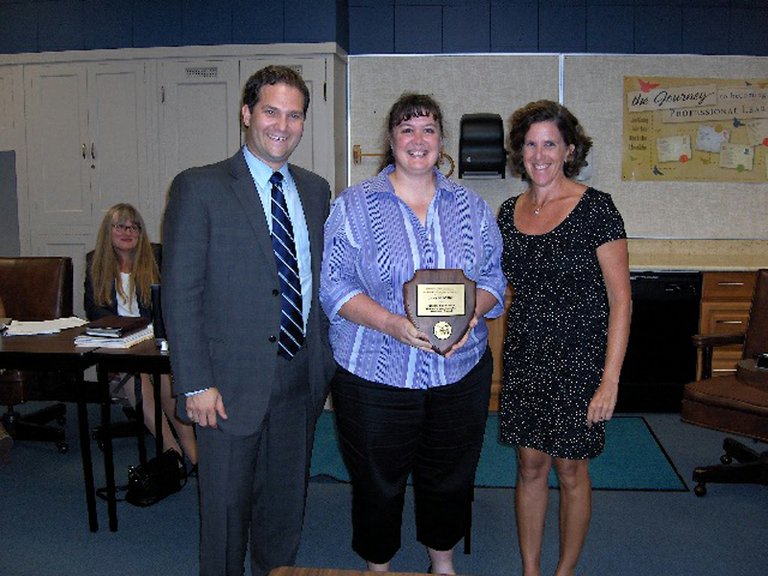 Saturday, August 31, 2013
Jane Osborne, a teacher on special assignment and the district's math coach, is the recipient of the Mildred Bennett Award.
Every year the Oregon Council of Teachers of Mathematics Executive Board gives two awards to recognize and honor teachers and leaders in the state of Oregon. The recipients exemplify the spirit and dedication of two of Oregon's outstanding mathematics teachers: Mildred Bennett and Oscar Schaaf.
This award, nicknamed the "Heisman Award" for math teachers, is awarded each year to an elementary or middle school teacher based upon the following criteria:
The teacher demonstrates:
n A spirit of joy and work ethic which promotes quality of mathematics education for all children;
n An innovative approach in taking ideas and adopting them;
n Exemplary work in his or her own school;
n An ongoing commitment of time and energy to improve teaching is his or her community; and
n Support and promotion of mathematics throughout the state.
Osborne was given the award Aug. 4 at the annual Oregon Math Leaders Conference in McMinnville.

"We are extremely proud of the work Jane does for the Hood River County School District in helping our staff and students further develop and enhance their skills in mathematics. This award is well-deserved," said Dan Goldman, HRCSD superintendent.
Osborne has been teaching for 24 years and for 21 years has worked at the state level. She has served as a state scoring director for the Oregon Department of Education. Osborne also serves on the Content and Assessment Panel, which writes state tests in math and develops scoring guides.

Currently she is involved in writing the Smarter Balanced assessments and scoring guides, is part of the OCTM Professional Development Cadre — which plans and delivers staff development around the state — and is a member of the Oregon Data Project Executive Team.
When asked what she is passionate about in her teaching, Osborne responded, "I love helping kids discover that math is fun. I love assisting students in reaching their potential, even though they may not think they can. I enjoy helping teachers see that teaching math can be fun and inspiring to students."
"Jane Osborne is one of the jewels in the Hood River County School District's crown and the district would like to congratulate Jane on receiving this award and thank her for her commitment and dedication to the students and staff of the Hood River County School District and the state," said Liz Whitmore, school board chair.