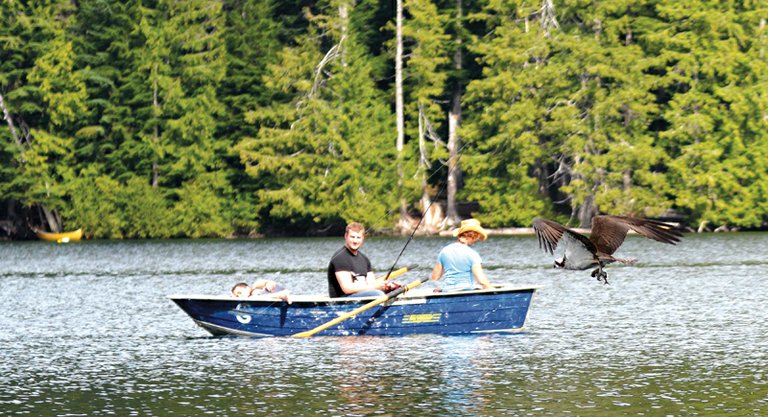 Saturday, August 31, 2013
It's hard to believe August is over already. These last couple weeks of cool weather and rain really put a damper on what is arguably the Gorge's finest month for enjoying the great outdoors and cooling off in the many great bodies of water that surround us.
In this, our final installment of an eight-part summer series, we save the best for last, paying a visit to a true gem on Hood River County's crown — Lost Lake. And alas, although school starts next week and the official end of summer isn't far behind, there's sure to be enough warm weather between now and when the lake freezes over to take a dip in what is undeniably one of the most beautiful and pristine lakes in the Northwest.
At 3,100-foot elevation, the lake is nestled between Lost Lake Butte, Preachers Peak and of course the towering Mount Hood, of which the lake provides unobstructed views that are awe-inspiring no matter how many times you visit.
In terms of "cooling-off," you have a few options. The 3.2-mile trial around the lake is an excellent and beginner-friendly hike that provides access to most of the lake, although some areas more clear of trees and brush than others. If you're looking for a nice, private place to dip in the cool water and lounge on rocks or trees half submerged in the lake, just hike the trail and find a nice place along the way.
The other 7
1: Laurance Lake
2: Koberg
3: Elowah Falls
4: The Hood at Tucker Bridge
5: The White Salmon River
6: Rainy Lake
7: Aquatic Center
If you've got a canoe, rowboat, SUP or anything else that floats, bring it; if not, you can rent any of these from the rustic resort facility that manages the lake and campground facilities. A paddle around the lake, especially on a clear, sunny day, is one you won't soon forget.
Although the theme of this series has been a tip-of-the-hat to just a few of the many great places to cool off on a hot summer day, Lost Lake is truly a place of all seasons, from the mushrooms, huckleberries and changing colors of autumn, the privacy, silence and misty contemplation of winter, the coming-to life of spring and, of course, the many joyous summertime activities that the finest of summer memories are made of.