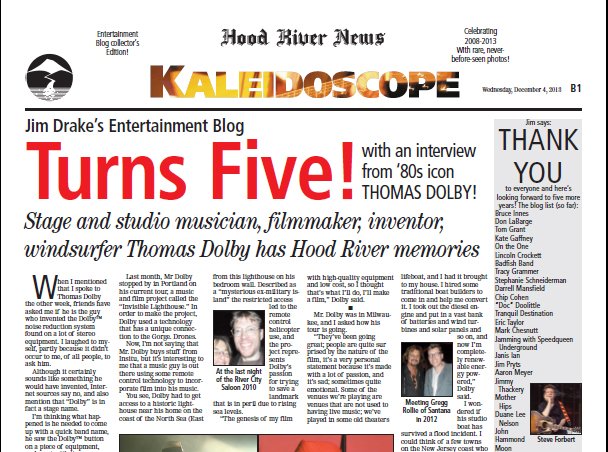 Wednesday, December 4, 2013
When I mentioned that I spoke to Thomas Dolby the other week, friends have asked me if he is the guy who invented the Dolby™ noise reduction system found on a lot of stereo equipment. I laughed to myself, partly because it didn't occur to me, of all people, to ask him.
Although it certainly sounds like something he would have invented, Internet sources say no, and also mention that "Dolby" is in fact a stage name.
I'm thinking what happened is he needed to come up with a quick band name, he saw the Dolby™ button on a piece of equipment, and went with it.
This happens often in band naming. I heard a story of a guy who needed a quick band name, so he walked out into the street right before a gig, and saw a road sign that said "Men At Work."
What I know for sure is, Mr. Dolby's name has been incorporated into the windsurfing culture, something that is familiar to us here in the Gorge. In his own words, the '80s pop culture icon who gave us the hit "She Blinded Me with Science," said this reference is not something he describes as his finest moment.
"You should know that there's actually a windsurfing term named after me, and it's not one to be very proud of. It's called 'Dolbying your fin.' It came about because I was at a rental location down in Baja, and I stuck the fin in the sand and stepped on the board, and the guy who gave me the board got very angry and irate. He said that would mess up the fin, and soon afterwards it became known as 'don't Dolby my fin,'" Dolby laughed.
n
Over the years I have heard reports from music friends saying that Thomas Dolby spends time in Baja. But I assumed he was there for the music jams and night life. It never occurred to me that Mr. Dolby would be into windsurfing, too. But after watching one of his YouTube videos, the one where he explores the contents of an old storage shed in California, I saw the evidence. Under keyboard road cases and old electronic equipment were some old windsurfing boards.
So I just had to ask if he's ever had the chance to sail in Hood River.
"I've been to Hood River many times to windsurf. I've never taken up kitesurfing, but I've sailed most of the spots around there. A couple of different times I rented a house at Rowena; it was right on the river. And other times I was in Hood River just driving around to different spots. The last time was 2008 or so, I moved back to Europe shortly after that. I live by a windsurfing beach. But I love it in Hood River, it's great."
n
Last month, Mr Dolby stopped by in Portland on his current tour, a music and film project called the "Invisible Lighthouse." In order to make the project, Dolby used a technology that has a unique connection to the Gorge. Drones.
Now, I'm not saying that Mr. Dolby buys stuff from Insitu, but it's interesting to me that a music guy is out there using some remote control technology to incorporate film into his music.
You see, Dolby had to get access to a historic lighthouse near his home on the coast of the North Sea (East Anglia, UK). He couldn't easily get access to the site, so what better way than to use a remote control helicopter with high-tech cameras to get the footage he needed.
"Well, I was just interested in the technology, and getting out and about in the neighborhood where I shot the film it just seemed appropriate to be able to just fly around, especially since I was getting no cooperation from the authorities — meaning I had to get airborne to get some of the shots I needed," Dolby said.
I think it's interesting that someone can have access to that kind of technology these days.
"The quadracopter camera that I bought is only $250 bucks online, although that's just the beginning of your expenses. Their business model is they more or less give you the quadracopter and they make their profit on their propeller blades and extra parts you have to buy when you smash it up (laughs). Which you certainly do," Dolby said.
n
Dolby's tour for the The Invisible Lighthouse includes him playing the live musical score while the film plays. As a child, Dolby was able to see the light flashing from this lighthouse on his bedroom wall. Described as a "mysterious ex-military island" the restricted access led to the remote control helicopter use, and the project represents Dolby's passion for trying to save a landmark that is in peril due to rising sea levels.
"The genesis of my film started when I moved back to England with my family about six years ago. I wanted my kids to experience the same things as I did when I was growing up. And I found out a year ago that this lighthouse was closing, because of rising water levels and receding beach lines. We kind of knew that little villages up and down the coast had long since disappeared, under the waves. A combination of rising sea levels and erosion means we're losing a lot of beach. The tallest building in the area is the lighthouse, and it seems that it's going to be abandoned to the North Sea. As an artist, I'm not really an activist, I'm not really political, so the best thing I could do is document this and turn it into something beautiful. So I set about making my film. I had never even pointed a camera before, but I love launching headlong into new undiscovered areas. I like the fact that filmmaking is becoming so accessible these days, with high-quality equipment and low cost, so I thought that's what I'll do, I'll make a film," Dolby said.
n
Mr. Dolby was in Milwaukee, and I asked how his tour is going.
"They've been going great; people are quite surprised by the nature of the film, it's a very personal statement because it's made with a lot of passion, and it's sad; sometimes quite emotional. Some of the venues we're playing are venues that are not used to having live music; we've played in some old theaters and cinemas. That seems to be a movement for cinemas — to be willing to stage different types of events, as well as taking out their seats and putting in couches so you can bring some pizza, or a panini and a glass of wine. I think the first time I actually experienced that was in a cinema in Hood River ...
(Me laughing) that sounds like a very Hood River thing, and you'd be happy to know that still exists at Skylight Theater...
n
Most musicians I know have some sort of home studio for practicing. But can you imagine having to factor in things like rising sea levels and potential higher tides and flooding when building a place to play music? If you ever visit Dolby's house on the coast of the North Sea, and you want to jam, you better bring your life jacket, because you'll be on an interesting boat.
"Yeah, I've gotten floods from time to time; it didn't make much sense to for me to have a garden shed studio, the way some musicians do. So I thought it would be great to have it on a boat, so it would rise up when the floods came in.
I was looking on eBay, and I essentially found a ship's lifeboat, and I had it brought to my house. I hired some traditional boat builders to come in and help me convert it. I took out the diesel engine and put in a vast bank of batteries and wind turbines and solar panels and so on, and now I'm completely renewable energy powered," Dolby said.
I wondered if his studio boat has survived a flood incident. I could think of a few towns on the New Jersey coast who should probably take Dolby's approach.
"So far, we've only had a couple of high tides to deal with; it's debatable whether or not it would be seaworthy these days, because I cut a big hole in the side for the door (laughs). But at least my equipment is up about 5 or 6 feet higher than it would have been at ground level."
n
As I mentioned in my blog the other week, Dolby's résumé, musical and otherwise, is impressive. So let's dive into some details. A few issues ago one of our Hood River News columnists mentioned the TED talks. It turns out that for 12 years, Mr. Dolby was the music director for the inspirational technology talk program. He said it was a good fit for him, even if it was "about the only music he was doing at the time."
"It was a great experience. I first gave a TED talk in 1992, when it was only a few years old, and then at the end of the '90s I helped turn the show into a nonprofit. I worked at the time bringing in new music to complement the TED talks, and I brought people in like Peter Gabriel, Tracy Chapman, Paul Simon, and Bono, and so on," Dolby said.
And that was a good outlet for you?
"It definitely was, it was more or less the only music I was doing, but I really did enjoy it. I had a house band there as well, and that was definitely an interesting period."
I also learned that Dolby was part of the fairly well publicized Live Aid concerts back in 1985. I remember seeing that on TV — it was really the heyday of rock and roll concerts. Bands would play for the crowd in London, and then get on the Concorde jet, cross the Atlantic, and then play the same day in Philadelphia. I'm pretty sure the concerts were broadcast on MTV.
Your résumé says you worked with David Bowie. What tracks did you get to work on with him?
"I didn't record with him, I played at Live Aid at Wembly, in 1985. It was a huge show, in front of 100,000 people, and I played keyboards for him. I've been on stage with him since then, but I've never recorded with him.
[Btw, I looked up that set and it was a good one, they did TVC 15, Rebel Rebel, Modern Love and Heroes.]
Dolby's résumé continues into the technology field. If you have a cellphone, and it plays music or makes a strange little sound when you press a button, you might be able to thank Dolby's company, Beatnik.
"My company, Beatnik, developed the audio engine that plays sounds on many of the world's cellphones. Whether it be voice sounds or alarms or keypressing buttons, or playing your mp3 songs, as well as ringtones.
"This was something I put together in the course of the 1990s. I didn't originally design it for cellphones, though; it was built to make interactive music apps, like the ones you can get for iPhones and things like that. It was an application that made it easy for non-musicians to make music, by moving blobs around, and remixing your own music and things like that. We were doing it on the web, back in the '90s when there was no revenue, really; people weren't prepared to pay for content like that back then. So we licensed the engine to Nokia first, and then many other of the cellphone makers. So many of the ringtones you hear are being played through the Beatnik Engine," Dolby said.
n
There's at least one more qualification that goes on Mr. Dolby's résumé, and that's creating advanced video games. I say "advanced," because the highest level of video gaming I achieved was Atari's "Space Invaders."
How did the gaming community react to your "The Floating City" game?
"They really liked it; there's a combination of players, really, there are hard-core Dolby fans, as well as gamers that knew nothing about my music. They had to collaborate — they had to work together to solve the puzzles of the game and it introduced a lot of new fans to the music," Dolby said.
n
I was surprised to find out that a Nova Scotian fiddle player, Natalie McMaster, helped Dolby out on one of his latest CD projects called "Oceania." It's heartening to know that even musicians labeled as "electronic" seek out and collaborate with genres that are clearly different. Using real instruments with real people is something to which Dolby has always been drawn to. He says he's at his most comfortable, in fact, when he's doing something completely new and different.
"It's not hard to think that what I do is electronic music, that was the image that was put out in the early '80s, and it was very noticeable at the time, given that most of the music in the early '80s was still drum and guitar-driven, you know; rock music. So a guy with short hair and straight trousers who played the synthesizer was going to be viewed as very electronic.
"The fact is, though, that a lot of electronic music at the time was 'machines sounding like other machines.' I'm a singer songwriter at heart — and I happen to use the synth as my instrument. But, it was always about the warmth and emotion in the music, rather than the coldness and alienation. So as time has gone on, I've been able to work with a variety of musicians in lots of musical genres as well; I love tackling the job of using musical instruments to tell a story.
"In the case of one of my songs, '17 Hills,' it's kind of like an American folk lament, with many verses, it keeps coming back to the same refrain, there's a murder, a jailbreak, an ambush, and so on, and so it makes sense to use conventional instruments. I've got a banjo, a fiddle on there, and things like that. As I said, I really like working in a new genre; in fact, I'm at my happiest when I'm working with something that I'm not 100 percent comfortable with; that's where I'm at my most creative. That's why I keep looking for goals in my music, looking for new directions," Dolby said.
n
Finally, I couldn't let the conversation end without talking a little about all the success Dolby has had in the pop music industry. It's ironic that Dolby doesn't really watch the cable channel MTV anymore, but he certainly credits the once music-video-only channel as a career launcher. For me, it's an embarrassing number of years since I first heard his most well-known song, "She Blinded Me with Science."
Do you keep up with anything on MTV today?
"No, I can't say I do."
But you were one of the first artist videos on that channel...
"Yes, that's fair to say, and I have them to thank for my commercial success. You know, I wasn't getting a lot of radio play before that, but after the video was a hit everything took off from there. And that was a time when MTV was obviously very influential, you know, cool people are staying home and watching MTV instead of going to concerts. So yes, that was definitely a good time, but I haven't watched it in years," said Dolby.
n
Well, this five-year anniversary blog has certainly covered a lot of ground. We've talked about windsurfing, remote control drones, electronic technology and unique green-energy music studios. Mr. Dolby is into music, film, pop songs and has an amazingly diverse back catalog. Plus, he knows exactly where Hood River is.
Wouldn't it be nice if he put Hood River on his next tour schedule? I told him about our arts center, and he was aware of the recent Mt. Hood Film Festival. He should do a show there. I think his film and music program would be a great fit.
"Well, I'll certainly try to stop back, and make sure I've got a few days off so I can do some windsurfing, or skiing, or whatever, depending on the season," Dolby said.
n
Thanks so much for reading, and I hope you've enjoyed learning about all the music on my blog as much as I have.
I'd like to give a special shout-out to a guitarist who lives in White Salmon, Buck Smith. I did a story on Buck, before the Internet-blog days. The feedback from the community was great, so I kept at it. Whether it's a local band in town or a national act stopping by the Northwest, I never get tired of hearing their stories. And no matter what genre, thanks to all the folks who open their doors to live music.