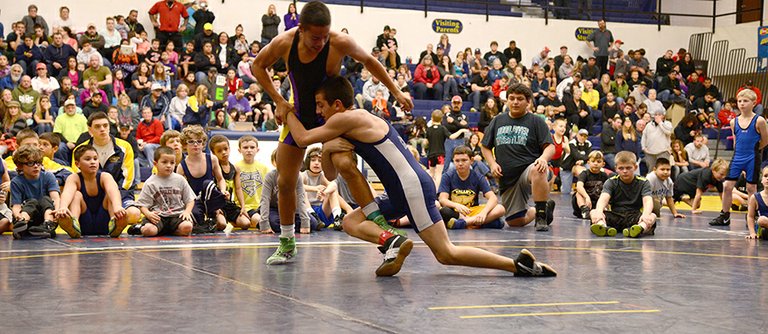 Wednesday, December 4, 2013
In an exciting start to the 2013-14 season, Hood River Wrestling Club was in full force Saturday for the annual Gorge Folkstyle Challenge at Hood River Valley High School. The youth wrestling tournament drew teams from as far away as Yakima, but with 46 in its lineup, the Hood River program was the clear powerhouse.
In all, 12 Hood River wrestlers won their round-robin brackets, another 13 finished in second place and 13 more were third. Top two finishers are below.
First place:
Tyson Baker, Pee Wee 34-43 lbs.; Tristin Baker, Pee Wee 43-47 lbs.; Connor Farlow, Bantam, 43-45 lbs.; Lakai Powell, Bantam 44-50; Carson Farlow, Intermediate 84-88 lbs.; Emilio Castaneda, Novice 105-127; Jason Shaner, Schoolboy 116-123; Justin Lane, Cadet 74 lbs.; Erik Cuevas, Cadet 117-128 lbs.; Derik Flora, Cadet 133-145 lbs.; Jesus Gordian, Cadet 148-163 lbs.; Max Lane, Cadet 181-254 lbs.
Second place:
Felipe Mendez, Bantam 50-52 lbs.; Cole Cantrell, Intermediate 59-63 lbs.; Adrien Cantrell, Intermediate, 64-70 lbs.; Judah Hepner, Intermediate 65-72 lbs.; Kevin Castro, Intermediate 71-76 lbs.; Cade Wetherell, Novice 54-61 lbs; Trenton Hughes, Novice 71-82 lbs.; Tanner Fletcher, Novice 105-127 lbs.; Luis Chaparro, Cadet 93-118 lbs.; Dylan Peterson, Cadet 117-128 lbs.; Chris Lane, Cadet 133-145 lbs.; Junior Manzo, 148-163 lbs.; Oscar Villegas, Cadet 181-254