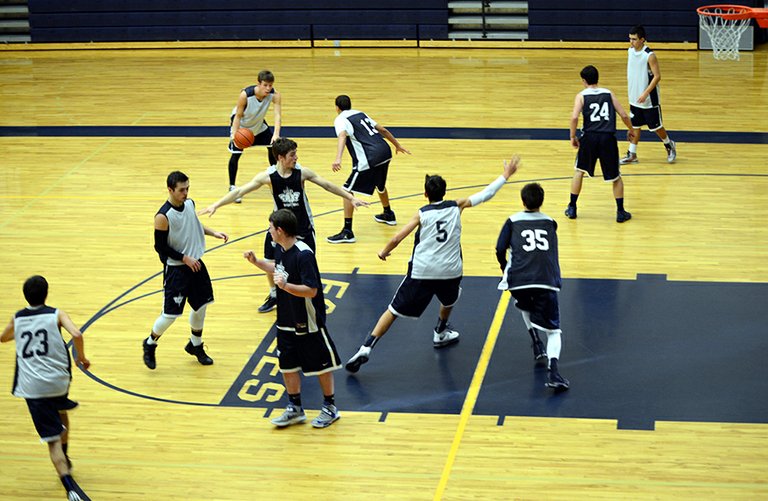 Wednesday, December 4, 2013
The Hood River Valley High School boys basketball team kicks off its winter schedule today, with an away jamboree at Liberty High School. The team, guided by third-year head coach Steve Noteboom, is starting with optimism, while acknowledging the challenges to come.

"We're a really young team, which makes me a little nervous, but I feel optimistic about the season," said Noteboom, who has just one senior on his 14-player roster. "We have lots of talented athletes and lots of kids who are capable of playing at the varsity level. I will be shuffling 10-12 kids in and out of the lineup during the course of a game. We'll play an up-tempo style of basketball with a pressure defense that will hopefully allow us get more points out of transition."
Home games:
Dec. 10 vs. David Douglas; Dec. 20 vs. Lebanon; Dec. 30 vs. Franklin (5 p.m.); Jan. 3 vs. Horizon Christian; Jan. 16 vs. Gresham; Jan. 23 vs. Pendleton; Feb. 4 vs. The Dalles; Feb. 11 vs. Hermiston; Feb. 18 vs. Pendleton; Feb. 25 vs. The Dalles
(Games are at 7 p.m. unless stated otherwise; schedule subject to change.)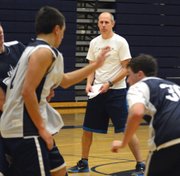 The Eagles started practice Nov. 18 and will play their official season-opener on the road Friday at the Portland Interscholastic League's Roosevelt. The team will look to improve on last year's 0-9 conference and 4-17 overall record.
"Historically, they (Roosevelt) have always been pretty athletic, so we just hope we'll match up well with them," said Noteboom. "I don't know who we'll rely on yet to be our top scorers. We have so many young kids who don't have much varsity experience, so it will be interesting to see who steps up to help lead the offense."
Of the 14 players on the roster, just sophomores Skylar Hunter, Parker Kennedy, Austin Clarke and Austin Martin have played at the varsity level. Hunter, a guard, was the leading scorer with seven points in HRV's Blue/Gold scrimmage last week.
"I think we'll be a much improved team from a year ago," said Hunter. "Our main focus will be to just play with a high intensity level in every game. We'll be going up against some Class 6A teams in preseason that have bigger guys and more athleticism. The harder we work, though, the better we'll be able to compete against them and hopefully have a chance to win some games."
Clarke, a guard, is one of seven juniors and is the only returning player that started games for the Eagles last year. Other players expected to contribute on the court include Kam Walker, Marcos Trejo, Zak Ellsworth, Tyrone Stintzi and Kaydin Gibbs.
"We're a young team and we're lacking some height, so we'll have to see how that works out," said Kennedy, a forward. "We're all pretty athletic, though, so we should be able to shut some teams down by playing good defense. We'll play tough, pressure defense, which is something we haven't been able to do in recent years. This year's team includes a group of guys who are fast and can really hustle well. As long as we play a fast-paced game, with pressure defense to help us create turnovers and get transition baskets, then I think we have the potential to do really well this year."
Martin, a 6-foot-1 senior guard/forward, is a transfer from Burns High School. He moved to Hood River recently with his family. Martin experienced success last year as he helped lead the Highlanders to the Class 3A Eastern Oregon League championship with a 7-1 record (17-8 overall).
"He (Martin) is a very good addition to our team who knows what it's like to really practice hard," said Noteboom. "For many of the younger guys, this is the first time they've participated in a varsity practice. They're all kind of following Austin's lead, because he's been working so hard to set a good example."
Helping the Eagles match height with taller teams will be 6-3 junior post Scottie Ziegner, 6-2 junior forward/post Colin Tegman and 6-1 forward/post Dallas Buckley.
The team will utilize a 2-2-1 zone defense and apply a full court press to try and frustrate their opponents to hopefully gain an advantage.
"I think we'll do pretty well; I'm excited to be on the varsity for the first time, so it should be a fun season," said Ziegner. "I think we'll do alright Friday in our first game against Roosevelt. They're a pretty good team, but hopefully our full-court press will be effective in helping us create turnovers and get transition baskets."
Despite limitations in size and experience, the squad has an upbeat attitude and is hopeful they can enjoy some success this season.
"I think we'll definitely have a better record than last year," said Hunter. "Honestly, I believe that we'll even have a chance of winning the league title. The other three teams (Hermiston, Pendleton, The Dalles-Wahtonka) lost a lot of talented senior players and we're a much improved team. Everything is starting to come together pretty good for us and I'm really excited about the new season."
Success on the court hasn't come easy for Noteboom and the Eagles, who have won just a total of five games in two years. A year ago, HRV had a good start to the season, with a 4-4 record. However, a 13-game losing streak followed, including nine losses in the CRC.
HRV's home opener is Dec. 10 vs. David Douglas.
"If we do start the season really well, like we're hoping to do, it will be attributed to the fact that these kids all worked extremely hard in the offseason by going to summer camps and playing in summer leagues and on an AAU traveling team," said Noteboom.