Saturday, December 7, 2013
The winter weather is forecast to continue this weekend with frigid temperatures falling into the single-digits in some areas.
Oregon State Police responded to multiple vehicle spin-outs and other more serious accidents on Interstate 84 Friday morning as snow and ice covered roads in the Gorge.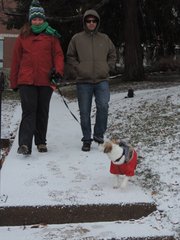 Friday evening sports and activities were cancelled for both Hood River County School District and Horizon Christian. HRCSD also reported that all Cascade Locks students were to be sent home early due to the poor conditions on I-84 Friday. Saturday away games in Pendleton were also cancelled.
The Hood River County Chamber of Commerce also reported it was working with the city on possible changes to Friday's annual parade and tree-lighting festivities held in the heart of downtown. No further information was available as of press time.
The worst stretches on Friday were between mileposts 46-51 near Cascade Locks and 75-86 just east of The Dalles.
Two cars also collided at Oak and 13th streets in Hood River, but there were no other accidents; Hood River Police responded. The city reported that all sections of State Street will remain open during the snow event.
A rollover with one woman injured was reported at milepost 76, and another at 71. A non-injury rollover happened at milepost 50. An eastbound truck jackknifed at milepost 88, briefly blocking both lanes.
A vehicle took out a section of guardrail at milepost 87.
Spin outs occurred simultaneously at 11:45 a.m. at mileposts 59, 62, and 89 on Interstate 84.
Troopers also helped a motorist who had slid off the ramp at Wyeth State Park.
An injury accident also occurred Friday morning at milepost 46 in Multnomah County.
Troopers kept busy responding to all the traffic incidents. Those in west Hood River County were answered by a state game unit from Portland.