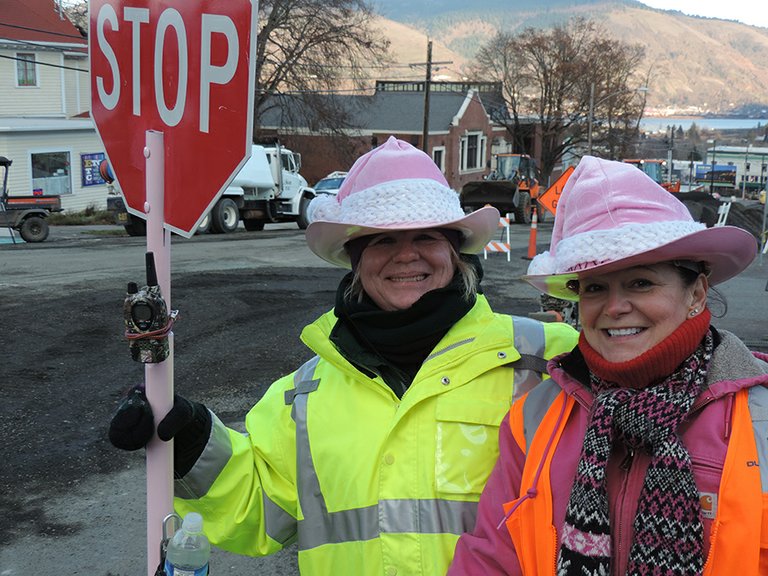 Saturday, December 7, 2013
Betsy Keith and Cheryl Rohan are friends who really, really enjoy what they do.
The two are flaggers for Crestline Construction Company, which is based in The Dalles. The past couple of weeks have found them at the intersection of State and Sixth streets, directing traffic for the State Street urban renewal project. They stand out in their pink hard hats as they move traffic through with a friendly smile and wave.
"People start waving before they get to us," said Rohan. "We've made a lot of good friends on jobs."
Keith grew up in White Salmon, where she attended school before marrying husband Hank and moving to Lyle. Rohan was born in Walla Walla, Wash., and has a permanent residence in John Day, although she and husband Craig have been living "temporarily," she said, in Lyle for the past 10 years.
Actually, what brought the Rohans to Lyle was the Keiths and Crestline Construction.
The two met 10 years ago, while living in the same RV Park in North Powder, Ore., a small town near La Grande. The Keiths were working on a job for Crestline, and Rohan for another construction company (who shall remain nameless), and they just happened to be parked next to each other.
"We hit it off immediately," said Rohan. "And our husbands are close, too. It's not very often you find a couple where you like both spouses."
Rohan mentioned to Hank that, if he needed another flagger, she would be interested — the hours at her other job were hit-and-miss — and eventually he hired her on at Crestline.
Keith and Rohan are often mistaken for sisters, although they are not related. They've worked together for so long that each knows what the other will do just by looking at her — a helpful talent when radios go down.
"We trust each other," explained Rohan. "She knows I will not send cars unless I am absolutely sure that I can. Betsy is the same way. I can depend on her."
"Trust, and she loves hearing me sing," added Keith, who is certain that Rohan appreciates her songs even though she "can't carry a tune in a bucket."
"We have fun out there," Rohan said. "When Betsy and I are together, there's no stress. We hate it when we have to flag with someone else. We're so used to each other."
The State and Sixth Street intersection is a high-traffic area, they said, noting that the site moves every day, as do the cones — but "the patience people have here is bar none," said Keith.
They strive to move people through as safely and happily as possible. They make a point to wave and smile at everyone who comes through, and often get complimentary calls to the Crestline business office — they've turned many a bad day around with their positive natures.
There's a reason — besides their generally cheerful demeanors — for all that waving. They want to make eye contact with everyone who comes through to make sure drivers see not only them, but the construction workers.
Keith and Rohan make a marked effort to get traffic through as quickly as possible, and will warn drivers when wait times become long. They're also known for stopping equipment and walking drivers through the open path when extra help is needed.
"I've worked with quite a few flaggers, and their attitude is, 'They can just sit or go around,'" said Keith. "I know how I feel when I'm waiting, and I will tell drivers how long the wait is so they have the option to turn around."
"We try to warn people out of courtesy," added Rohan. "We are very aware of our traffic and what's going on."
They credit the guys on the construction site for keeping them updated on wait times. "I've never seen a company more courteous on what's going on," said Rohan. "It's a good team effort; a good working team. People comment on it."
"We help them get where they need to go, not stop them from going," added Keith.
Besides flagging traffic through the intersection, Keith and Rohan are the first on the job site every morning, arriving at 6:30 a.m. to set up signs and cones, and are the last to leave each evening, taking everything down. In the winter, that's a cold post.
"I had someone say, 'How can you smile when it's this cold?'" Keith said. "I said, 'It's froze there!'"
"We appreciate the hot drinks people will bring us in the winter," added Rohan. "It's so sweet that people do that."
Pink is Keith's favorite color — "I think everything should be pink!" — and she started wearing it when she started flagging 25 years ago. "I painted my hat and didn't get in trouble," she laughed. Soon, everything was pink, including her sign pole.
It took her two or three years to convert Rohan into wearing a pink hat too, she said, although Rohan has yet to wear quite as much of the color as Keith.
"We're pretty well-known for our pink hats," Rohan added. "She's slowly dragging me into pink."