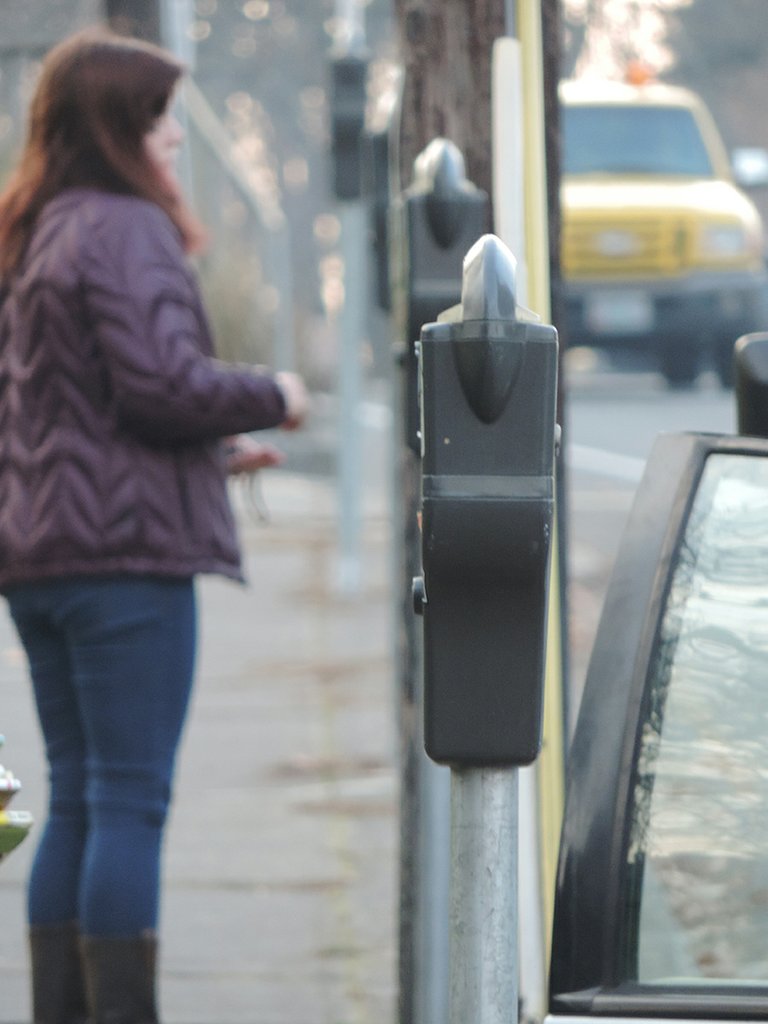 Wednesday, December 11, 2013
The city will get the data first before making any big decisions on parking.
That was the message sent in Monday's meeting by Mayor Arthur Babitz and the rest of the City Council as the city plans a new look at parking needs and assets in the city starting in January.
The city will focus on capacity — how many parking spaces are available at various times — and formulate a monitoring system as a way to collect detailed information for making future decisions on parking, such as creation of parking structures, and rates.
"We want to make data-based decisions," said Babitz, who called for the city to find a system where it continues to collect data year-round, rather than periodically. No on-the-ground survey of use and availability has been done for six years.
Interim City Manager Ross Schultz, in his first meeting, said, "What I hear council calling on (staff) to do is come up with a project proposal to focus on parking capacity, with a focus on metrics." Council members confirmed this and Schultz said he would present them with options at the second council meeting of February 2014.
"My focus will be to give you a project that will give you sets of statistics you can work with," Schultz said. Council Member Kate McBride said she wants to minimize the amount of staff time spent on the issue.
Babitz said parking solutions need to look at models that reflect higher use in some areas than others, adding it's a "no-brainer" to look at the fact that heavily used Oak has the same parking charges as side streets.
Former interim city manager Don Otterman, who stepped down after the meeting, had researched past actions on parking made by city leadership. He presented an executive summary on a 2006 parking study, which found that "the current parking system in downtown Hood River is operating at a high level of efficiency, occupancy and turnover ... nonetheless, Hood River is moving toward conditions that will further constrain the supply unless actions are initiated in the very near future.
"These actions will require that Hood River be more aggressive in management of its existing off-street supply to assure that visitors have maximum access to the on-street system. Further, the city needs to begin now to identify future parking sites and protect them."
The council heard a report by Dave Phelps, its parking enforcement officer for the last six years, who is retiring on Thursday. Police Chief Neal Holste said he has just begun the search for Phelps' replacement. For the next month or so, parking and code enforcement will be shared by officers, and daytime sergeants will be in charge of the third arm of Phelps' job, evidence management.
Phelps gave a frank assessment of parking realities:
n "In six years, not much has changed," Phelps said, in terms of who parks where and for how long.
n Last year's shift to lower-cost parking lot permits for downtown employees, intended to deter parking in on-street spaces, has produced negligible change in parking behavior.
n "For as much as we talk about exercise in this community, a lot of people park right in front of the business," he said.
n Phelps knows of a core group of downtown business owners who continue to feed the meter and park their car in front of their business all day.
"And they're the ones who complain," he said. (City ordinances do not limit the amount of time a car can spend in a single space.)
n "Be sure you take a look at Sherman (Street)," Phelps said. "You can ask the residents up there; there's some real interesting parking going on." Sherman, one block south of State, is the only street in the commercial core with no meters, but experiences heavy parking use because of its access to the County Courthouse and Administration Building, businesses and homes.
n Phelps said enforcement issues are minor before 10:30-10:45 a.m., and Monday is typically a lighter day, with more parking to be found.
He also suggested the city consider using high school civics students to do occasional block-by-block surveys of parking use.
"Anecdotal information such as Dave's is really useful, and we should have more of that, especially when it comes to training his successor," Babitz said, "but that doesn't excuse the need for a regular monitoring program."
As Phelps left the meeting after the parking issue was addressed, council and the audience gave him a round of applause.
He was not the only departing employee recognized with hands clapping. The council also thanked Don Otterman for his service since "filling the gap and doing it excellently" as Council Member Mark Zanmiller put it, following the departure of former city manager Bob Francis in August. Otterman stepped down last month, citing health reasons.
"It has been a pleasure," Otterman said.
His work with the city is not done, however: Otterman will return in February to serve on the interview team for city manager candidates.