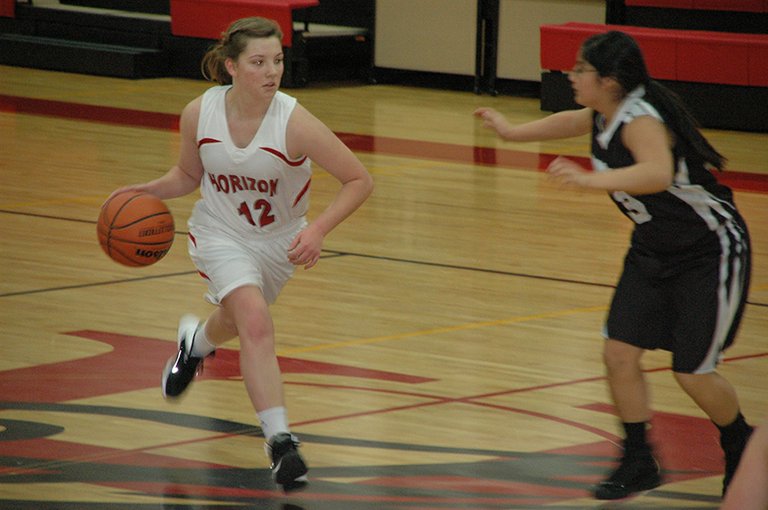 Wednesday, December 11, 2013
Totaro, Davis and Bloomster lead offense in Horizon boys' 67-51 loss
The defending Big Sky League champion and 2013 OSAA Class 1A boys basketball runner-up, Horizon Christian School Hawks faced a tough Irrigon Knights squad Saturday in their season opener. The Knights (30-1, OSAA 2A runner-up last year) pulled away late in the game to win 67-51 in what was indeed a challenging way to start a nine-game preseason schedule.
The Hawks, guided by seventh-year coach Darrin Lingel, will look to bounce back from the loss next weekend at the Cougar Classic Tournament in Molalla.
"This preseason schedule is the hardest we've ever had," said Lingel. "We'll face some tough opponents, which is what we want because that's how you get better. The kids just need to understand that this loss really shows some things that we have to work on to improve and we'll do that."
The Hawks jumped out to a 7-3 lead on baskets by juniors Jared Davis (14 points), Mason Bloomster (13 points) and 6-foot-5 senior post Matt Totaro (24 pts.). Surprisingly, the three were the only players to score for Horizon.
In a seasaw battle that included several lead changes, the Hawks led by as much as seven in the second quarter before letting the lead slip and going into the locker room down by two. Momentum slipped for the Hawks in the second half, as they were outscored by eight in the third quarter and nine in the fourth.
"We played really good in the first half," said Lingel. "We have to do a better job of taking care of the ball and we also need to rebound better. If we focus on those two things, then we'll be okay … They (Irrigon) are a very good basketball team. It was a real battle and we just got a little tired at the end."
Girls look for bright spots in tough loss
The 1A Horizon Christian School girls basketball team kicked off its season with a home matchup Saturday against the 2A Irrigon Knights. Against one of the toughest opponents the girls will see all season, the Hawks were simply overwhelmed by an impressive Knights lineup in a game that would end with a 55-10 margin in favor of the visiting team.
For the young Hawks, who have seven freshmen, three juniors and one sophomore, the result, although not what they were hoping for, isn't a total loss
"It feels good to get the season started and there were some positive things in the game," said coach Chad Leeson. "We lost some seniors from a year ago, so we're really young, but we have a lot more athleticism on the team. Our starters (Hannah Lingel, Hannah Kempf, Haley Becnel, Jodee Hicks, Trista Hicks) played a majority of the game. I wanted to help them improve their conditioning, so I didn't substitute a lot. It's just preseason, so I'm not too worried about wins and losses right now. We're mainly concerned about improving the aspects of the game that we need to get better at, such as free throws, field goal shooting and avoiding turnovers."
Irrigon, of the Blue Mountain Conference in Eastern Oregon, went ahead 6-0 to force a Horizon timeout with four minutes, 45 seconds left in the first quarter. The Knights then extended the lead to 12-0. Becnel, a freshman, sank a jumper in the lane for the Hawks' first points, making it 12-2 with 1:49 left on the clock and they trailed 14-2 after one quarter.
"They (Knights) are considered as one of the top teams in their league, so we definitely played a tough team in our first game," said Leeson. "Their full-court press frustrated us a little and we just made too many turnovers (27 total). Overall, I thought if we would've made some shots, hit more free throws and limited our turnovers, then it probably would've been a lot closer game."
Irrigon maintained its momentum throughout the contest and outscored Horizon 12-3 in the second to build a 26-5 halftime margin and a 37-6 lead after three. Hicks scored four points in the fourth to lead the Hawks in scoring.
The girls went on to play the Hood River Valley High School JV squad Tuesday evening (results unavailable as of press time).