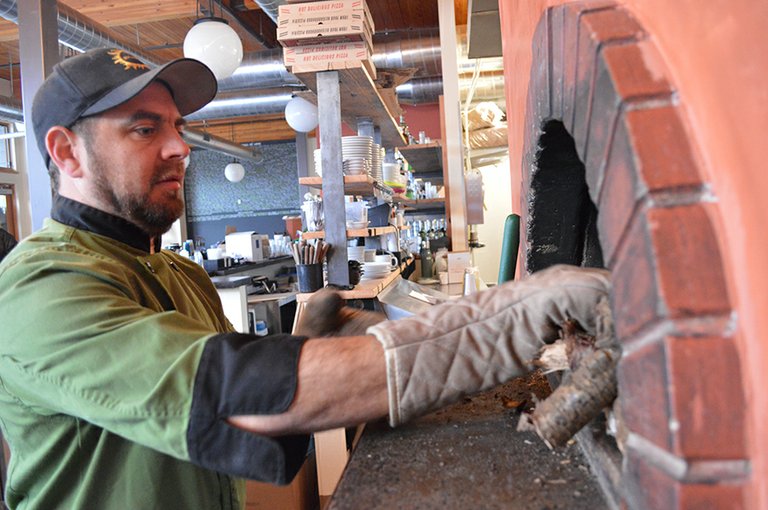 Wednesday, December 11, 2013
After months of anticipation, the pizza purveyors at Solstice Wood Fire Café will officially open their doors for a grand opening this Friday at their new location at the Hood River waterfront.
The much-lauded and loved restaurant moved this fall from Bingen to Hood River after owners Suzanne and Aaron Baumhackl were able to raise over $57,000 for their new digs via Kickstarter — an online crowdsourced funding website. Over 450 donors contributed to the successful fundraising campaign, whose names are now enshrined on Solstice's "Kickstarter Wall of Love" that is prominently displayed in the restaurant at 501 Portway Ave.
Solstice will continue to feature the same gourmet wood-fired pizzas topped with fresh, local ingredients that made the restaurant famous throughout the Gorge and the Northwest, but Aaron promises new pizza styles that will "push the envelope" of his customers' palates.
When and Where
Hours: Wednesday through Monday, 11 a.m. to 10 p.m. Closed Tuesday
Address: 501 Portway Ave., Hood River
Phone: 541-436-0800
Reservations recommended for parties of six or more.
In addition to the pizzas, Solstice will offer significantly expanded food options (you can now order hamburgers, for example) as well as a full bar used to mix their new menu of signature cocktails. A kids play area graces one of the corners of the restaurant, awash in natural light from a wall of north-facing windows that look out onto the Columbia River and the Hood River waterfront.
Aaron, who has run the restaurant with his wife, Suzanne since 2006, said the new location could not have happened without the generous support of the community.
"We'd like to say thank you and we're super excited," Aaron said of the Friday opening. "We really feel like we're sharing the space that everybody created. We're kind of in denial about it all and I think it's all gonna erupt this weekend."