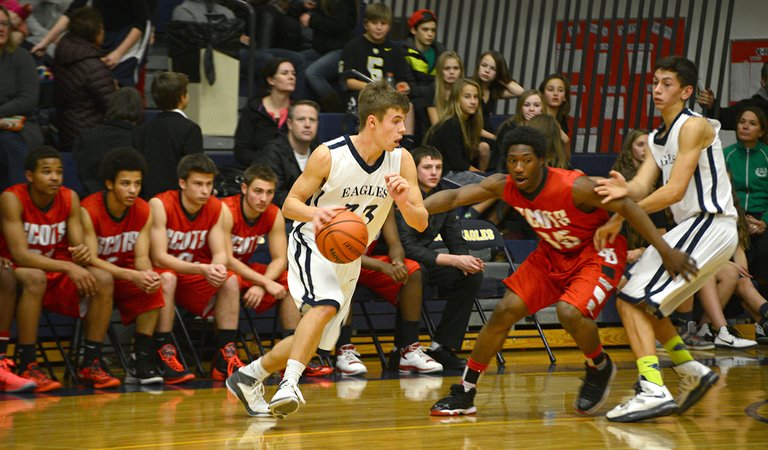 Saturday, December 14, 2013
The Hood River Valley High School boys basketball team started the 2013-14 season Tuesday with steals, quick baskets, defensive rebounds and an 11-3 lead over the visiting, and favored, David Douglas Scots.
The Eagles managed only four offensive boards for the game, however, while committing 31 turnovers in the eventual 83-43 home opener loss.
Sophomore Parker Kennedy led the Eagles with an inside-outside mix for 16 points, while Austin Martin added eight. A bright spot for HRV was the three open court steals by the speedy Kennedy, all leading to uncontested layups. Noah Noteboom and Austin Clarke added their own slashing layup scores in the first half.
While Hood River Valley showed sparks of defensive toughness and aggressive lane penetration, the Scots' size and quickness, and scoring duo Charles Jones (21 points) and Dwight Dew (17) were too much for the Eagles. Noteboom rejected Dew's first shot of the game, early in the second, but the 6-4 post was unstoppable after that.
"We came out and I thought we looked great, and I knew we probably couldn't sustain it," said coach Steve Noteboom. "(The Scots) also had really good interior passing, then they were driving to the basket and our rotations weren't always correct and they'd dump it into the middle and another guy would lay it in."
The game was the Eagles' first of the season; they travel Tuesday to Glencoe and host Lebanon on Dec. 19. This weekend they play in the Sandy Jamboree, where they face the Scots again, along with the host Pioneers and the Franklin Quakers, who the Eagles defeated twice in 2012-13. Noteboom said Sandy "will be a totally different team, having lost 10 seniors, and Franklin will be better than last year, but it will be a good game." On Lebanon, he said, "Last year we played them and saw a lot of trapping and full -ourt pressure, but nothing like David Douglas. I'm pretty optimstic about it."
Scotty Zeigner scored six points in his first varsity game Tuesday, and Clarke added five points. Noteboom noted that three of his starters — Kennedy, Skylar Hunter and Noteboom — were playing freshman ball a year ago. (Kennedy was brought up to play substantial minutes late last season, recording several multi-basket games with his quickness to the hoop and solid outside shot.)
Although trailing by a large margin, the Eagles matched the Scots 12-12 in the fourth quarter to finish on a positive note.