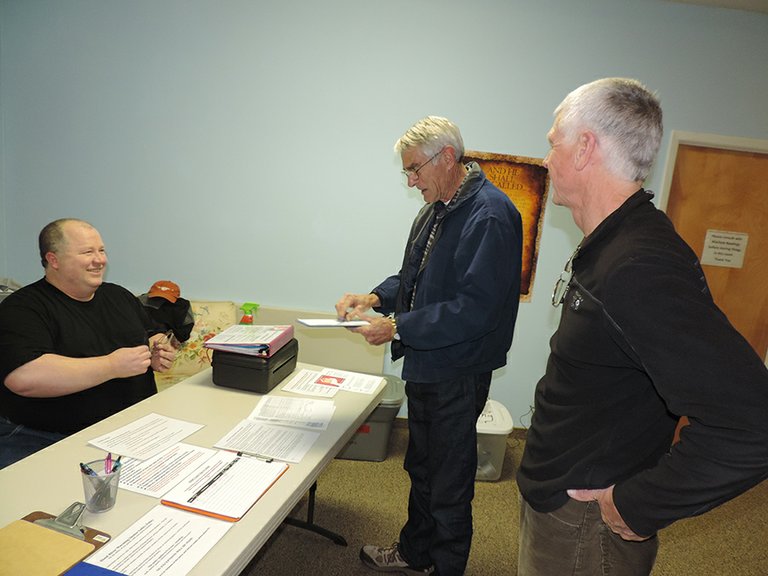 Wednesday, December 18, 2013
A talk with a volunteer
'It's important to meet the need you can meet'
Gigi Seikinnen of Hood River has lived in the community for four years, and started volunteering for the Warming Shelter when it started four years ago.
What got you involved?
From the start, I had the modest goal of volunteering once a month. I've tried to gradually increase it. My personal goal is to help out about twice a month. There are people who volunteer many more shifts, but my concern is to try to be consistent.
As a friend of Andy (founder Andy Wade), I heard him talk about the man who died from exposure in Hood River five years ago, and Andy had said, "This cannot happen in our town."
Andy was persistent in stating that it's not acceptable and people need a warm, safe alternative. And for me, I guess volunteering is a way of living out my faith.
What's the Warming Shelter like? Every night is different?
It does vary a lot. Two years ago we had a lot families who were accessing the warming shelter, and you felt good about knowing you were providing a warm, safe place for families to sleep.
You come into contact with some folks you probably wouldn't deal with much on a normal basis and I think it's just a good reminder that for whatever reason not everybody lives the same comfortable life that a large number of us do.
You meet veterans, people who work; but kind of travel from region to region looking for work. You just meet a huge variety of people; people who have mental or addiction issues, and it's helped me see there are not a lot of easy pat answers and sometimes it's important to meet the need you can meet.
What shifts do you typically work?
The middle of the night shifts ones. I'm a stay-at-home mom and do a number of volunteer things, and I have the luxury of being able to grab a nap the next day; but I find it can be, well, I got my Christmas cards written on one shift.
It can be a good time to read something that you haven't had a chance to read or catch up on some things.
What do you say to people who find the idea of volunteering with the homeless to be scary?
I was pretty apprehensive about it and I did some soul searching and knew it was pretty far outside my comfort zone but thought it was important to take that plunge and try it.
I relate to that fear. It's definitely worth coming to the training. The good thing is there are a number of people who have done it and are waiting to take a shift. It's encouraging that you can be partnered with someone who knows the ropes and you wouldn't be going in by yourself.
How can people help?
I would like to see us be very sustainable, and I think one step toward that is more volunteers who are kind of in my category of "consistent," a couple of times a month, year after year, because those shifts add up and make it possible. It doesn't have to be a huge.
n
Visit hoodrivercares.org for more on volunteering.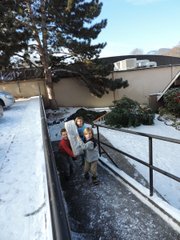 Document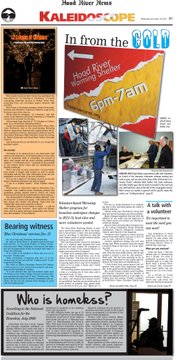 Who is homeless?
Related story:
The Hood River Warming Shelter is seeking to enrich the quality of life of the homeless in Hood River County and surrounding areas by providing "a safe place to meet the basic human needs of people without shelter during our coldest months."
The warming shelter started in November 2010 on a rotation basis between five local churches and had trained 100 volunteers to operate the shelter from January-March on nights that were below 35 degrees.

"I think we're getting better every year," said Andy Wade of Hood River, one of the shelter founders. "The first year we put it together in three months from the first meeting to opening night. Every year we've tweaked it a little to try to make it better and I think we're getting there."
The warming shelter operates for a week at a time at a rotating list of host sites, and is open from 6 p.m. to 7 a.m.
It has a strict no-drugs-tobacco-or-alcohol use policy, and weapons and sexual activity are prohibited; families are provided with as much privacy as possible. Also, guests must be in and stay in by 9 p.m., and "lights out" is 10 p.m.
The fact is, being homeless is an exhausting way to live, and most guests are ready to sleep by 9:30 p.m.
Games, books and conversation, along with food and warm beverages, are also provided.
Major changes happened this year with the addition of one venue and the departure of two others (more are needed: see Getting Involved for details).
Sites for 2013-14 include Mid-Columbia Center for Living Community Room, Riverside Community Church, Immanuel Lutheran Church, and Church of the Nazarene.
Volunteers work in pairs or threes, and can choose from three shifts: 5:45 p.m. to 10:15; 10 p.m. to 5 a.m.; 4:45 a.m. to 7:30 a.m.
Another significant change this year was hiring Alan Wiebe as shelter host; five nights a week he helps at the 6 p.m. to 10 p.m. opening shift.
"Alan was one of our top volunteers last year, with the most shifts served, and he just seemed a natural to hire for this position," Wade said. "He has been amazing as far as providing consistency for our guests and volunteers. He's just done a tremendous job.
"I have heard from repeat guests and volunteers how much they appreciate having him in the position and the job he's doing."
Rev. Linda Presley, a shelter board member and frequent volunteer, said the number of guests has ranged from five to 11 per night, including men and women. Presley co-pastors at Hood River Valley Christian Church with her husband, Dave.
"We were so delighted we were open in November when it was cold and it was so important to be open that first week of December when it got really, really cold," Presley said.
"It's been a quiet group; a good group of people, mostly guys," Wade said.
Under the umbrella of Gorge Ecumenical Ministries, the Hood River Warming Shelter operates as a steering committee made up of 10 different individuals representing host congregations, the Hood River County Commission on Children and Families, Oregon Child Development Coalition, and Providence Hood River Memorial Hospital.
This year the shelter opened in mid-November and will run through mid March, 6 p.m. to 7 a.m.
Once providing only a mattress, sleeping bag and a sandwich, the shelter now offers a simple evening meal, breakfast, social interaction, shower passes, clothes, laundry services, physical exams and referrals to those without health insurance.
Funding for the warming shelter comes from "a lot of individual support" and has included grants, including local ones from United Way and the Lions, and fundraising such as two months' worth of Leos Club can and bottle drives.
Learn more at: hoodrivercares.org.
— Kirby Neumann-Rea, with assistance from Rev. Linda Presley