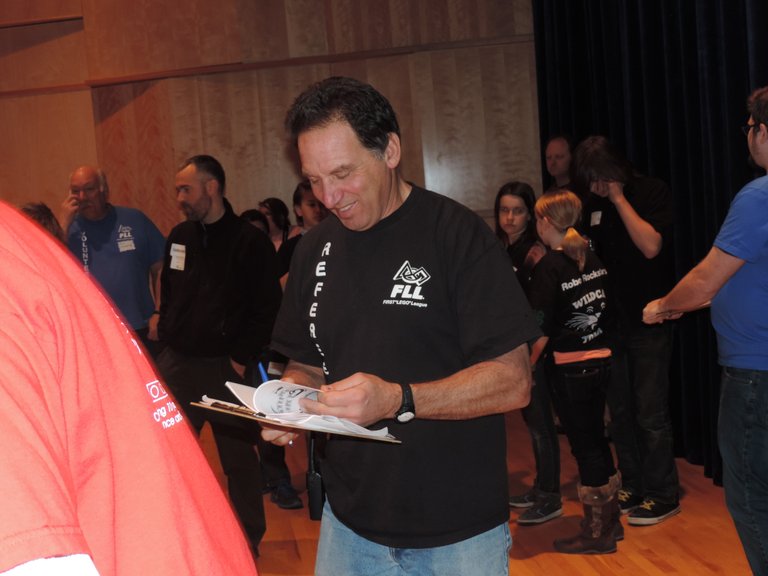 Wednesday, December 18, 2013
The Gorge Technology Alliance held its first-ever awards program on Dec.12, recognizing Jeff Blackman of Hood River Valley High School as the 2013 GTA Technology Leader of the Year and 4-Tell Inc. as the 2013 GTA Technology Organization of the Year.
"There are many wonderful companies, nonprofits, schools and individuals working to advance the tech industry and STEM education in the Columbia River Gorge," said Executive Director Jessica Metta. "The GTA board was excited to launch this award program as a way to recognize and thank these amazing people."
STEM stands for science, technology, engineering and mathematics.
Nominations were accepted from across the Gorge and all of the finalists were celebrated at the Dec. 12 event for their leadership and hard work. Blackman, the robotics and electric car teacher at HRVHS, was honored for his inspiration and work in starting a robotics and engineering revolution that has affected schools throughout the Gorge.
Finalists for the Tech Leader of the Year included Rep. Mark Johnson of Hood River for his work in the Oregon legislature to support STEM education and the tech industry of the Gorge; Ken Levy, CEO and co-founder of 4-Tell Inc., for his leadership and inspiration at the helm of this fast-growing Gorge company; and Andy Mack, president and owner of Zepher Inc., for his leadership of the Bingen-based company and involvement with GORGE Junior Sailing Program for Kids.
4-Tell Inc. was honored as the 2013 GTA Technology Organization of the Year for its impressive growth and development, its support of start-ups in the region, its positive representation of the Gorge's tech industry outside of the region and its community involvement.
Klickitat-Skamania Local Technology Planning Team, a collaboration of Mid-Columbia Economic Development District, Community Enrichment for Klickitat County and Washington State University Extension, was recognized as a finalist for Tech Organization of the Year. The collaborative has worked for several years to increase access to and utilization of broadband in underserved areas of Klickitat and Skamania counties.
"The GTA is appreciative of everyone working to grow our regional tech industry and to improve STEM opportunities for our students," Metta said. "We look forward to another year of supporting these leaders and businesses in turn."
More information about the winners and finalists is available on the GTA website at crgta.org.
n
The Gorge Technology Alliance supports, connects and develops the technology community of the Columbia River Gorge with networking and educational events, business support and promotion, workforce development and youth robotics. The GTA is a nonprofit professional organization supporting the high-tech businesses and STEM education in the Gorge.
Contact Jessica Metta with questions at 541-296-2266.