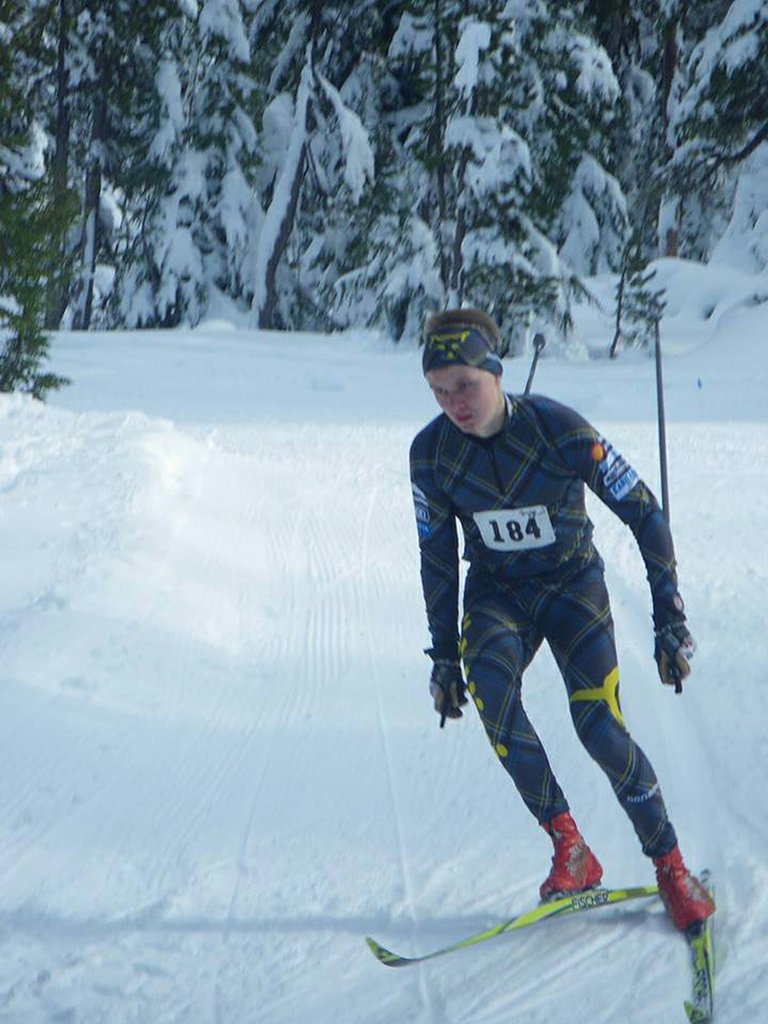 Wednesday, December 18, 2013
With more than a dozen new racers and several returning state placers on its roster, the Hood River Valley Nordic Team is picking up speed in what should be another breakthrough season for the blossoming program. The team — operating as a club through Hood River Valley High School — started its competitive schedule over the weekend with a 5K classic-style race in Bend. The varsity boys claimed second and the girls third out of seven teams, to pick up where it left off last season in challenging Central Oregon's dominance in high school Nordic racing.
Top 5 finishers:
Girls: Lauren Robinson, 17th, 21:24.2; Daisy Dolan, 28th, 23:12.2; Miranda Starr, 30th, 23:28.6; Eva Kahn, 43rd, 25:06.3; Terri Hewitt, 48th; 26:42.7
Boys: Juho Muhonen, 2nd, 13:57.9; Sam Wiley, 4th, 14:43.5; Nils Engbersen, 6th, 15:10.7; Daniel Fischer, 8th, 15:41.9; Jesse Wiley, 14th, 16:56
Juho Muhinon, an exchange student from Finland attending White Salmon's Columbia High School, led the HRV boys team with a second-place, 13:57.9 finish; just one second behind Summit's Shannon Casey. Returning as last year's top HRV finisher, Sam Wiley was fourth for the boys in 14:43.5, followed by Nils Engbersen in sixth and Daniel Fischer in eighth to claim four of the 10 podium positions. As a team, the boys were a close second with 12 points behind Summit, with 11.
The HRV girls finished third overall behind Summit and Bend, with sophomore Lauren Robinson leading the team with a 14th-place finish (21:24), followed by Daisy Dolan in 28th and Miranda Starr in 30th to round out the team's top three.
The strong result, particularly for the boys team, is a sign of good things to come as the season is just getting under way. The team has been dry-land training since early November to get in shape and has been able to train after school a couple times a week at the Teacup Nordic area for about a month.
"We've been on the snow since Thanksgiving, so we're already pretty fit," coach Bonnie Lambert said this week. "Many of our new racers participated in the middle school and Teacup youth programs, so we're already a stronger team because of that; several others just finished cross country season and were in great shape to start with."
Of the 22-person lineup, eight are freshmen, while only four — Delia Dolan, Miranda Starr, Billy Edwards and Sam Wiley — are seniors.
Last year Wiley led the team at the Oregon High School Nordic Organization state championships with third (skate) and fourth (classic) place finishes and went on to race in the Junior Olympics. Fischer, a sophomore, and Engbersen, a junior, return as state placers as well. For the girls team, the only returning state placer is Delia Dolan, who was 13th in the classic category.
In addition to senior-year pressures, Dolan and Wiley will have to stay focused this season for other reasons: both have freshman siblings (Daisy Dolan and Jesse Wiley) chasing them on the course.
The team continues its season with a skate race Jan. 4 at Meissner Sno-park in Bend. In addition to five OHSNO contests, team members compete in Mt. Hood Meadows Ski Resort's Nordic Race Series, which runs six races open to the public through mid-February. See skihood.com for details on the series and hrvnordic.com for info and updates on the team.